Best Bathroom Sink Design Ideas Sink A few decades ago, the bathroom equipment of ordinary people could not boast of special sophistication and diversity. Today, there are many models on the market that can turn an ordinary environment into a multifunctional and stylish one.
A striking example would be a properly selected bathroom sink. In addition to the fact that it acts as a necessary element, its design will be a striking addition to the design of the bathroom.
Choosing the installation method
Bathroom design, a variety of sink designs today allows you to choose the most convenient option for any room size and design. They can be suspended or mounted, and this criterion is one of the main ones when choosing.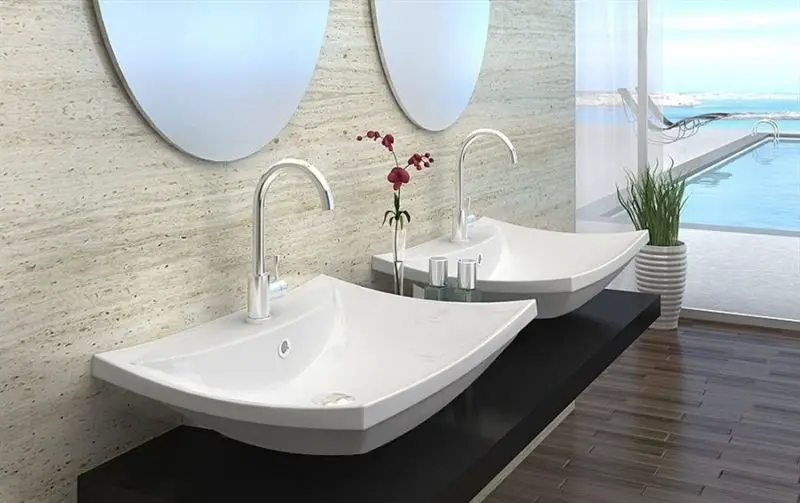 Wall Hanging Sinks
The most "ancient" option is handwashes attached to the wall. Nevertheless, it remains quite popular nowadays, especially in small bathrooms. The best bathroom sink design hanging mount allows you to leave enough space under the sink and simplify cleaning.
Now on sale, you can find almost flat sinks, under which, for example, a washing machine will be placed successfully. But there is also a disadvantage here – a small depth will lead to the fact that during water procedures, water splashes will fall on adjacent walls (unless you use a small pressure).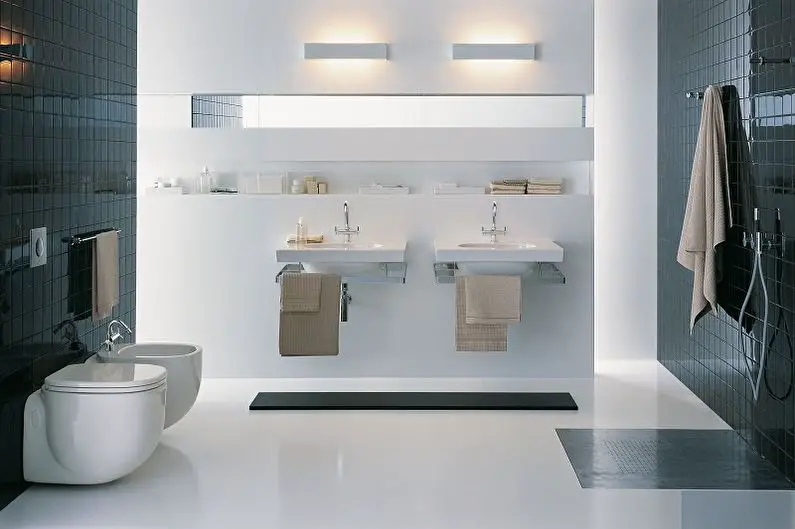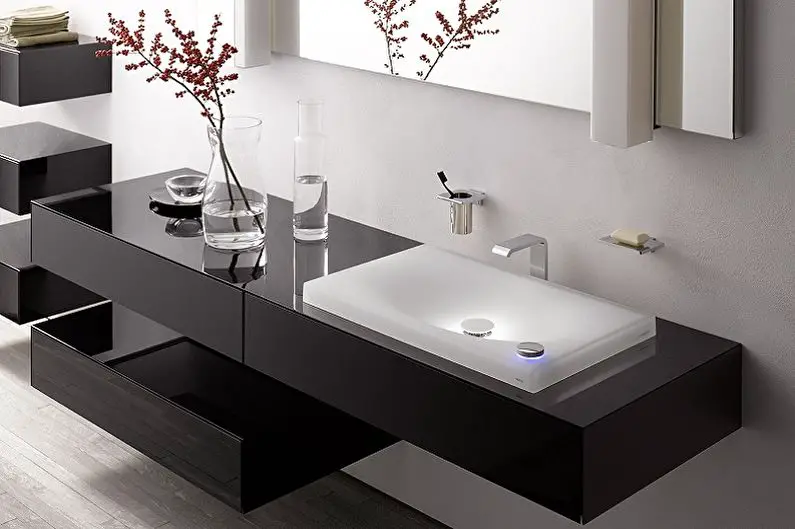 Tulip-shaped shells
The sink in the bathroom model on an elegant pedestal from the moment of its appearance quickly gained sympathy with its neat modern design. The pipes here are qualitatively hidden behind a ceramic leg, and the white bowl growing out of it becomes a decor in itself. You can purchase a monolithic model, where the bowl and the leg are one, or an option where they are two pieces of a set.
The disadvantage is the lack of free space under the washbasin, so this installation is good for spacious rooms. There is also a semi-pedestal option that is attached to the wall. It will allow you to mount the bowl at any height.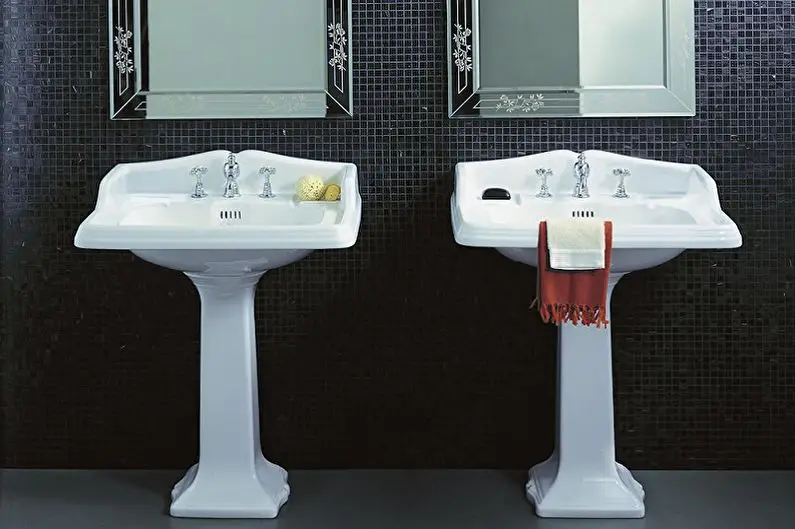 Built-in sinks
If the square footage allows you to place a bedside table in the bathroom, you can arrange a mortise sink in it. To do this, it is necessary to make an opening on the upper surface and immerse the bowl in it.
Now ready-made kits are available for sale, including additionally a mirror, a mixer. The advantage of the installation is that the doors will hide all communications, and the cabinet itself will serve as roomy storage for cosmetic and hygiene products.
Sometimes a washing machine is placed in such a cabinet. In addition, there will be a part of the empty surface of the countertop, which will serve as a shelf. It should be noted that this method will allow you to install heavy types of shells, for example, made of natural stone.
The disadvantage can be called the bulkiness of the design, so before buying, you should carefully calculate the free footage to leave space for movement.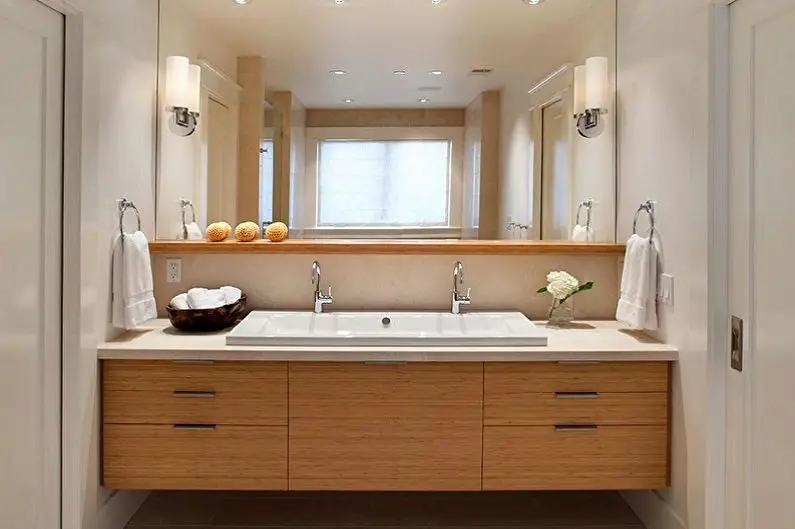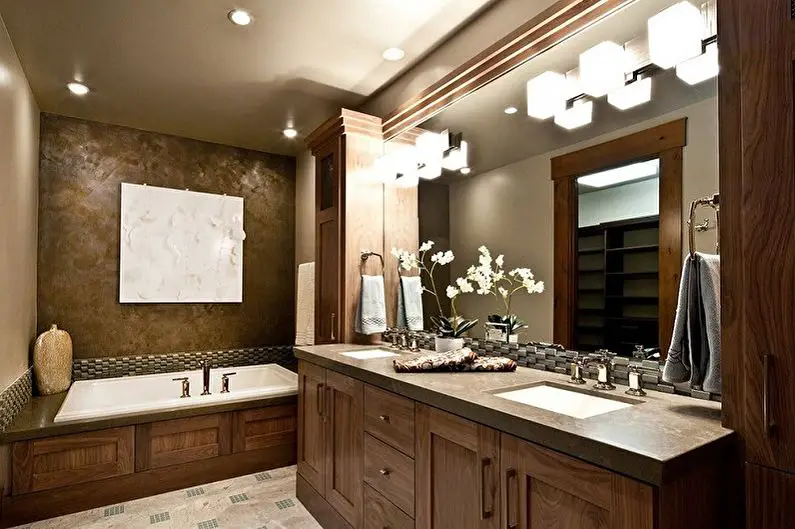 Overhead sinks
Bathroom design, a new and quite interesting type of installation of a washbasin bowl – an invoice. It involves laying the sink on the countertop, in which a special recess is made. It is worth noting the aesthetic advantages here – this model is ideal for the modern decoration of rooms, and the absence of joints will ensure hygienic cleanliness. All communications are connected from the back, not from the bottom, so there is no need to hide them additionally. The disadvantage is the rather high cost of such a novelty.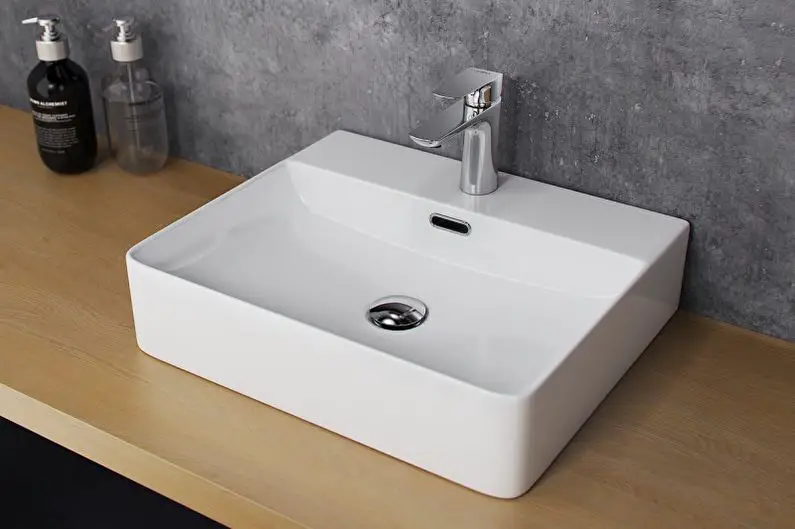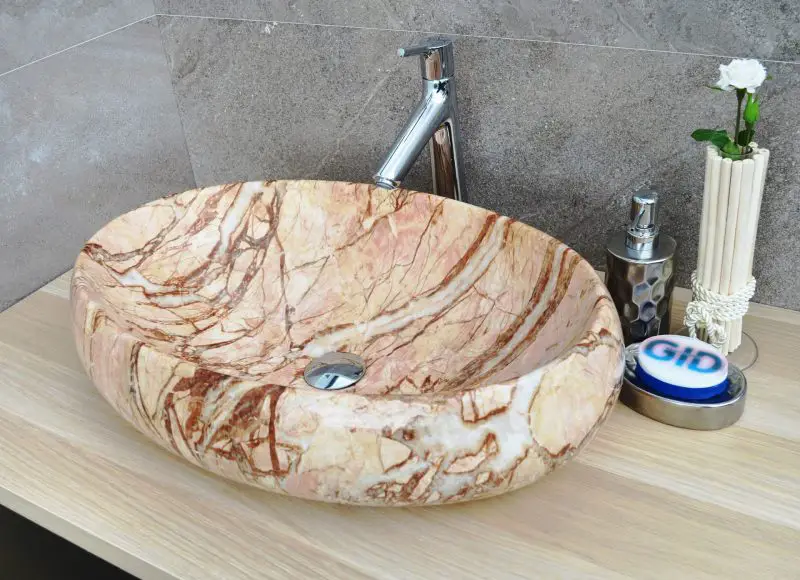 Ceramic sinks
Earthenware sinks are best known to everyone and are quite popular, as they have a low cost and excellent quality indicators. They are easy to wash using even the most "harsh" cleaning products. The disadvantage is fragility – if a solid heavy object accidentally falls, it can split or non-aesthetic cracks form on the surface. In any case, it will need to be changed.
Faience or porcelain (less common, as it costs much more) are great for bathrooms in classic, retro styles. Having an extraordinary shape, they will perfectly "fit" into modernity. Creative and creative natures may not like the standard of the material. In this case, you should pay attention to the following options.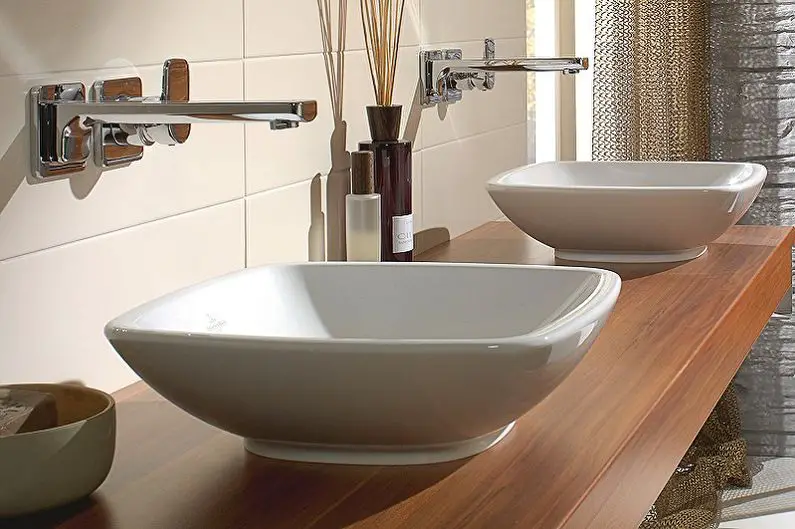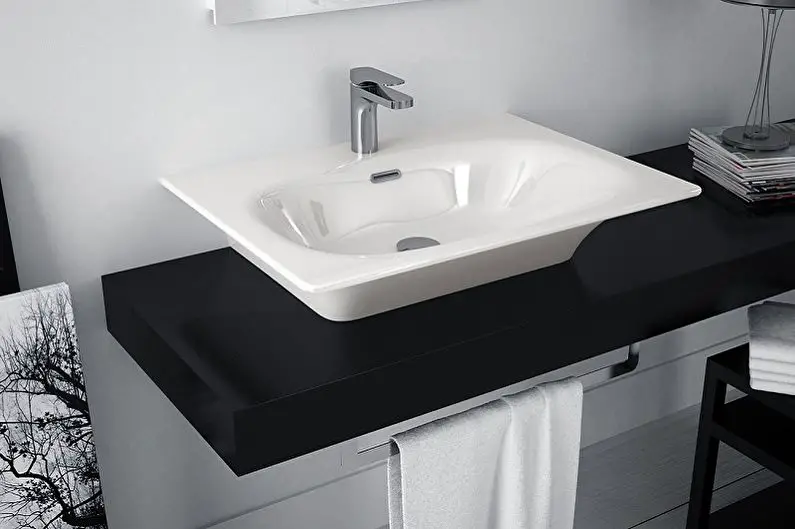 Glass sinks
Light, transparent hand washes are reliable companions of modern minimalism, high-tech, and Art Nouveau, where glass interior items are welcome. In their production, high-strength hardened material is used, so the products are not afraid of blows, unless, of course, you try to intentionally break them. The walls of the sink are up to 15 mm thick with no porous surface, so they are not afraid of contamination. It is enough to wipe the surface after water procedures with a dry cloth.
Glass sinks can be transparent, almost invisible in the interior or colored, and have a matte or polished surface. It is worth noting that you will need to pay a tidy sum for the purchase of such plumbing.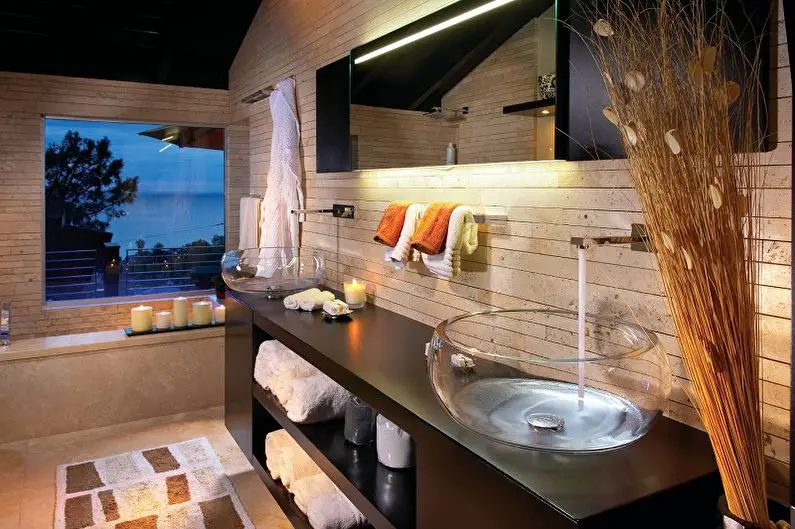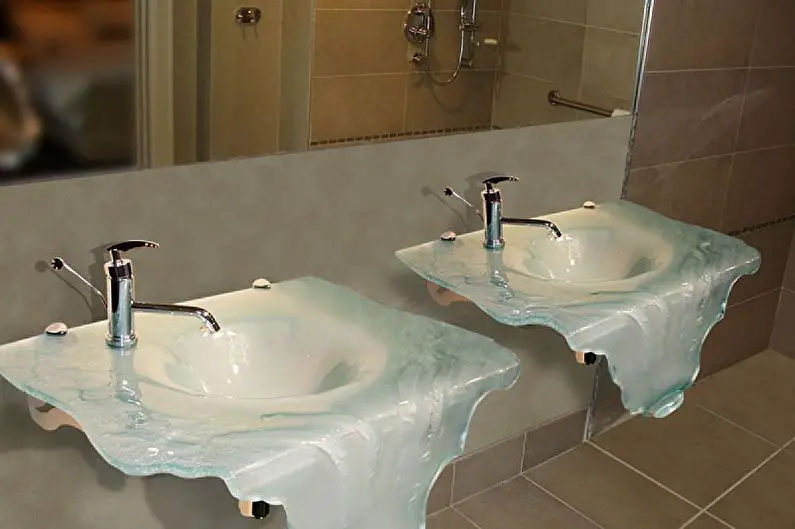 Natural stone and its imitation
The most expensive shells can be called natural stone – marble, granite, or onyx. Their aesthetic indicators, although limited by the color palette, are certainly admirable. Each washbasin is exclusive in its own way and is a real work of art.
The advantages include durability, environmental cleanliness, and presentability. The disadvantages are the large weight (the sink is installed exclusively on a solid foundation), and the hygroscopicity of materials, which requires particularly careful care. It is also worth noting the high price range, which is justified by the individual uniqueness of such plumbing.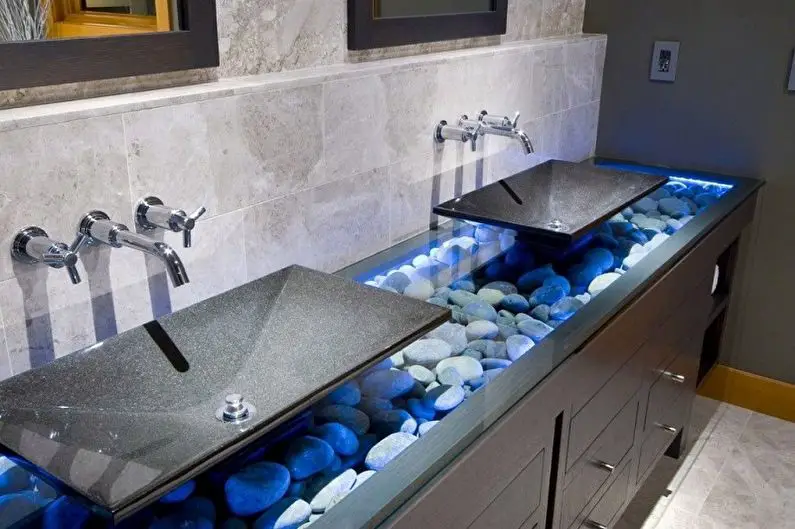 An alternative to natural stone can be artificial. The composition of such sinks includes additional components that ensure durability and aesthetic appeal. Color pigments allow you to plausibly imitate marble or granite, as well as choose a model that suits the color design of the room. In addition, plumbing is additionally covered with a protective layer of a substance that makes the surface smooth, and devoid of pores. It is much easier to take care of such a sink.
Stone washbasins are perfect for any design. They will look especially attractive in the loft-style, eco, modern, minimalist, and oriental variations.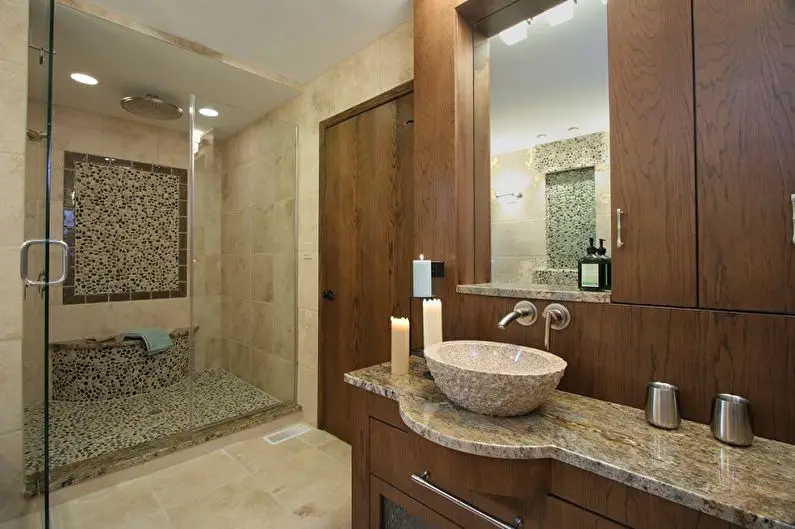 Metal sinks
Steel sinks were popular in the distant past. Now, due to the strong noise effect from the pouring water, they are practically discontinued. An alternative to them is models made of metal, cast iron, copper, and brass. And they make excellent designer gizmos out of them.
When choosing, it should be taken into account that metal, made of stainless steel, is the most durable. Cast-iron objects have quite a lot of weight, and copper and brass sinks, although they look very attractive, require careful care, since the surfaces are susceptible to oxidation.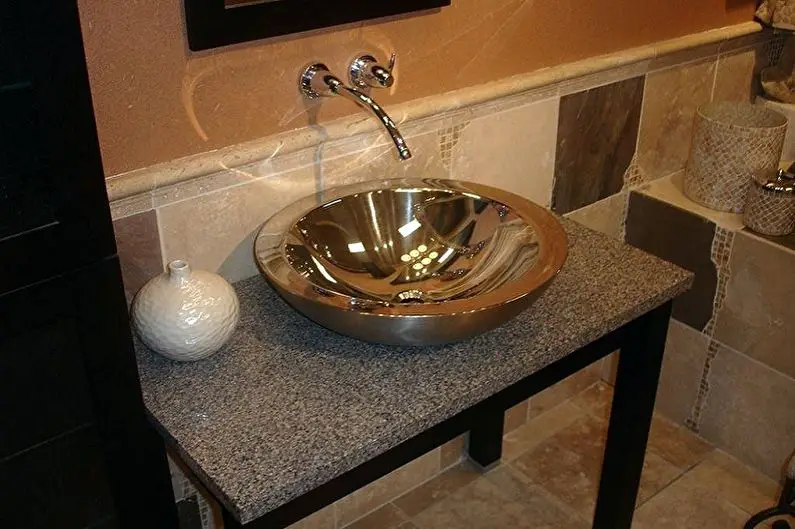 Wooden sinks
A particularly expensive and rare product is a wooden bathroom sink. It is made of valuable wood species and is treated with a moisture-proof composition. By and large, such plumbing does not serve for permanent use but rather acts as a special decoration in the everyday life of connoisseurs of decorative delights.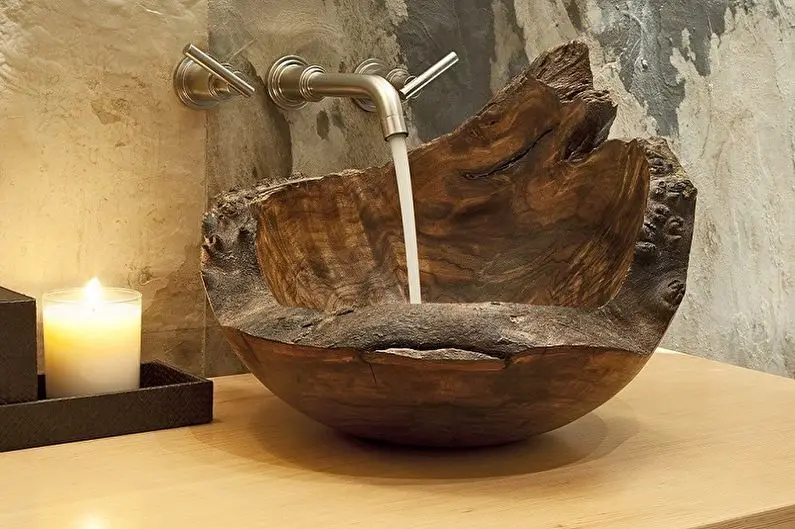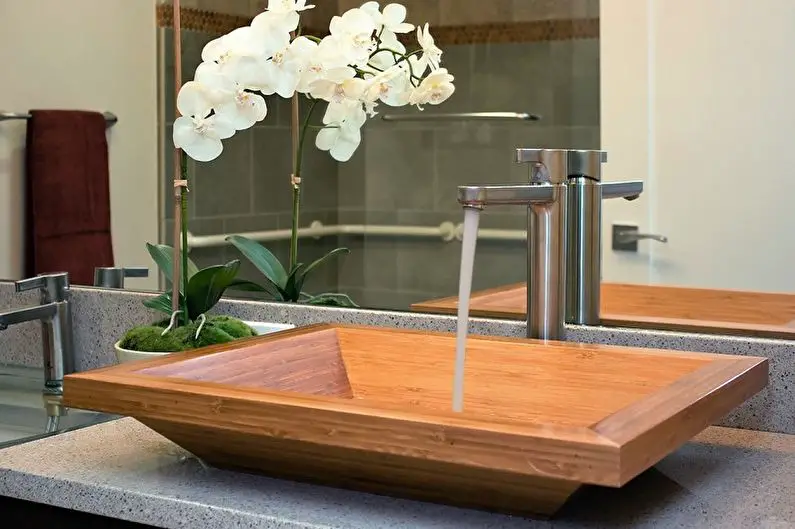 Corner sink
In conditions of the small square footage of the bathroom, you can maximize the use of angles. In addition to the shower cabin, which will occupy one of them, a washbasin will fit perfectly in the other. It can be triangular suspended, "tulip" type, or have any shape built into the corner cabinet. This is a great option for minimalism and complementing classic interiors. There are also asymmetrical models of unusual sizes, which allows you to add a touch of originality.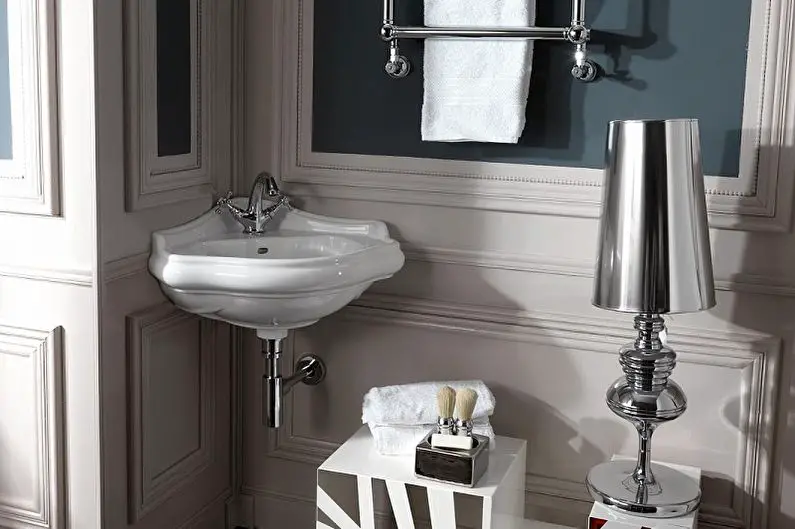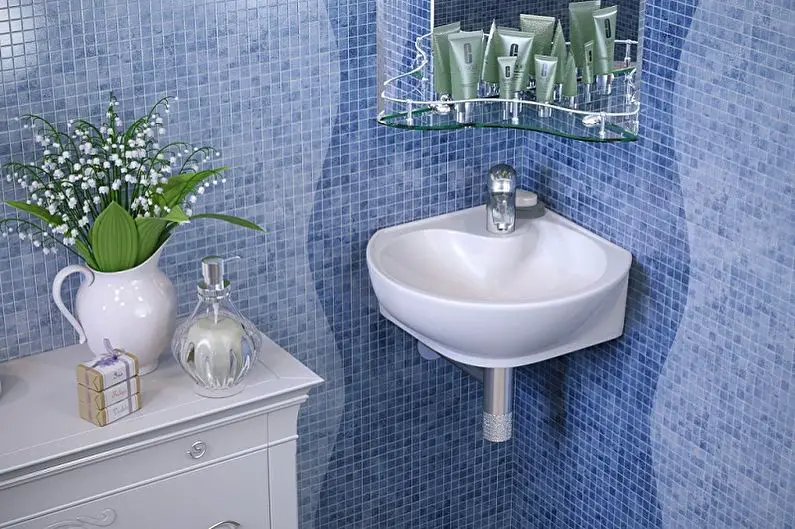 Combination of several sinks
In spacious rooms for a large family, you can install not one, but two or even three sinks. At the same time, the sizes of the bowls may be the same or different. Most often they are placed in the same plane, embedded in a single countertop, but the option of placing a "ladder" is not excluded. Sometimes a set of washbasins suggests the presence of a laundry sink. Its peculiarity lies in the fact that one of the sides has a ribbed surface.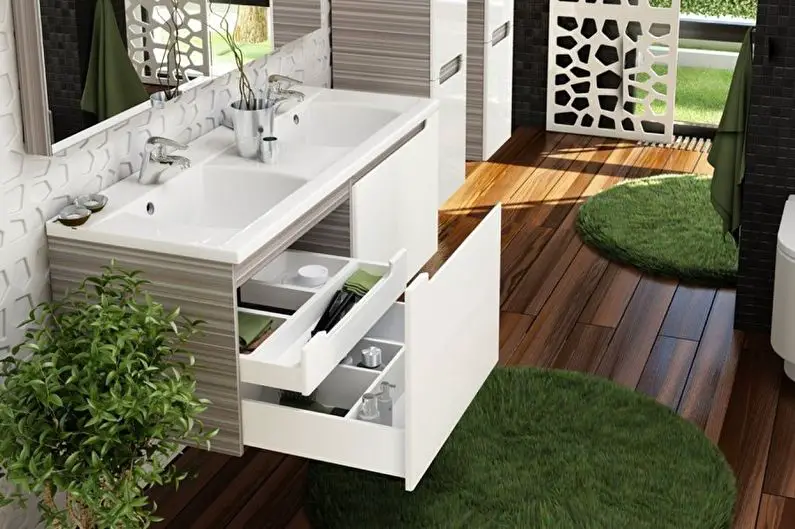 Shell color
In conclusion, I would like to say a few words about which color to choose. The range of the palette used in plumbing items is diverse. To date, it is possible to design a bathroom in any rainbow solution and not only. The main thing is to observe the principle of a single color design for all elements – a bathroom, a toilet, a bidet, and a washbasin cannot be made in a different palette and style, as this will bring complete confusion into the interior.
White plumbing can be considered universal, which is ideal for any palette and is considered a standard of cleanliness. If you want to add originality– you can choose blue, olive, and red plumbing, and black can emphasize the presentability, and stylishness of modern design.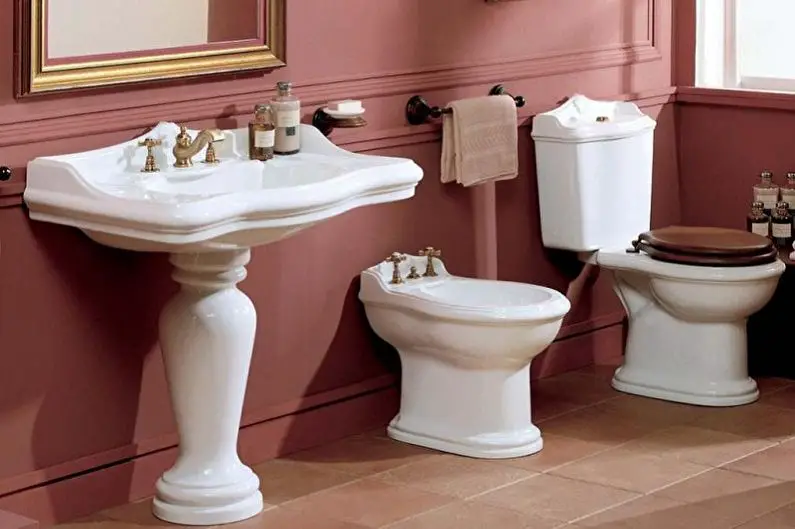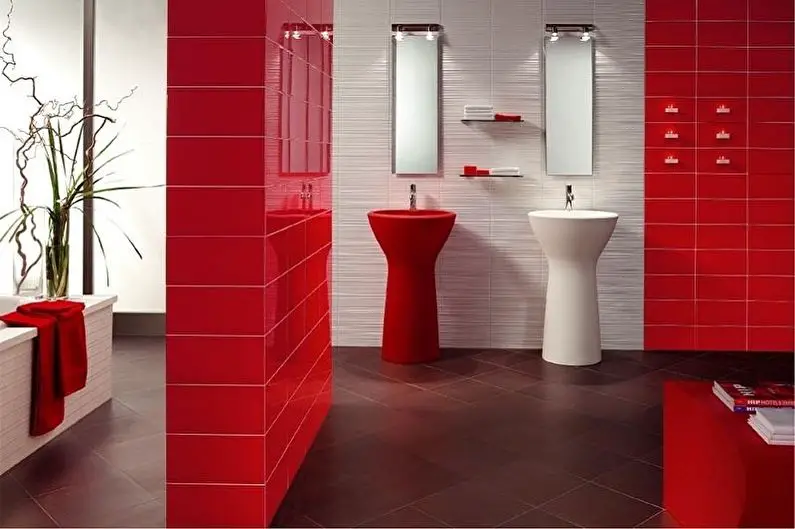 Bathroom sink – photo
The bathroom environment can create a wonderful mood, energize for the whole working day or help to relax, and take a break from pressing problems. The choice of plumbing plays an important role – it must be impeccable not only from an aesthetic point of view, but also functional, comfortable, and, at the same time, original. Next, we offer you to familiarize yourself with a photo selection, where many models of modern bathroom sinks are presented – from the shapes we are familiar with to the most non-standard design solutions. Enjoy watching!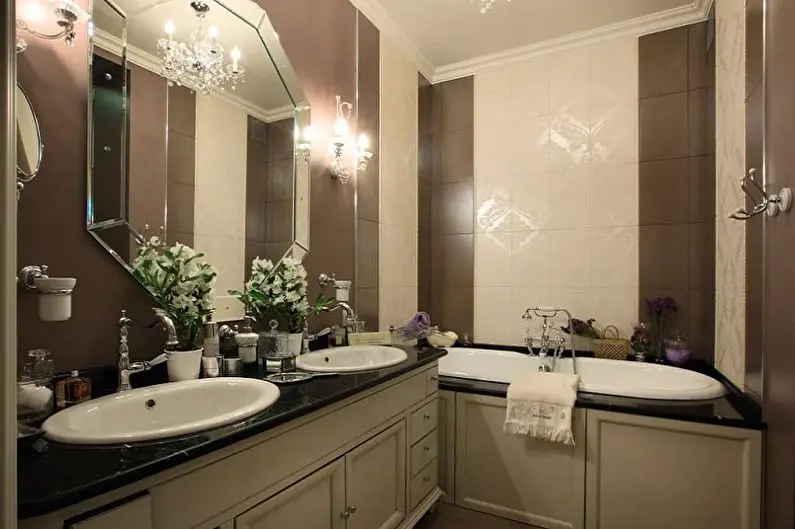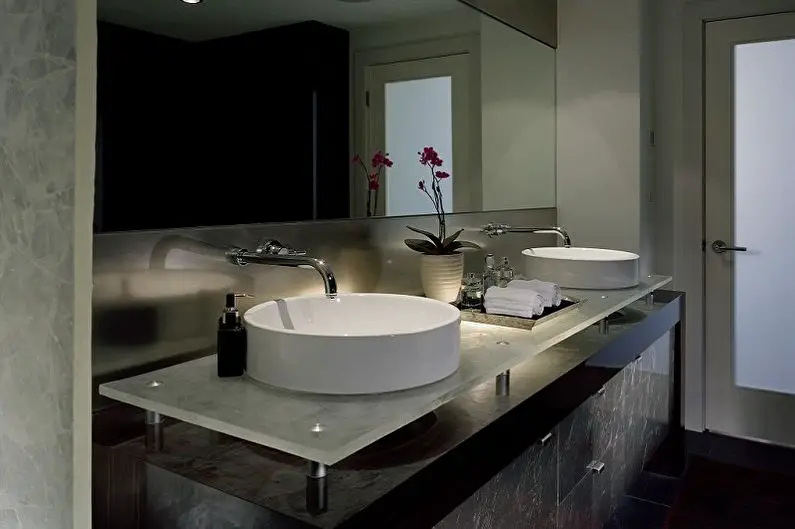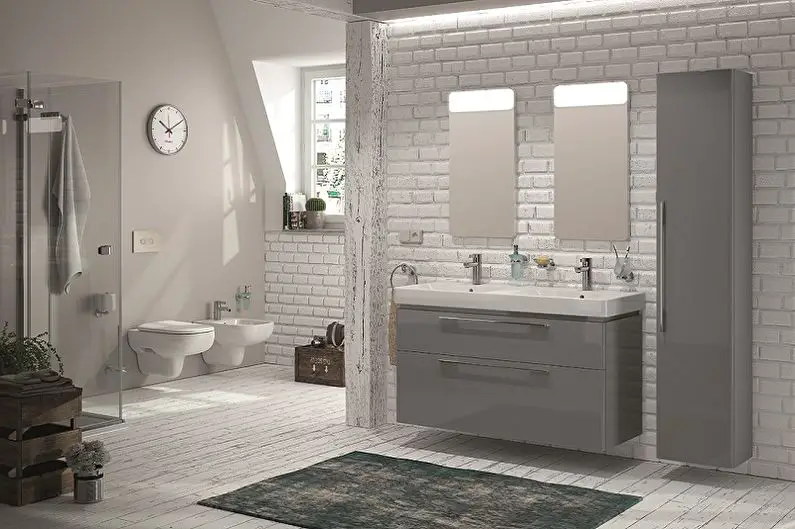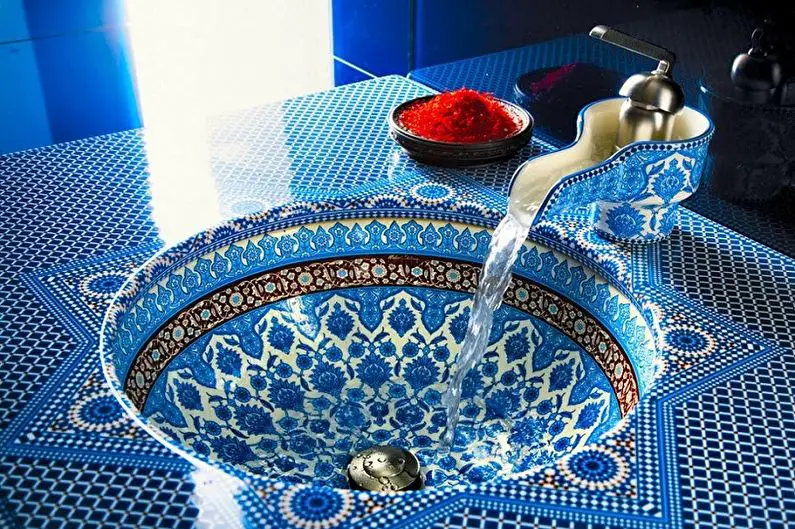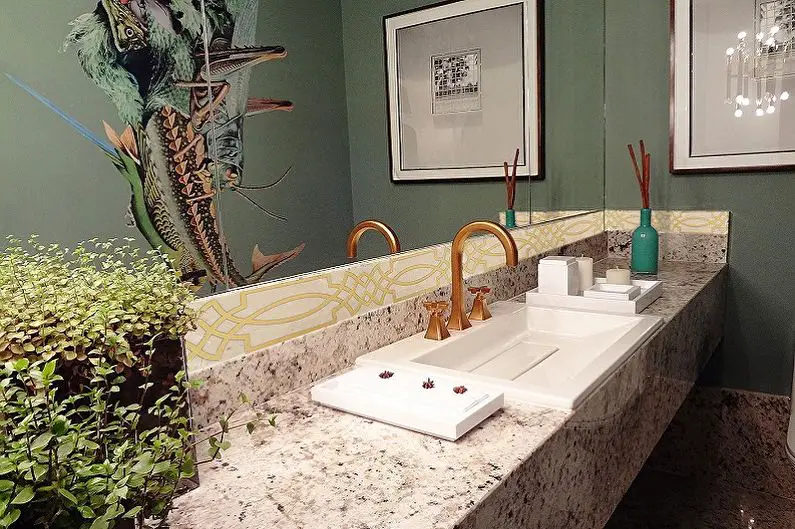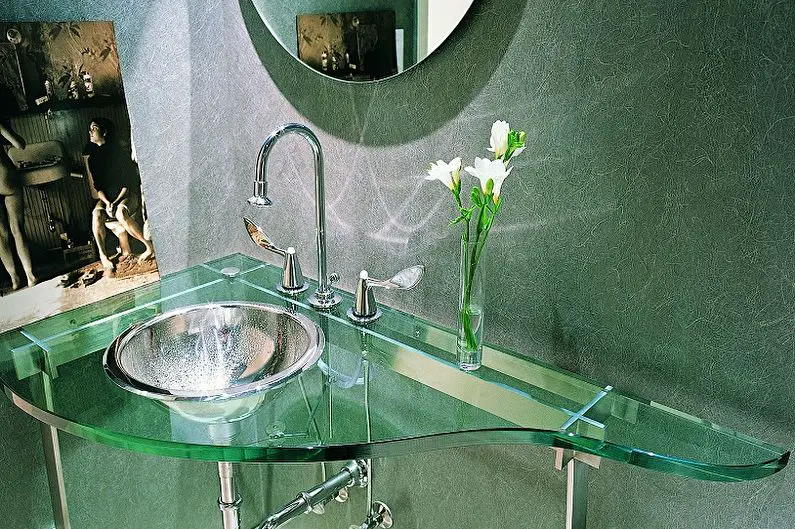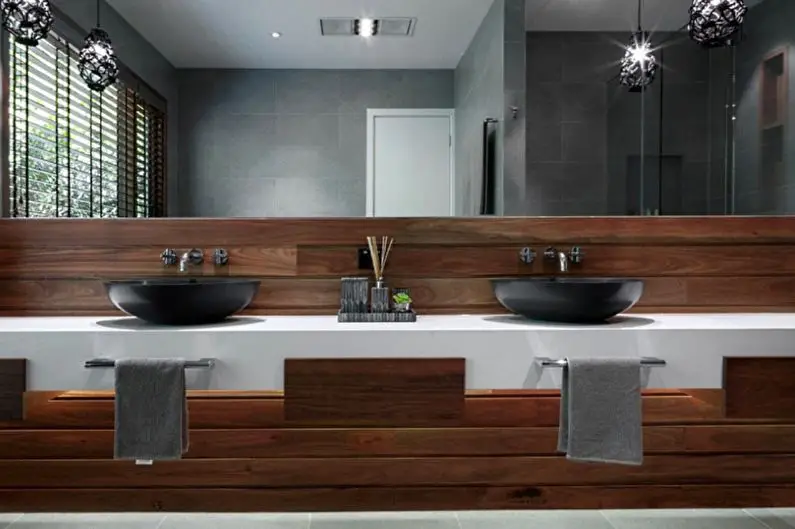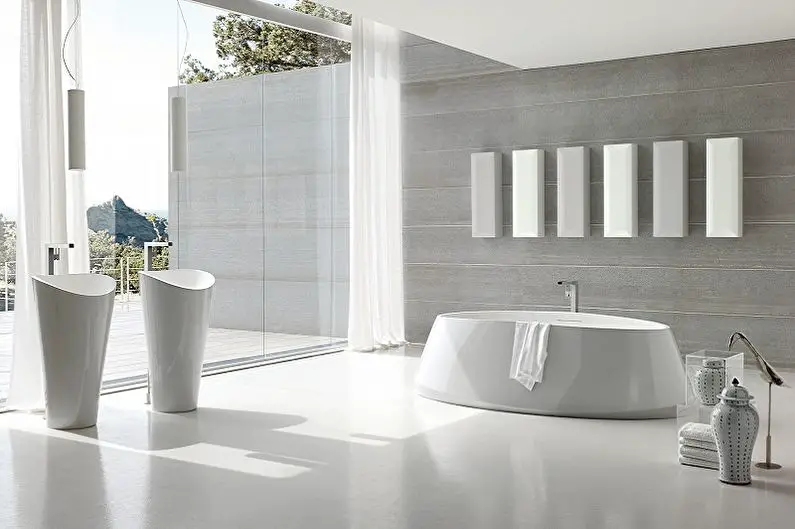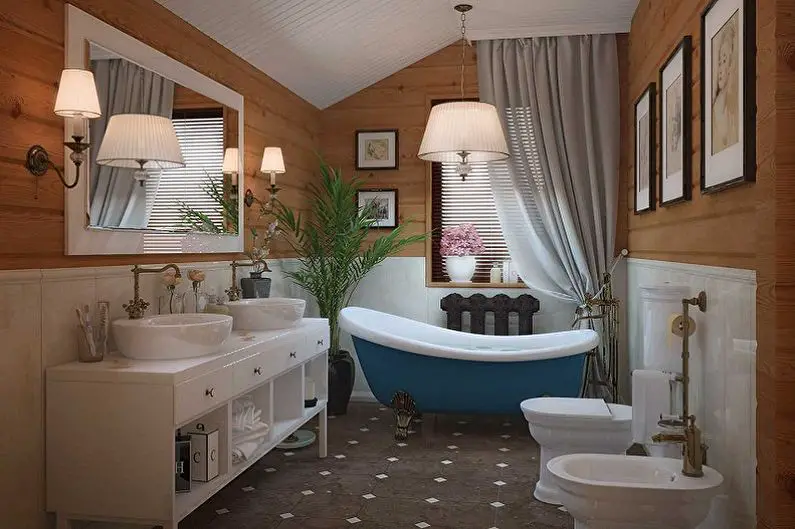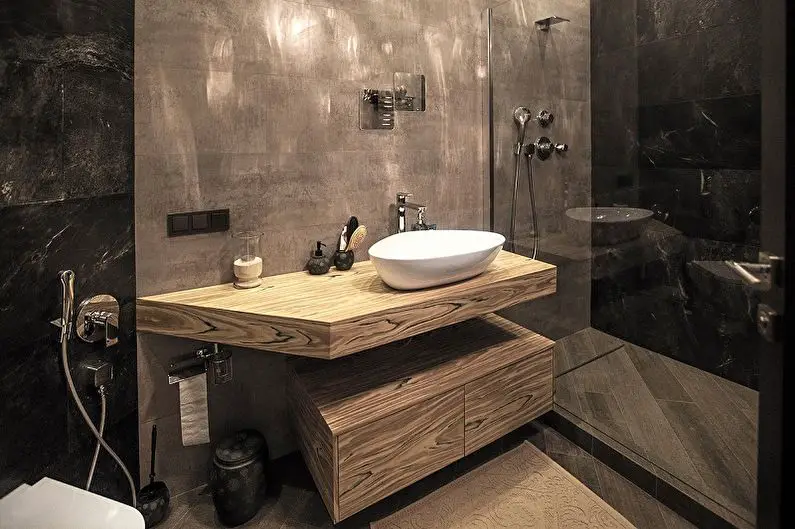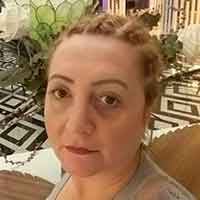 I joined Appartenville in February 2021 as a content editor. After studying English literature at university, I worked as an e-commerce website editor, content author, and purchasing intern for several independent luxury and lifestyle retail companies. My role at Appartenville combines my love, experience, and passion for the world of design and the desire to create inspiring written content. As for my personal style, I am a big fan of color and drawing, especially I like the pastel color scheme. I also enjoy discovering new trends, brands, and products, whether it's fashion, interior design, or lifestyle my wish list for buying new things is endless.