Painting solid wood or chipboard furniture Want to change your life, but it happens to everyone? The simplest solution is to change the new wallpaper, remove the unpleasant mess and rearrange the furniture in the space. But, having tried all the known techniques and still not feeling satisfied, the idea comes to buy new furniture. However, there is another economical and original choice. We know what to do and how to achieve the desired result when painting furniture to modernize the decor.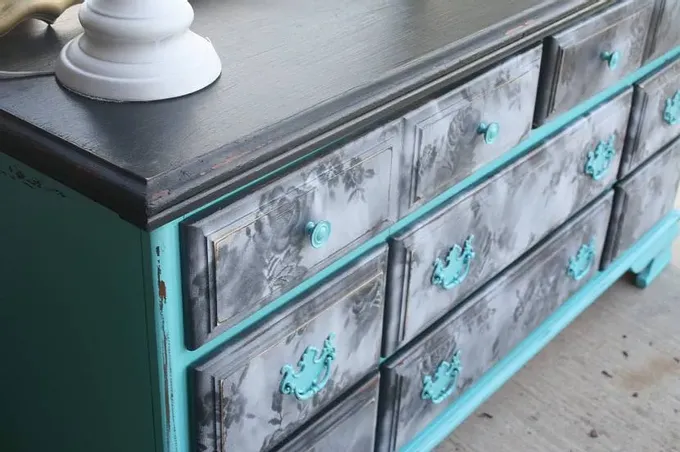 What are the advantages of painting old furniture?
What is so beneficial about individual efforts to improve the image of the home environment:
The smallest possible investment.
Field" for the expression of ingenuity and imagination in the creation of an appealing appearance.
There's no need to get rid of old chairs, tables, or cabinets.
Creating a presentable piece of furniture out of old furniture.
When you do something out of the ordinary, you experience a flood of positive emotions. The most important thing is to consider all of the nuances of the work.
Material for making furniture
Solid wood furniture is rarely found in modern apartments. It is classified as antiques. However, individual items are discovered, including Grandma's old wardrobe, chairs, and a dining table. They've been worn down by time, but they're still going strong.
MDF and coated chipboard are the most common materials used in modern furniture. MDF – finely dispersed wood fraction is pressed under the influence of high temperatures, resulting in slabs that are stronger than wood. Chipboard has a less dense texture.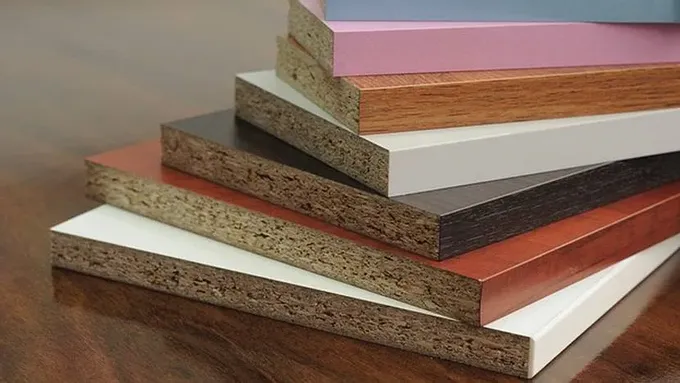 Chipboard boards are faced with:
Veneer.
Paper.
Polymer films.
Plastic.
Chipboard types:
Lacquered. Several layers of varnish cover the slab. Front furniture parts are made with this material. This surface is more easily polished. Because you must first remove the varnish layer, sand it, and then begin painting. This is a lengthy procedure.
Laminated. Chipboard is very popular these days. The film rolled onto the base forms a strong and dependable layer under the influence of a heat press. As a result, painting such a plate is difficult. The polymer makes the process more difficult.
Laminated. Covering chipboard with paper. This coating is easy to clean, and once the top layer is removed, you can begin painting.
Veneered. Under pressure, the veneer is glued to the plate. Stain and varnish are used for painting.
Wood chipboard painting
The decision to paint over old furniture has been made. Begin by gathering all of the necessary materials and tools:
Drill with grinding and mixing attachments, brushes of various sizes, roller and paint containers, spatulas, sandpaper, and painting tape.
Paint, varnish, putty, primer, solvent.
Protective face mask and goggles, gloves.
You must select paint for chipboard furniture during the preparatory stage. The stores stock a wide variety of paints in a variety of colors:
Acrylic paints are a popular painting medium. They are quick to dry. Simple to use. Increased stability and the absence of an unpleasant odor are significant advantages. It is possible to dilute with a small amount of water for cost-effective use. It is only available in white and must be tinted to achieve the desired color.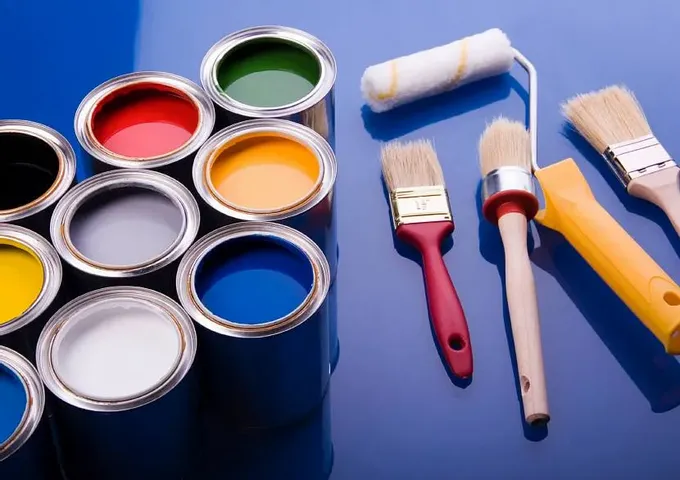 Lacquer-based enamel paints have a chemical odor, but they give the furniture a glossy sheen.
Alkyd paints have a low price point. It is not recommended that they be used to paint furniture in residential settings.
Oil.
Epoxy.
Acrylic or other special paints, such as alcohol-based varnish for antique furniture restoration, are appropriate for surface painting. Varnishes improve the appearance while also protecting it from the effects of water and parasites.
Surface preparation stages
The preparatory step is to arrange the workplace:
To begin, remove all decorative and fasteners from the parts to be painted. Remove the handles, hinges, glass, and facades from the boxes. Nothing will then get in the way of painting. The paint will be applied quickly and precisely.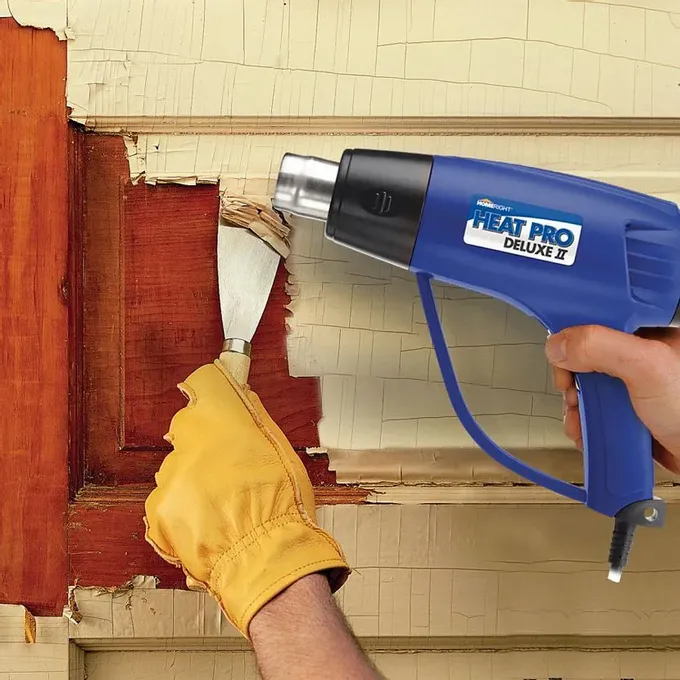 Remove any existing cladding layers. For this, you can use old paint removers, a building hair dryer, a sander, or fine-grained sandpaper. Only sanding can be used if the coating adheres strongly enough.
Remove any lingering dirt. The surface must be kept dry.
Degrease the surface with acetone or white spirit. They do not create a slick film.
Before painting the chipboard, inspect it for flaws that may appear during operation. You can remove them with putty, preferably car putty. After drying, sand and dust the treated areas.
The following step is a primer (acrylic). It is designed to improve paint adhesion to the surface. It is more beneficial to apply twice, as this reduces paint consumption.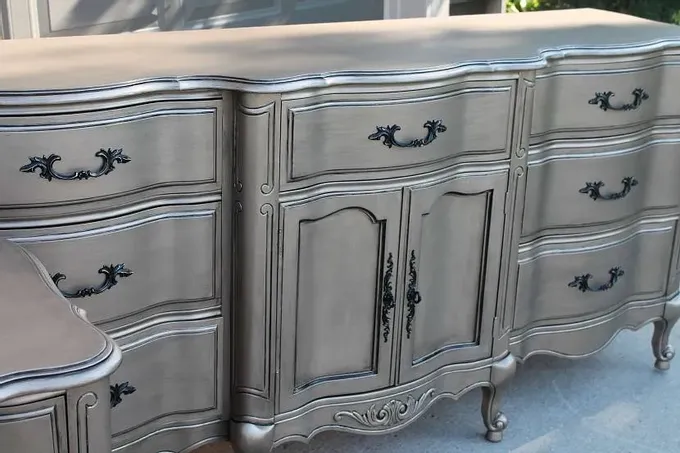 The most crucial creative moment has arrived; all that remains is to paint the furniture. Acrylic spray paints are recommended by experts. A novice can easily use their application. A diverse palette of paints with special effects such as metallic, fluorescent, hammer, and pearlescent. They apply evenly and provide a smooth finish when sprayed. They adhere well to the painted surface and last a long time.
Before using the paint bottle, give it a good shake. To avoid smudges, it is best to position the surface horizontally. The vertical area is painted from the bottom up. It is necessary to apply up to three layers, each one after the previous one has dried (after 25-30 minutes). Pay special attention to difficult-to-reach areas.
Apply 1-2 coats of varnish over the dried paint to repair and extend the product's life. It will give the color more depth. A similar glossy or matt varnish should be used for acrylic paint.
Professional recommendations
Painting solid wood or chipboard furniture Tips from professional painters will help you paint quickly and accurately, save money, and achieve a high-quality result when it comes to how to paint chipboard:
Applying two coats of primer will result in a darker shade.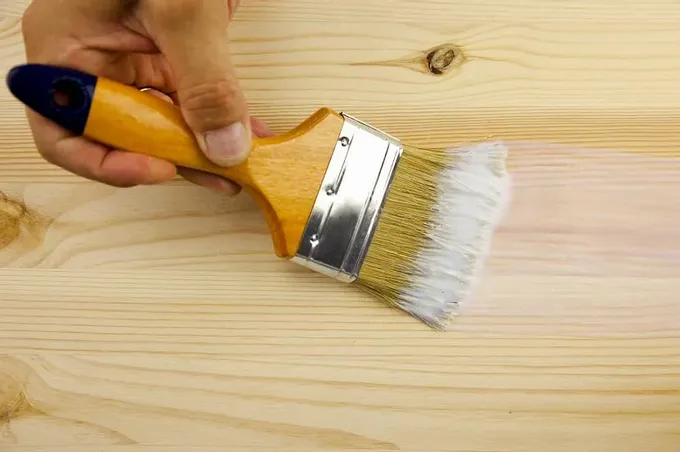 If the product is impregnated before painting, it will be more durable.
If you buy the same brand of paint, varnish, and primer, the compatibility will be complete.
To avoid mistakes, cover the surface that cannot be painted with foil and masking tape.
A fine-bristled roller can be used to achieve a smooth surface; a long bristle will add texture.
A lighter color palette will help to visually expand the space.
Work in a respirator and ventilate the area after work to eliminate the effects of unpleasant odors.
Allowing your imagination, design flair, and chipboard painting to run wild will transform interior items into new ones, add zest to them, and bring fulfillment from a creative impulse.
Painting solid wood furniture
Antique solid wood furniture is gaining popularity. The inherited cabinets and dressers are still functional, but unattractive. Painting wooden furniture at home will save the situation. Any creative thought can turn an old headset into a design work of art.
Painting solid wood or chipboard furniture. It all starts from the beginning with the preparation of the work area and tools. After you have thought through and prepared everything you need, you can proceed with the transformation.
The same paints as in the chipboard version are suitable for painting, but we add the following to the list:
Because it reacts negatively to moisture, water-based paint is used in dry rooms.
When ignited, acrylic paint prevents the spread of open flames and has antiseptic properties.
Latex is used for surfaces that are subjected to direct sunlight or other harmful elements such as water. However, this paint is quite expensive.
Silicone paint is made from silicone and acrylic. It has good adhesion and is water resistant. High-end price range.
For connoisseurs of the naturalness of wood, you can use furniture varnish.
The sequence of painting furniture made of solid wood or chipboard
The masters' experience suggests that the outcome is dependent on the correct execution of the work stages. We're still figuring out how to paint furniture and do restoration work.
Because old solid wood furniture is heavy, it should be disassembled first. Keep accidental paint splashes away from the desired areas.
Solvents can be used to remove the old coating, but they have the disadvantage of damaging the wood's structure. As a result, thermal cleaning with a spatula and a hair dryer will be more practical.
A primer is applied after adjusting with putty, sanding, dust removal, and complete drying. This process improves the adhesion of the substrate and the paint.
Paint raised areas with a brush, and use a roller to cover a larger area quickly and accurately.
Removing varnish before painting
Cracked varnish from furniture can be removed mechanically, for example, with a spatula on a flat surface or with a milling machine's flat screwdriver. Connect a grinder or drill with a special attachment to make varnish removal easier.
For several hours, chemical solvents are applied to the surface, and the residues are removed with a weak acetic acid solution. Following preparation, use the standard painting scheme.
Furniture decoration
Painting solid wood or chipboard furniture.How to repaint furniture to fit seamlessly into the existing interior. White is versatile in use. It matches any finish. The color scheme of light tones is chosen to accentuate the furniture. Dark colors are used in the decor of bedrooms or a nursery, to create comfort and warmth.
There are several suggestions for decorating for a specific style. Using the Decoupage technique and special paints, you can add interest to the interior by using contrasting colors.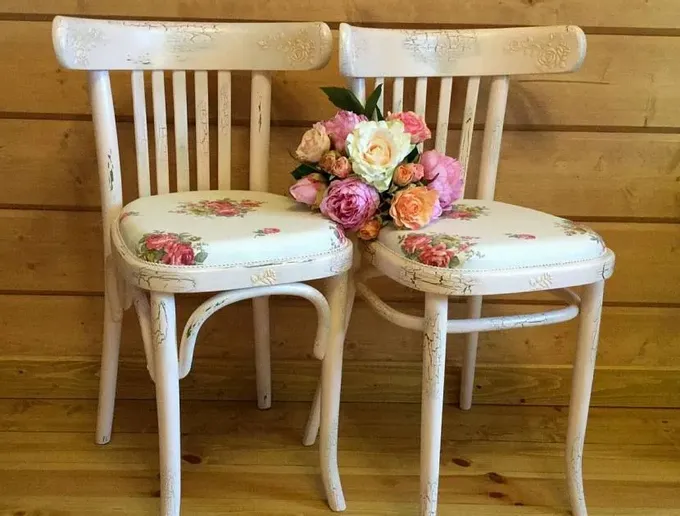 Patinating and brushing require specific skills, so the layperson requires a "test of the pen" on the sample. The effect is achieved by combining two colors – dark and white – and varnish is required for durability.
Briefly about the main thing
There are several options for painting old furniture with your own power with the least amount of time and money investment.
Furniture is painted with acrylic, oil, latex, silicone, epoxy, and enamel paints.
Putty, sanding, cleaning, and priming are all steps in the painting preparation process.
They are varnished to improve the aesthetic properties and extend the service life.
Things to know (Q&A)
Can you paint chipboard furniture?
The simplest method is to simply paint it. Painting particleboard will save you money by eliminating the need to purchase new furniture, and it will add personality to an existing piece. To further enhance the item, use stencils, a bold paint color, wallpaper, or decoupage.
Can you paint chipboard wood?
Never use heavy water or oil-based paints when painting chipboard. Because heavy water or oil-based paints will soak into the chipboard, acrylic works best. This will give your board an uneven appearance. For optimal coverage, no more than two to three layers of paint should be used.
What kind of paint do you use on wood furniture?
For furniture, a satin or semigloss finish in either latex or oil-based paint is recommended. Never leave primer alone. If you choose latex paint, a latex primer is an excellent choice for the majority of applications. It applies easily and effectively, but it lacks the odor of an oil-based primer.
How do you paint a dresser that's not real wood?
Particle boards should be painted with oil or lacquer-based paints. However, if you have used an oil-based primer to prime the wood, you should be able to use water-based paint without the particle board absorbing any water. Your local hardware store should have a variety of different colored paints.
What kind of paint should I use on the particle board?
Particle boards should be painted with oil or lacquer-based paints. However, if you have used an oil-based primer to prime the wood, you should be able to use water-based paint without the particle board absorbing any water. Your local hardware store should have a variety of different colored paints.
What can I use to seal the chipboard?
If you want your chipboard to be waterproof, you should probably use a solvent-based primer. Just make sure to caulk before priming or you'll have problems!
How do you paint wood chipboard?
Follow the rules provided below to paint the chipboard correctly.
Step 1 – Prepare the Surface. First, prepare the painting area by laying down large sheets of newspaper or a large cloth. …
Step 2 – Sand the Board. …
Step 3 – Apply Primer. …
Step 4 – Apply Paint.
What is the best way to paint wood furniture?
It should be painted!
Apply three thin coats of semi-gloss latex paint with a mini foam roller. Allow at least six to eight hours between coats. If there are any drips or residue on the piece, you must sand in between coats. Use the same sanding block and tack cloth as before.
How do you paint furniture like a pro?
How to Paint Furniture Like a Pro
Use the Right Tools. To avoid visible brush strokes in your paint job, you need to use the right tools. …
Know What Not to Paint . …
Lightly Sand Before You Begin. …
Use Primer. …
Water Down Your Paint . …
Lightly Sand In Between Coats. …
Finish with Polycrylic. …
Put Furniture on Blocks.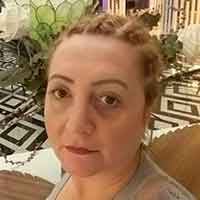 I joined Appartenville in February 2021 as a content editor. After studying English literature at university, I worked as an e-commerce website editor, content author, and purchasing intern for several independent luxury and lifestyle retail companies. My role at Appartenville combines my love, experience, and passion for the world of design and the desire to create inspiring written content. As for my personal style, I am a big fan of color and drawing, especially I like the pastel color scheme. I also enjoy discovering new trends, brands, and products, whether it's fashion, interior design, or lifestyle my wish list for buying new things is endless.