A minimalist bathroom is a tastefully furnished space that adheres to current design fads. When beginning the planning process, it is important to consider the style-defining elements, color schemes, and interior furnishings that should be present.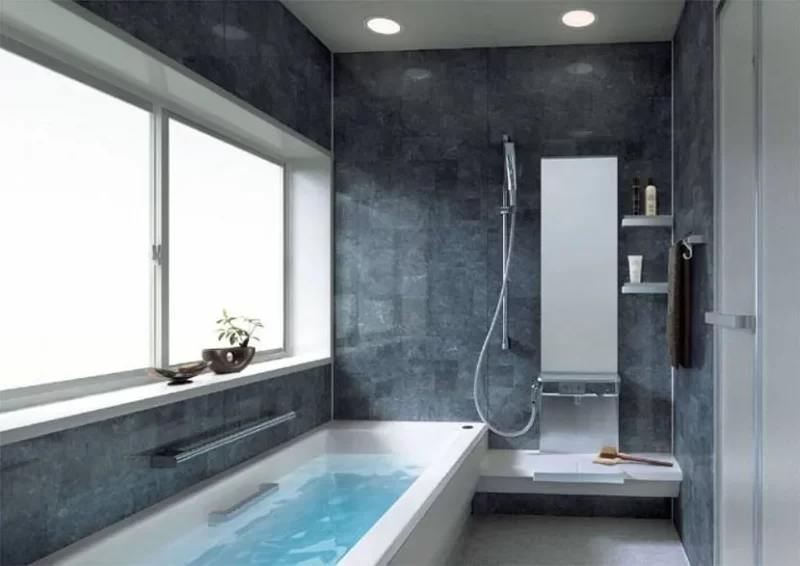 Features of minimalism in relation to the bathroom
The minimalistic architecture of the area may initially give off an image of emptiness and monotonous boredom. However, with appropriate organization and the removal of extraneous items, the room starts to experiment with new colors, creating the impression of being free of clutter.
For your knowledge! The bathroom is a common example of a small area where minimalism enables you to seamlessly blend practicality and beauty.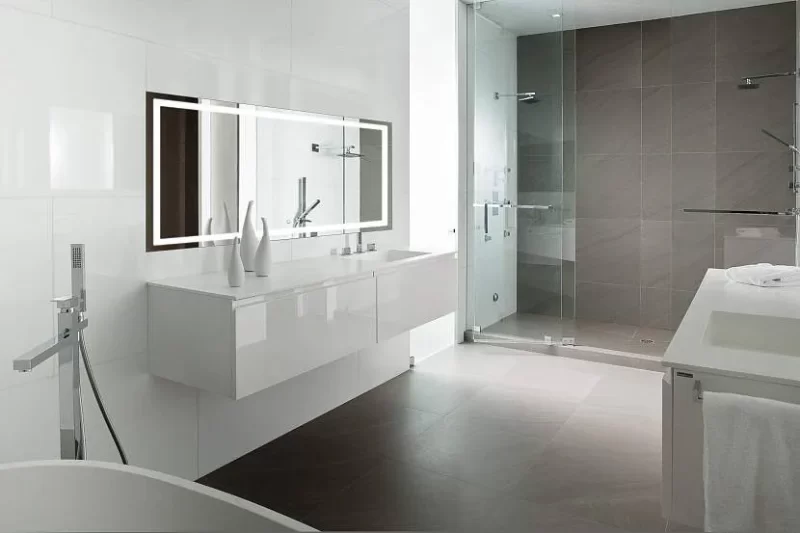 Conciseness
Conciseness serves as the foundation for the bathroom's organization. Simple living is:
no bulky cabinets;
minimum decor;
the simplicity of finishing materials;
emphasis on smooth surfaces
For your knowledge! A bathroom with simple decor is simple to maintain clean.
Choosing a form
A minimalist bathroom uses basic geometric shapes:
square;
a circle;
rectangle;
oval.
Advice! The simplicity of forms should be supported by all design elements, including partitions, shelves, mirrors, etc.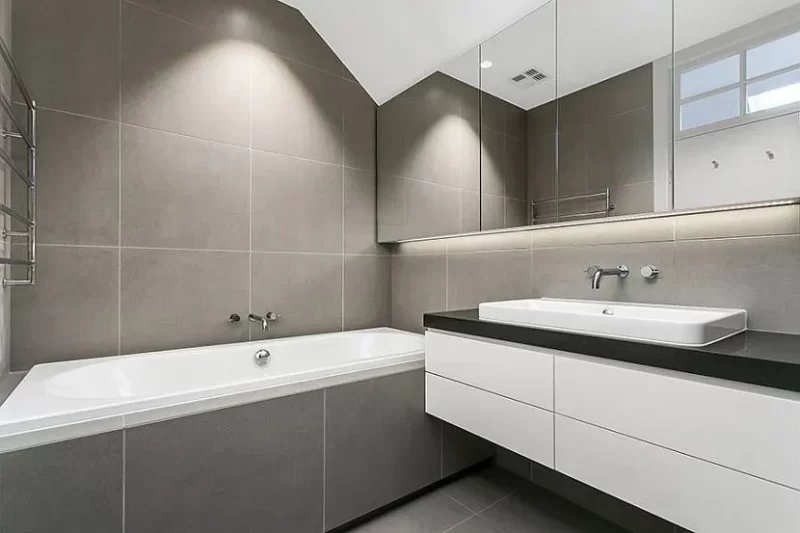 Layout
Minimalism imposes high demands on ergonomics and thoughtful organization of space. Each of the bathroom areas should contain the necessary minimum of items, leaving as much free space as possible.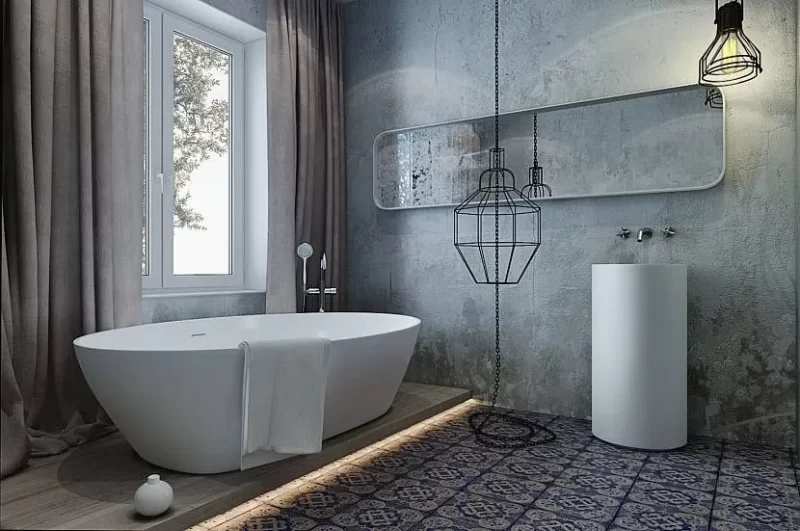 One of the deciding factors is the lack of massiveness. If at all possible, set up a system of hanging cabinets and cabinets.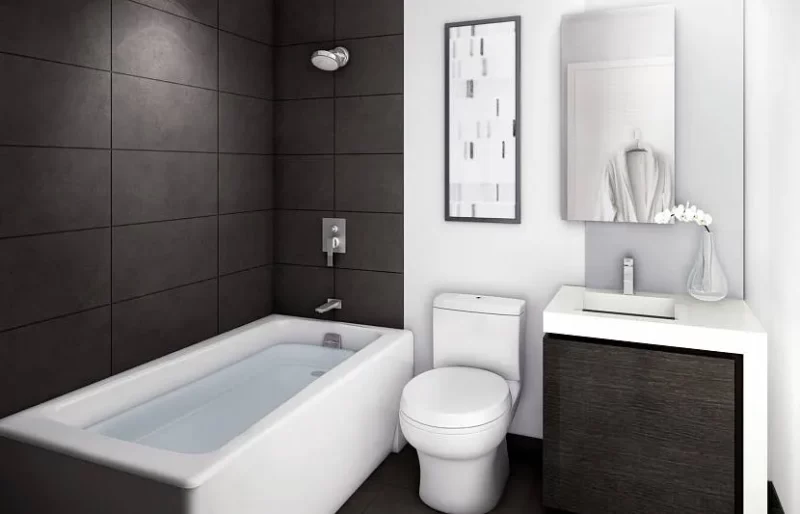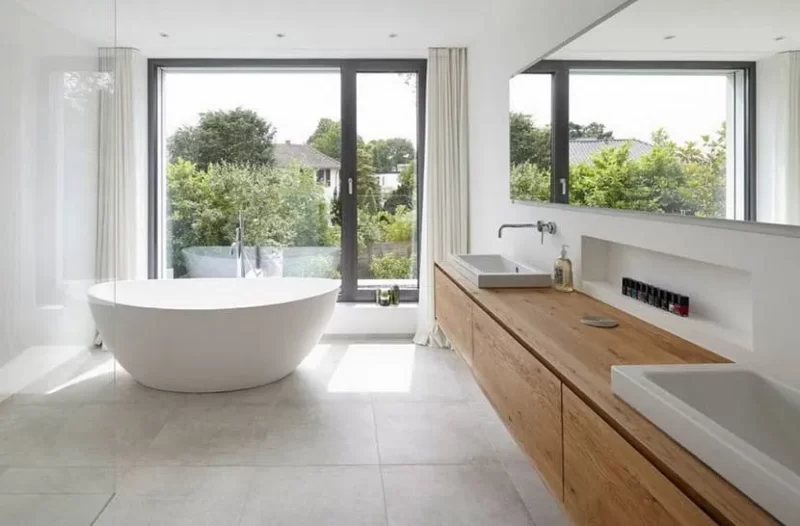 Multifunctionality
The limitation on the number of items used in the arrangement implies that multifunctionality is widely used. These are examples:
wall niches for storing bathroom accessories
cabinet doors with mirrors;
The pouf is used as a storage system, and so on.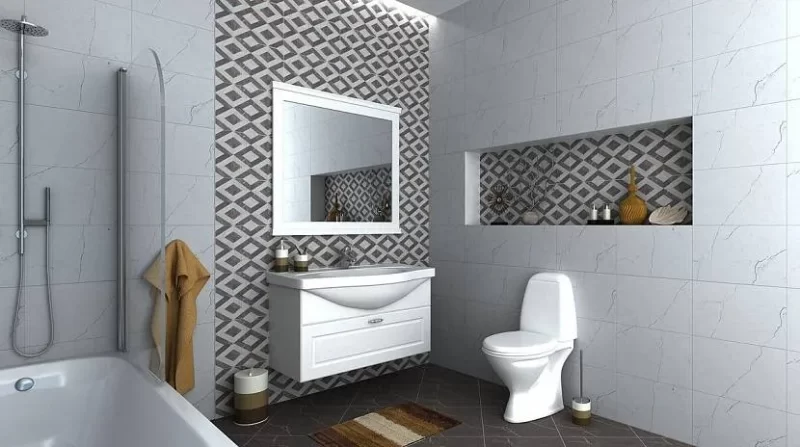 Texture
Conciseness does not deny the use of various textures. It is permissible to combine different materials in the design of the walls, to organize the selection, for example, of the central wall.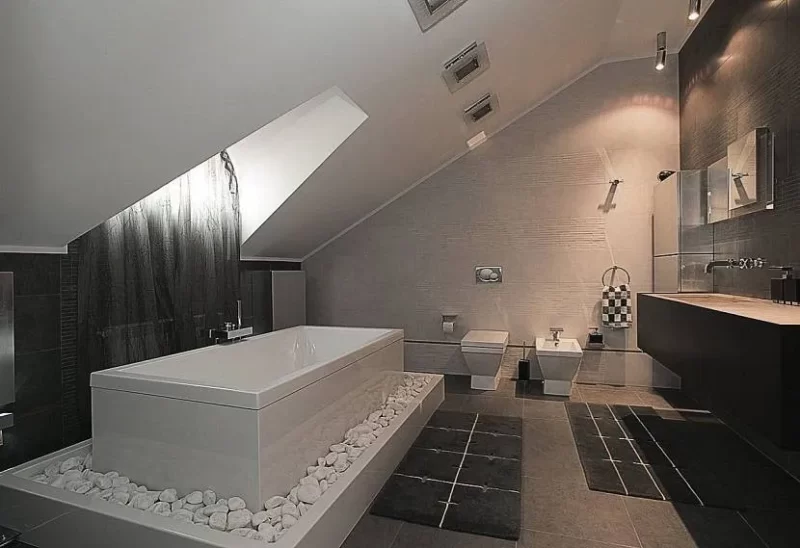 Combinations of colors
The purpose of the bathroom is not only to perform hygienic procedures but also to get a good night's sleep and to relax. One of the most important style requirements is the ability to use color solutions effectively.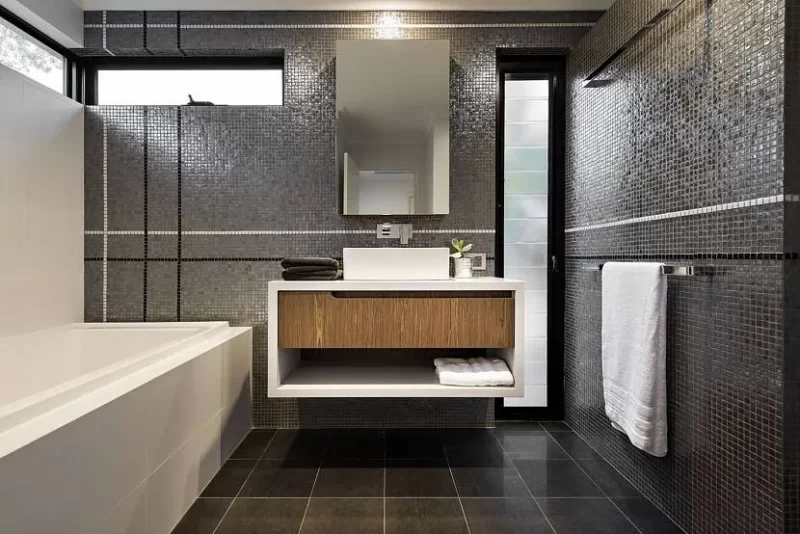 How to organize a non-boring design in white
Because of its versatility, white as the main color is the most popular choice for bathroom interior design. A bright, clean room with well-organized lighting can be enhanced by a few appropriate accessories.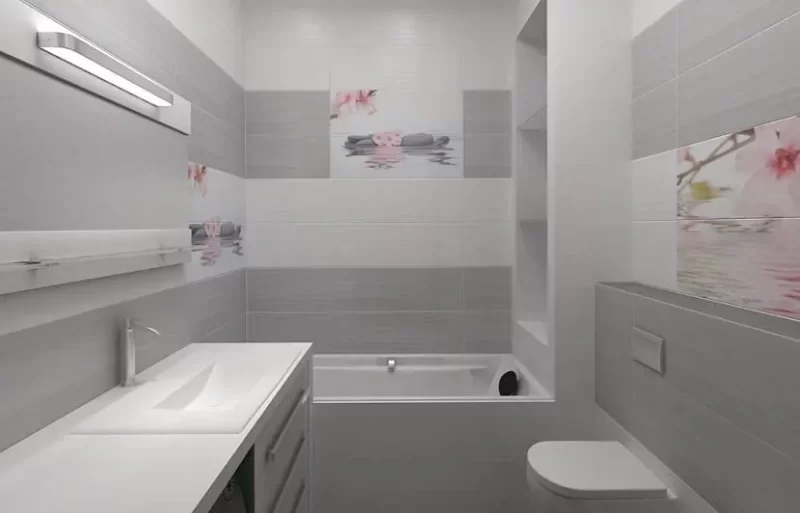 A minimalist bathroom in light colors with a white dominance creates:
It gives the impression of a clean room;
it visually expands the space;
And it gives the impression of a bright room.
Advice! For a small bathroom, light shades are preferable to dark ones.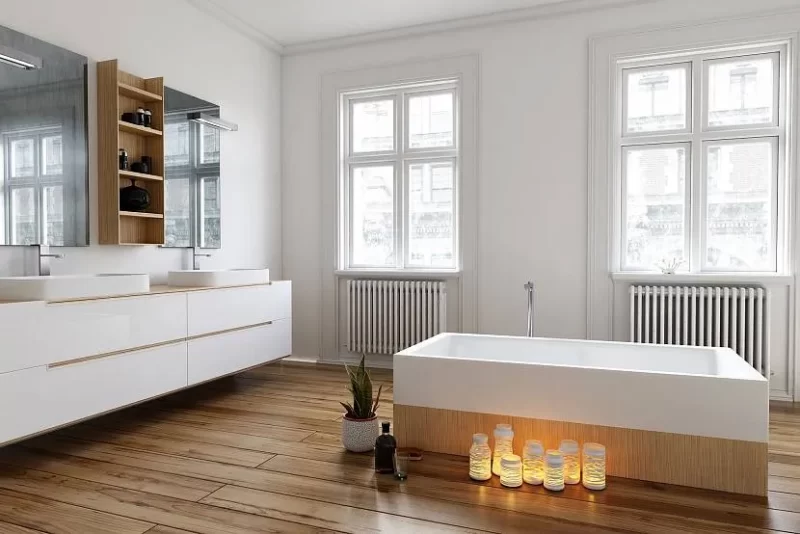 Black: for which rooms it is suitable
Minimalist bathroom deep black is a key color in the minimalist aesthetic. Its unique feature is that it conceals the size of the space, making it unsuitable for use as the primary one in a small bathroom. In a large room, black gloss can be seen not only on the walls, floors, and plumbing but also on the ceiling.
Advice! Black and white are both universal colors. It works well with the majority of colors.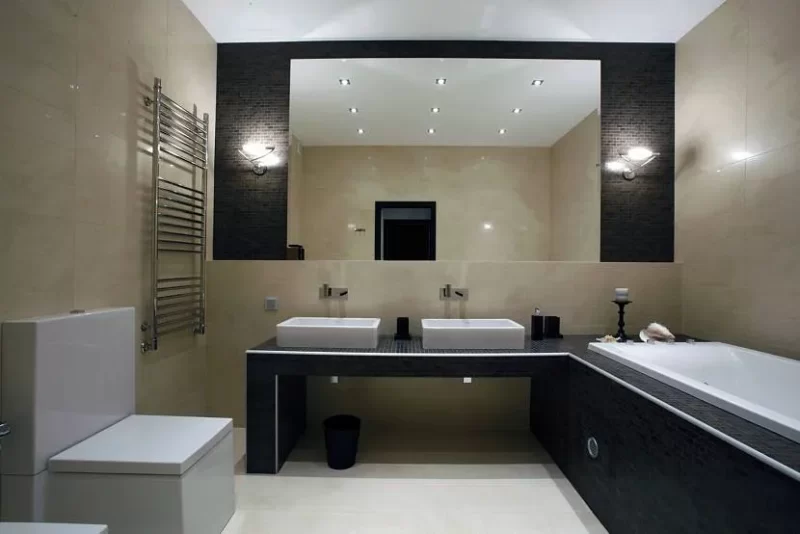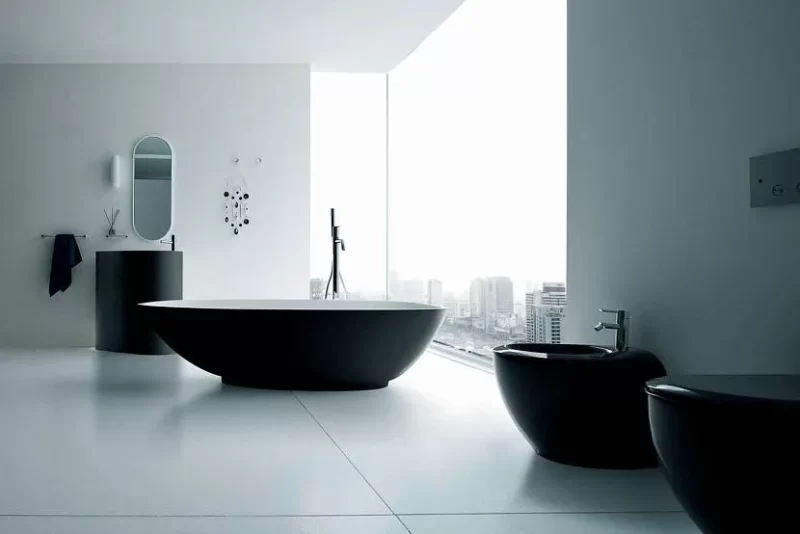 Yellow and Red
Bright, cheerful colors are rarely chosen as the primary ones for a minimalist interior. However, as stunning accents, they can provide comfort and create a homely atmosphere in the bathroom.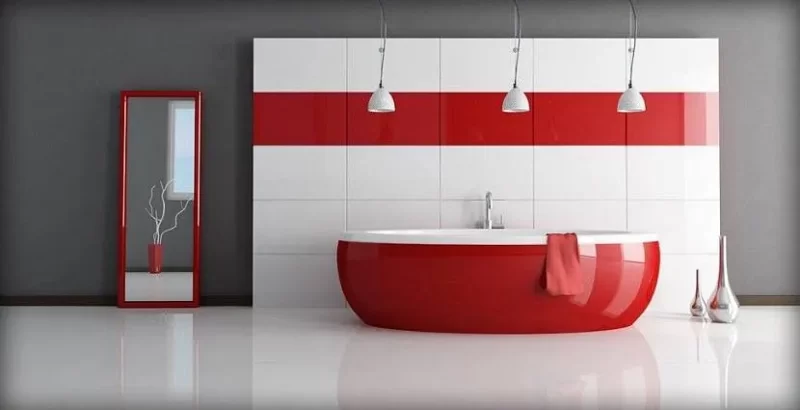 Blue and Green
The water element is represented by green and blue hues. They impart a sense of coolness and freshness. They are frequently used in conjunction with white in the bathroom.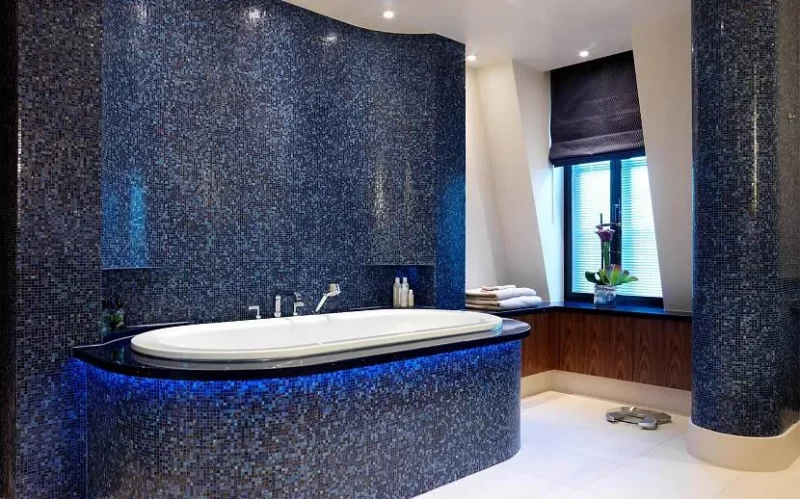 Beige and brown
Minimalist bathroom warm chocolate and coffee tones appear delicate. Brown color, when diluted with beige, creates a non-rough interior that perfectly matches the minimalism style. Natural brown shades of wood make an excellent backdrop for highlighting brighter accents.
Advice! The brown interior is best organized with natural wood and surfaces with a pronounced texture.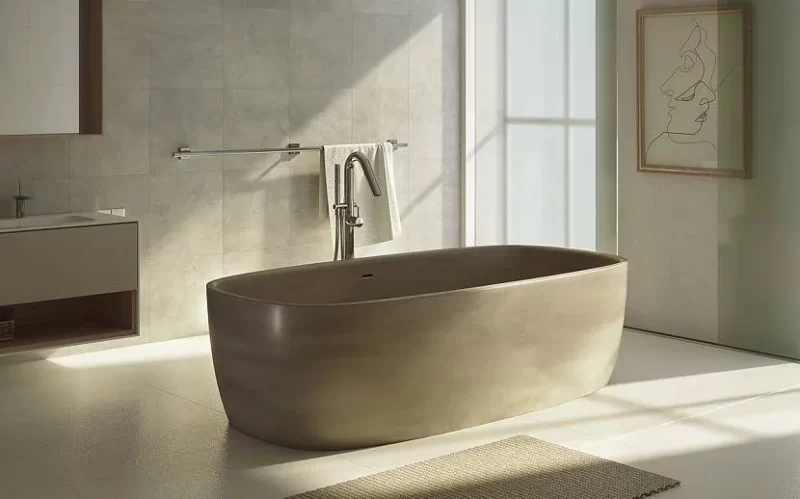 Material selection: what to look for
When designing a bathroom and selecting a color scheme, we must keep in mind the most important requirement for finishing materials: resistance to adverse effects such as temperature changes and high humidity.
The decoration can be used:
natural stone;
ceramic tiles;
glass;
wood with special treatment;
plastic;
imitations of stone and wood, etc.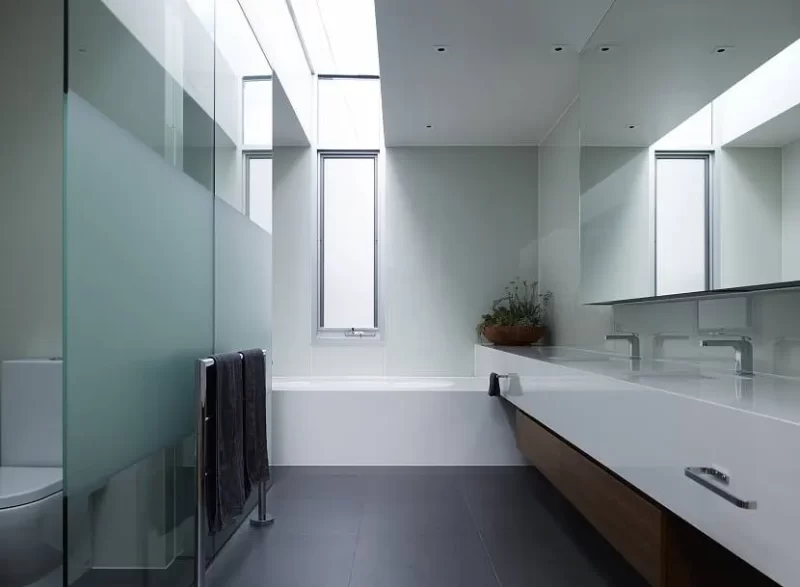 Walls
The wall decoration in the bathroom should be concise, without variegation, and with abundant prints. Most often, light shades are used for the design of vertical surfaces, and less often – dark.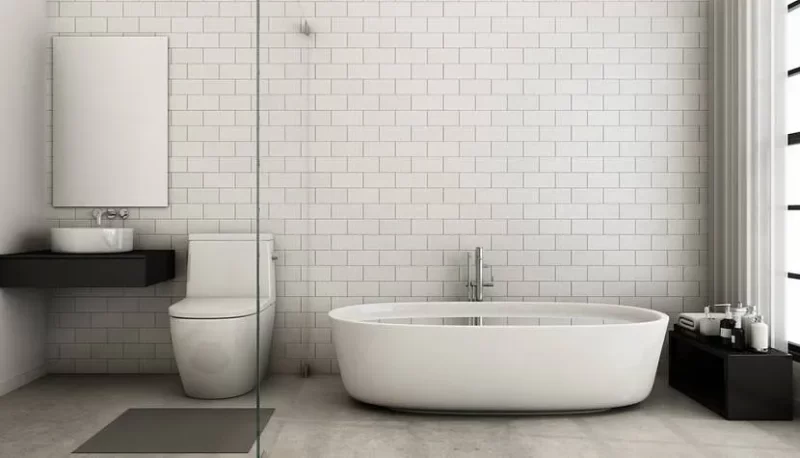 As finishing materials can be used:
tile;
wild stone (or its imitation);
panels;
paint, etc.
Advice! A pattern in the form of stripes running from the ceiling to the floor or horizontally can be used to complement the minimalist bathroom design.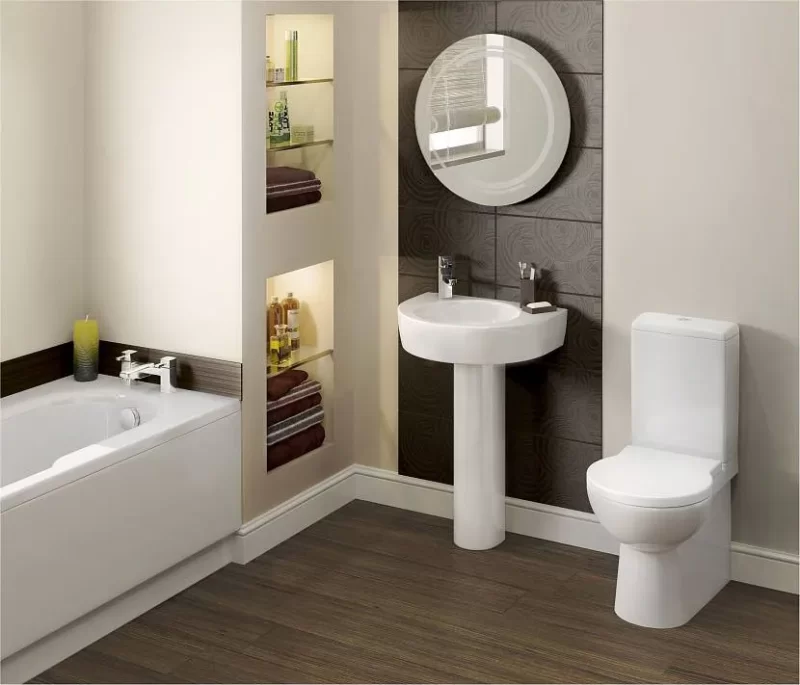 Gender: a simple way to organize
The standard version of floor organization with tiles is fully compatible with minimalism. Ceramics can be almost any color, but universal colors are preferred:
black;
white;
gray;
beige.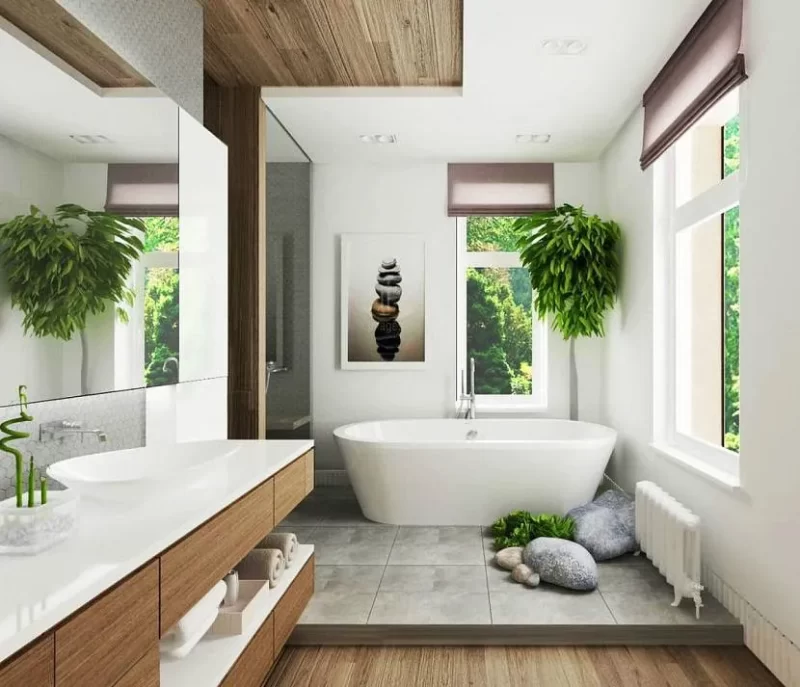 Tiles with no pattern, mosaic, or geometric pattern should be preferred. You can also choose a checkerboard pattern or diagonally laid-out stripes.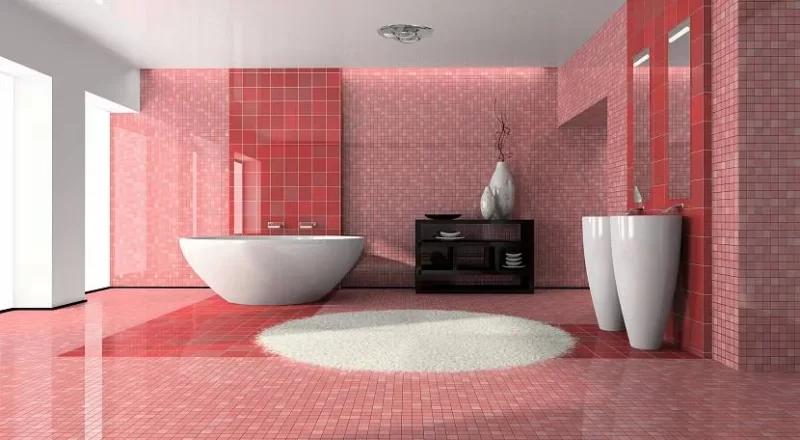 Ceiling
It is necessary to avoid using decorative elements when selecting a ceiling finish. Stretch construction with a glossy coating will be the most concise option. Because of its reflective ability, this technique not only allows you to fully fit into the style, but it also visually increases the space. The additional "magnification" effect is created by well-organized lightings, such as built-in.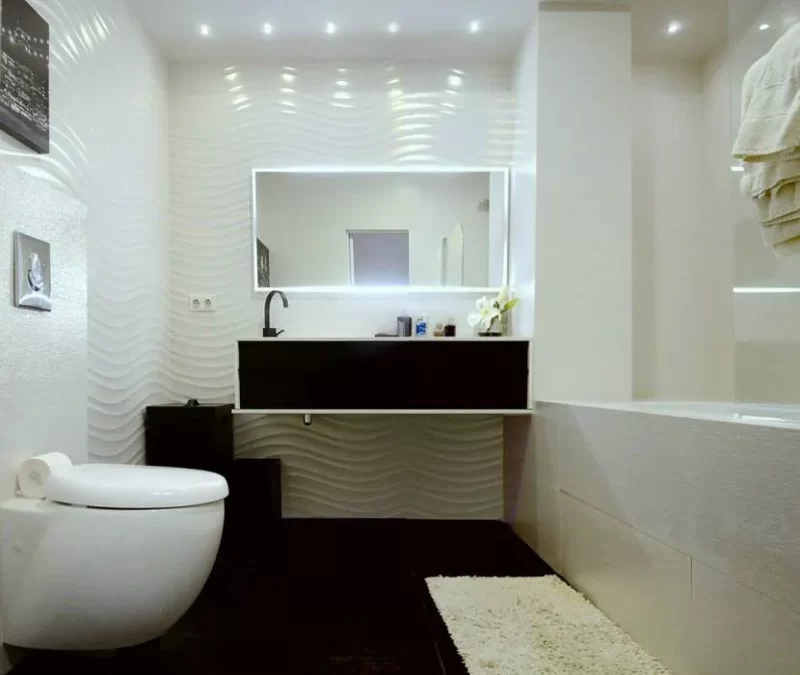 Bathroom furniture: how to make do with less
Minimalism and the small size of the room make it difficult to organize the space so that things and bath accessories do not draw attention to themselves. Plumbing should be neat and compact to match the style. The communications approach (pipes, wiring) is concealed within the walls.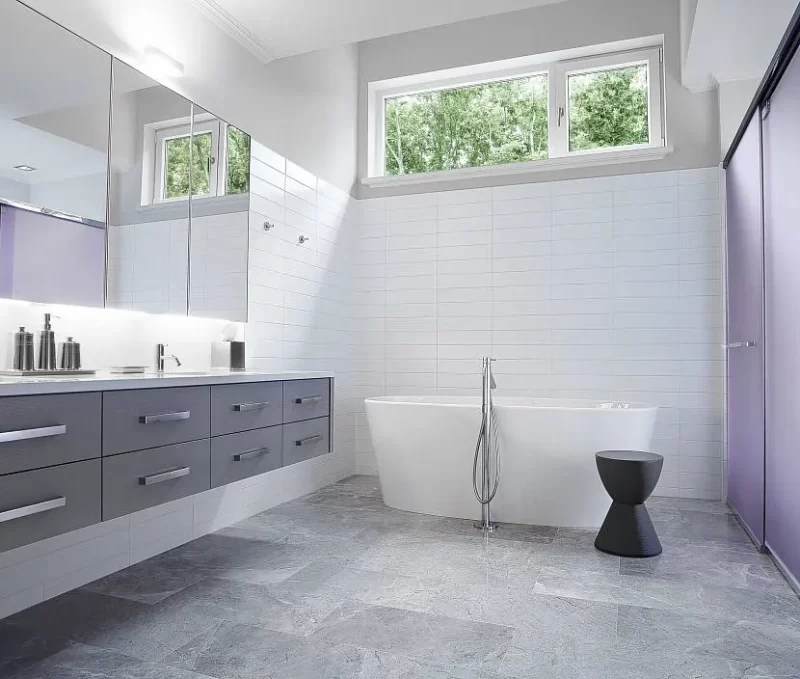 If you can choose the shape of the bath bowl, a rectangular shape is better suited to minimalism than a streamlined oval one. All fixtures (in furniture and plumbing) should be of simple design. The furniture itself should be kept to a minimum. Cabinets and shelves are built-in whenever possible.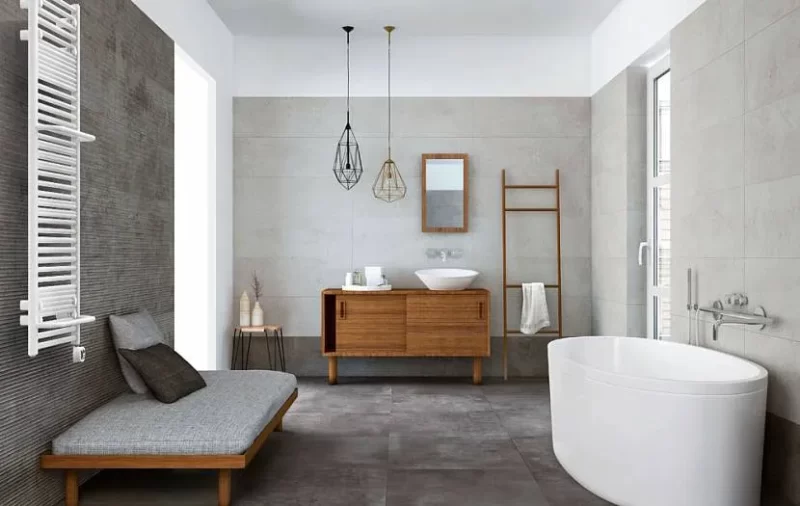 Accessories and lighting
In the minimalist style, the level of illumination in the room should be moderate. Local lighting near the mirror above the sink can supplement the ceiling-mounted lamps.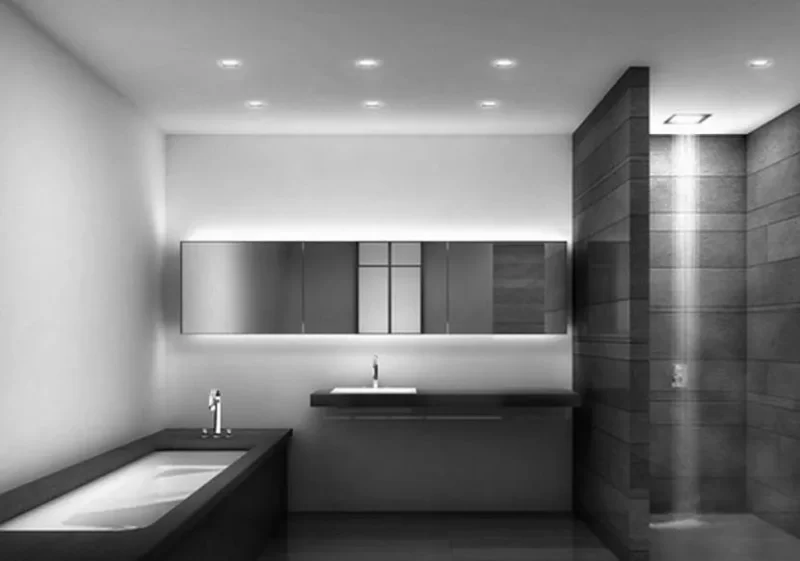 The foundation of minimalism is a lack of decoration. The functional purpose of the bathroom contributes to the room's minimalist style. All extraneous items, such as spare towels, must be hidden.
Conclusion
A minimalist bathroom is a creative process based on a harmonious combination of textures and colors with a limited number of items. The restrained color scheme and lack of decor are offset by the ergonomics of space organization, the functionality of each item, and good lighting. The stylish bathroom interior provides an opportunity to obtain not only a place for body care, but also a zone of relaxation, rest, and relaxation in a pleasant comfortable laconic atmosphere.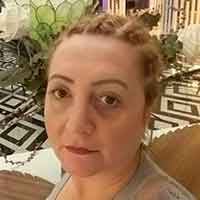 I joined Appartenville in February 2021 as a content editor. After studying English literature at university, I worked as an e-commerce website editor, content author, and purchasing intern for several independent luxury and lifestyle retail companies. My role at Appartenville combines my love, experience, and passion for the world of design and the desire to create inspiring written content. As for my personal style, I am a big fan of color and drawing, especially I like the pastel color scheme. I also enjoy discovering new trends, brands, and products, whether it's fashion, interior design, or lifestyle my wish list for buying new things is endless.