Brown is frequently overlooked when selecting fabric for new curtains, with lighter or brighter shades being preferred. Meanwhile, designers consider this to be one of the most popular colors, and brown curtains in the living room or bedroom are a universal solution for any style. We understand what makes the brown palette unique, and we learn how to combine it with other colors and use it in various interiors.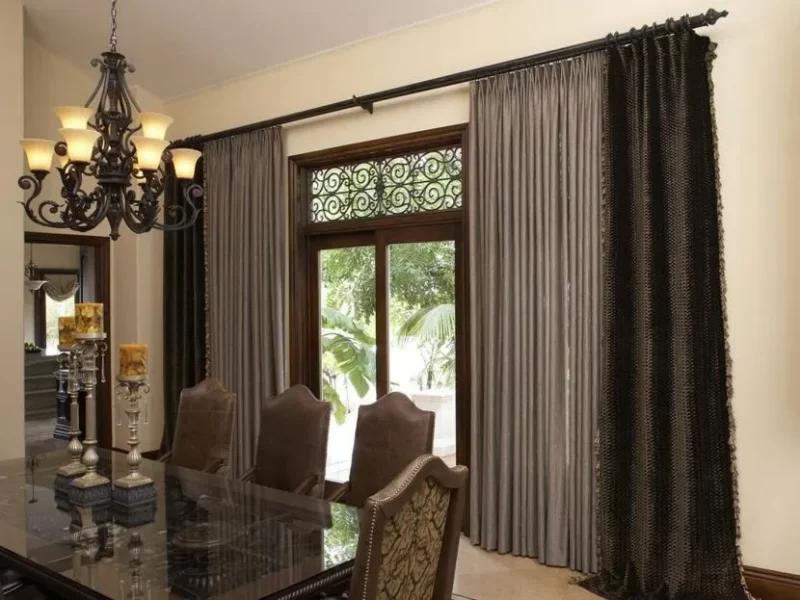 Features of the brown color of the curtains
Many people find it boring and mundane. The prevalence of the brown palette in nature results in such a dismissive attitude; as a result, the color is perceived by the brain as a familiar background.
It has the ability to calm the psyche and provide a sense of security, warmth, and comfort. Others associate it with chocolate or a tan, while others associate it with fallen leaves, earth, and trees.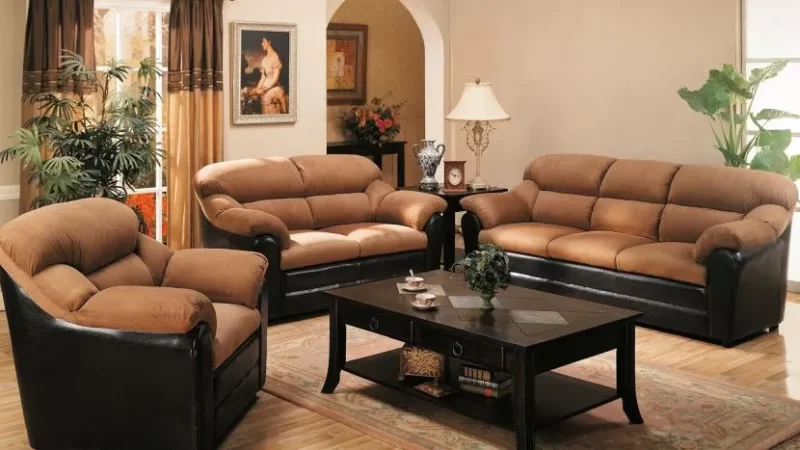 As a result, the brown color has a similar effect on the interior: it makes it more calm and harmonious, creating an atmosphere of home comfort. Because of the neutrality of brown shades, such curtains can be used in a variety of styles. Because our eyes are accustomed to the natural range, they can shade other tones without drawing attention to themselves.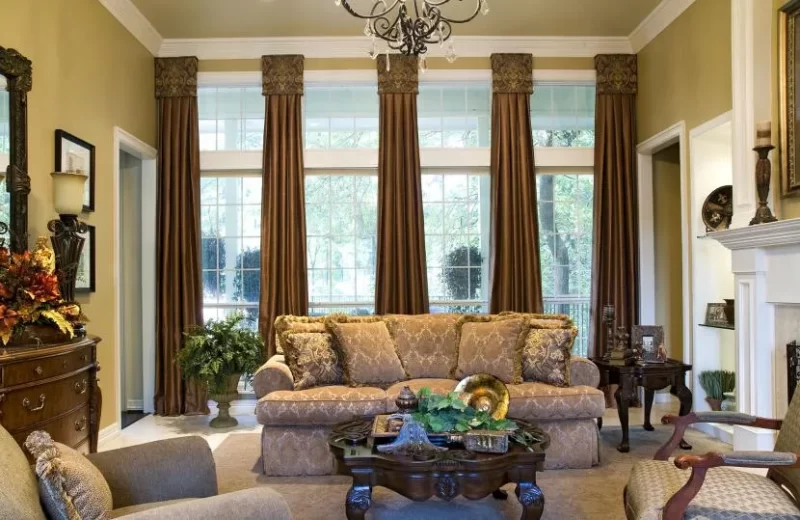 Advantages and disadvantages
To create a one-of-a-kind interior, it is critical to understand the numerous ways in which brown can be used. To do so, you must first understand his advantages and disadvantages, as well as how to beat them in curtains. Brown curtains have the following advantages:
Versatility. Brown curtains can be used to decorate any room in any style.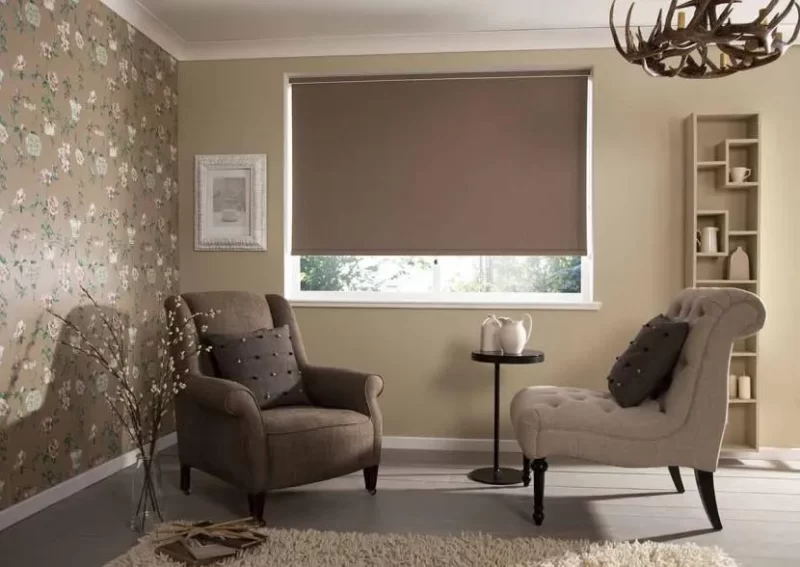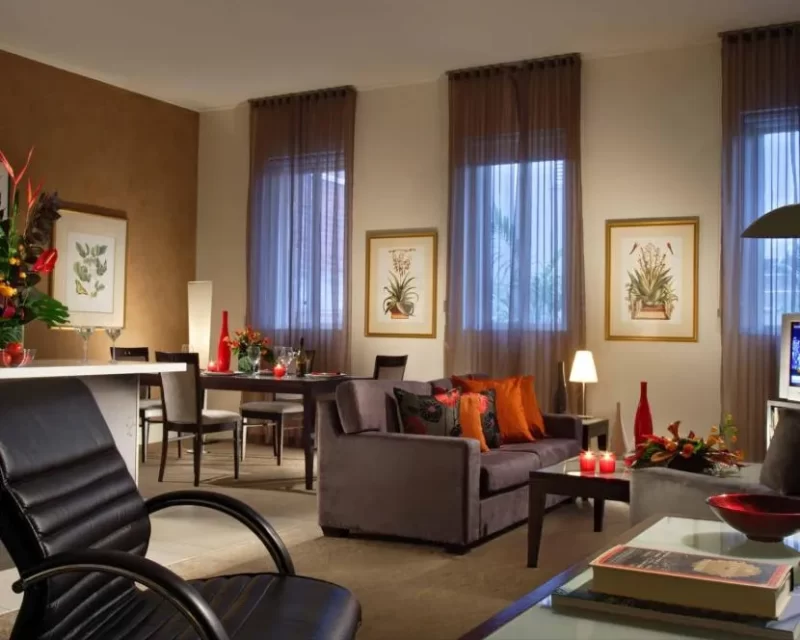 Combinatorics. The color does not irritate or draw attention to itself. As a result, you can always select a shade that can be combined with any other color.
Positive psychological impact. Brown is essential in creating a comfortable and safe environment.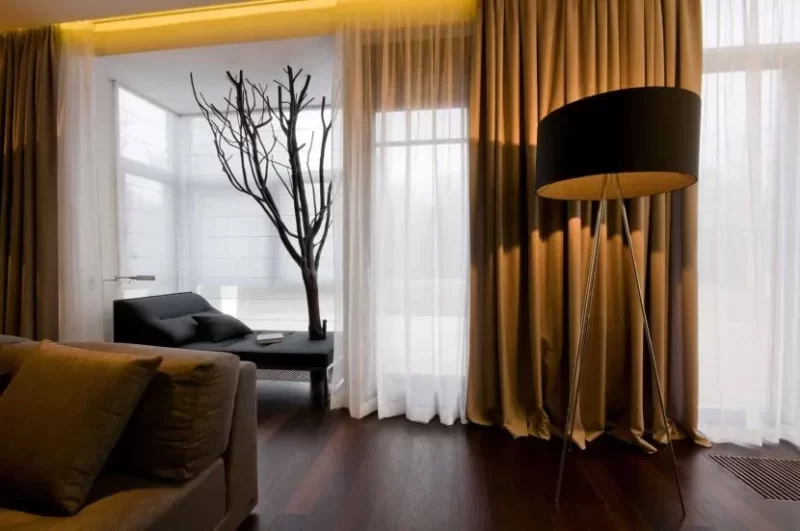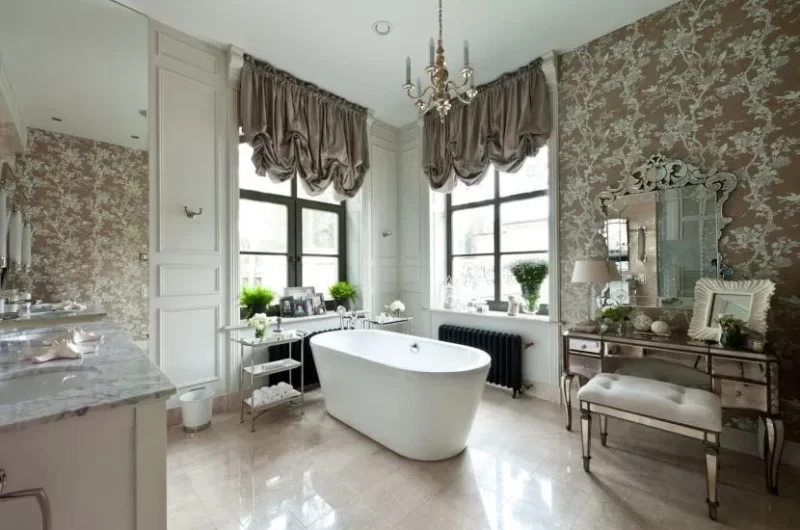 Interior design and decoration. Curtains in the right tone and material can help to create a stylish, elegant atmosphere.
Perception is influenced. The color can either soften or harden the interior. It is determined by whether the warm or cold option was selected.
Protection. Curtains in a rich brown tone provide excellent UV protection.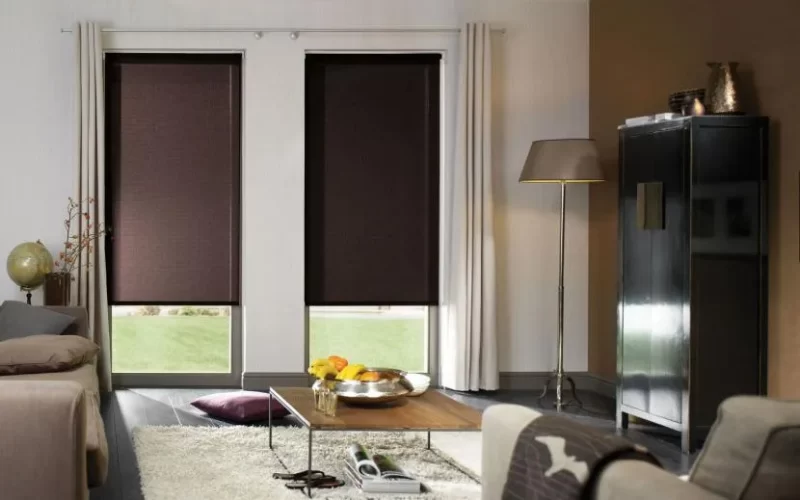 An incorrectly chosen shade of brown can result in the following issues:
It will visually conceal the space in a small room.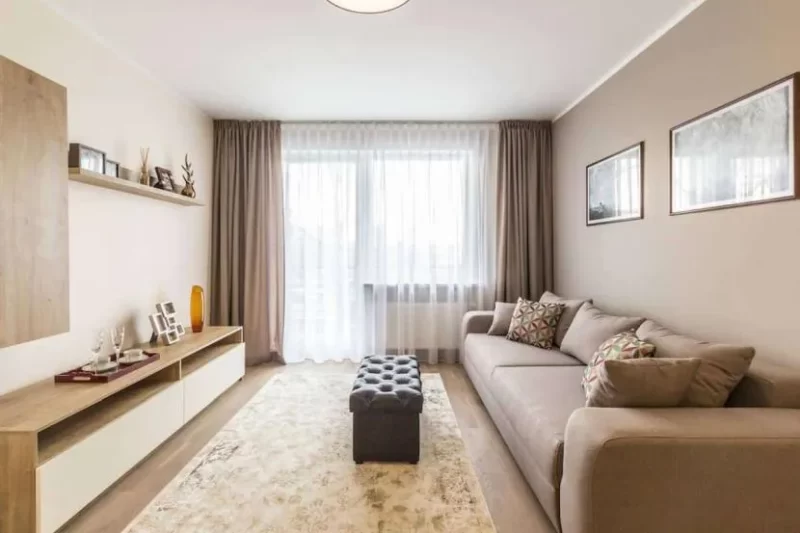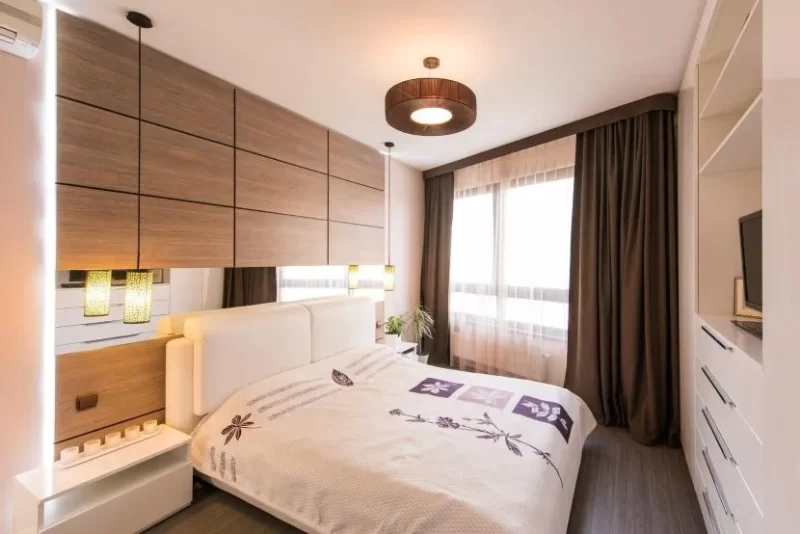 A lot of brown combined with other saturated tones can make a room feel gloomy.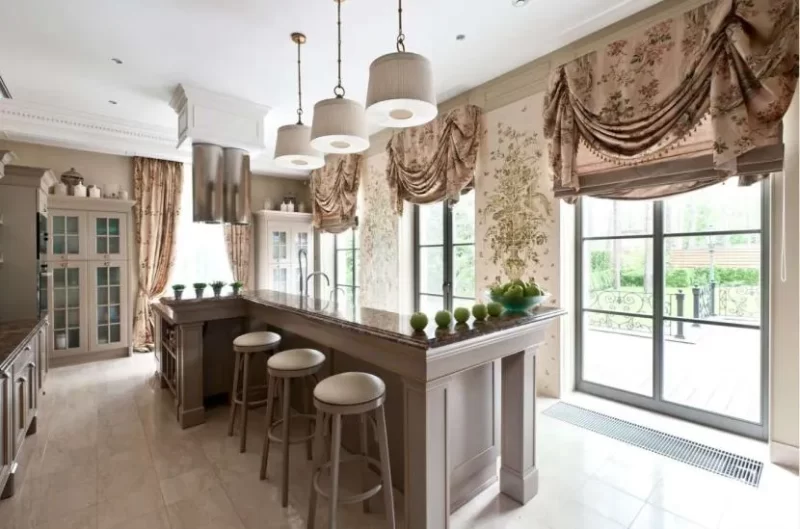 7 Universal shades of brown curtains
The brown color palette is diverse; it includes both warm and cool tones. When selecting brown curtains for the bedroom, living room, or kitchen, consider how they will contribute to the room's atmosphere.
A deep brown (the color of dark chocolate). A deep cold tone that is appropriate for the design of strict interiors. In a light color scheme, the curtains are combined with the ceiling and floor.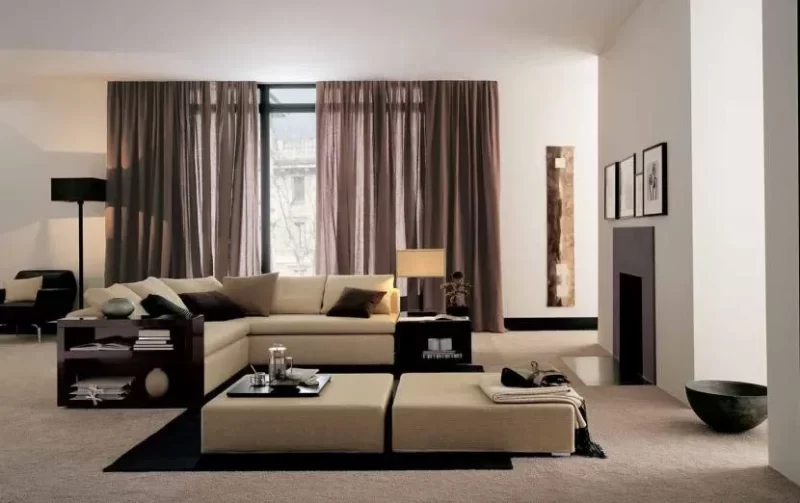 Dark brown (the color of milk chocolate). Rich warm tone; curtains complement all styles, soften the interior, and mix well with other colors.
Chocolate. Shades of medium saturation are referred to as a group. These curtains will serve as a backdrop rather than an accent.
Coffee house. Textiles in the color of black coffee or coffee with milk are more commonly found in modern interiors, where they serve as a neutral.
Sandy. One of the most adaptable options, with tones ranging from warm golden yellow to cool beige. Sand-colored curtains complement any design.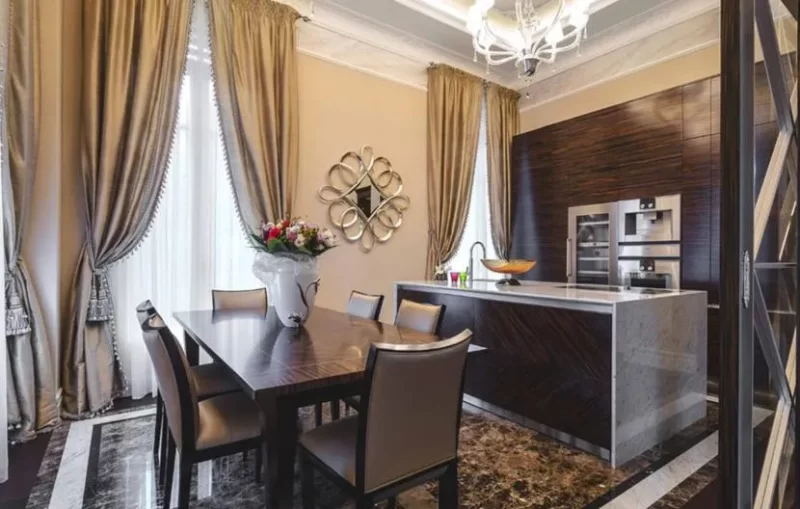 Wenge. Mostly dark cold shades, reminiscent of the color of the wood of an African tree. Wenge curtains are often made of expensive dense fabrics.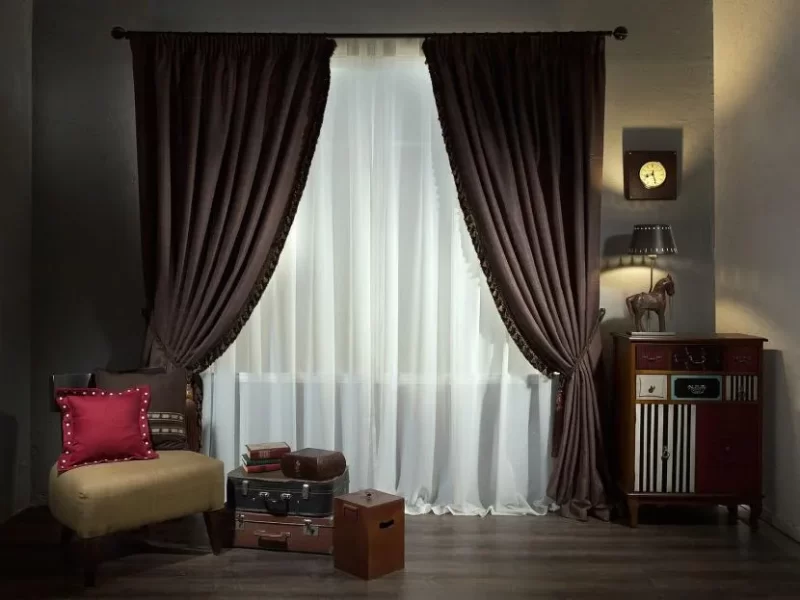 The cocoa color. A group of warm colors, often with a noticeable red admixture. Cocoa curtains are ideal for decorating the living room, bedroom, or nursery because they soften and cozy the space.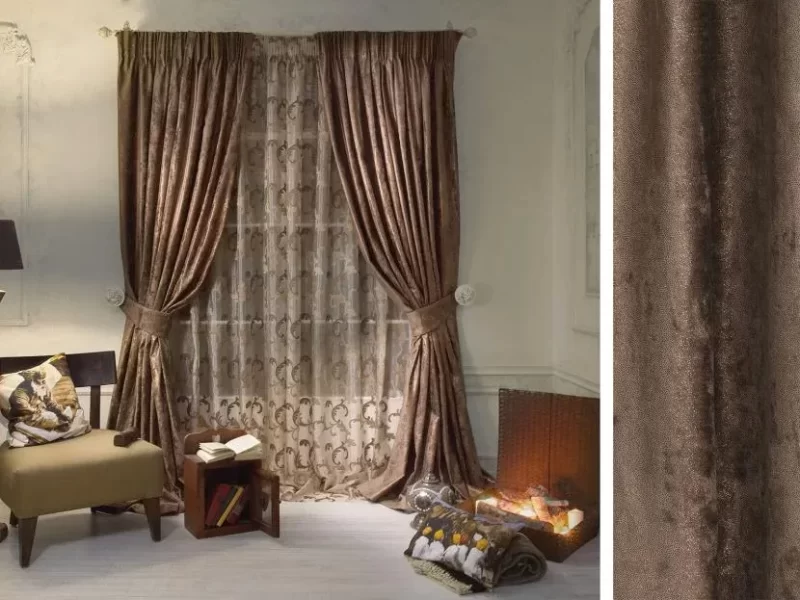 9 Best combinations of brown curtains with other colors
Brown shades are always perfectly combined with beige, which is not surprising given their close relationship. The following alternatives are also viable:
Using white. A tried-and-true color combination. Any type of curtain will look good: plain, with a large or small pattern, or with geometric or floral ornamentation. The design will be relevant for a long time – classics never go out of style.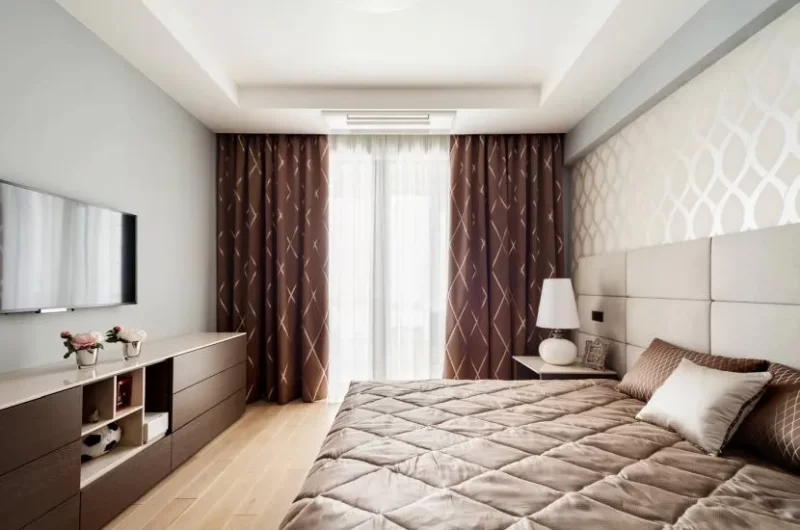 Served with mint. The color mint refreshes the room, and curtains against a mint wall become an accent detail; the combination is popular in modern styles.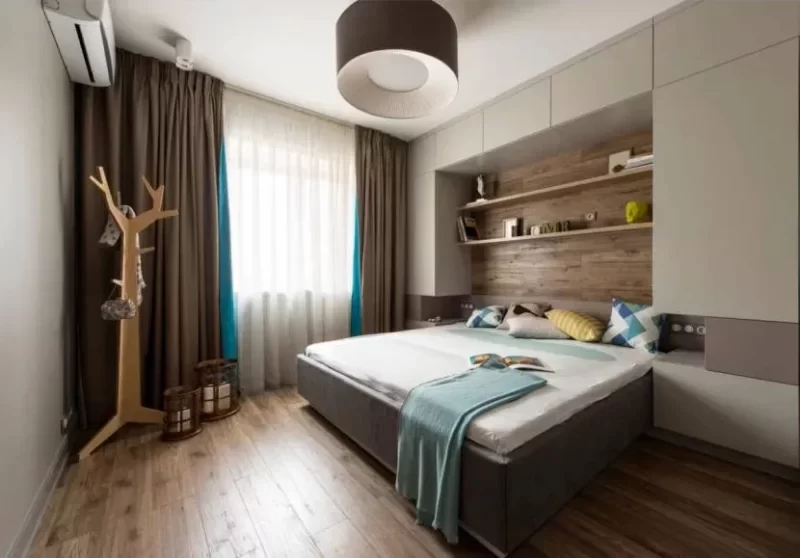 With the color orange. A combination of brown and orange shades is an easy way to create a stylish space (copper, orange, caramel, coral, terracotta). This combination is especially appealing in a light-colored interior.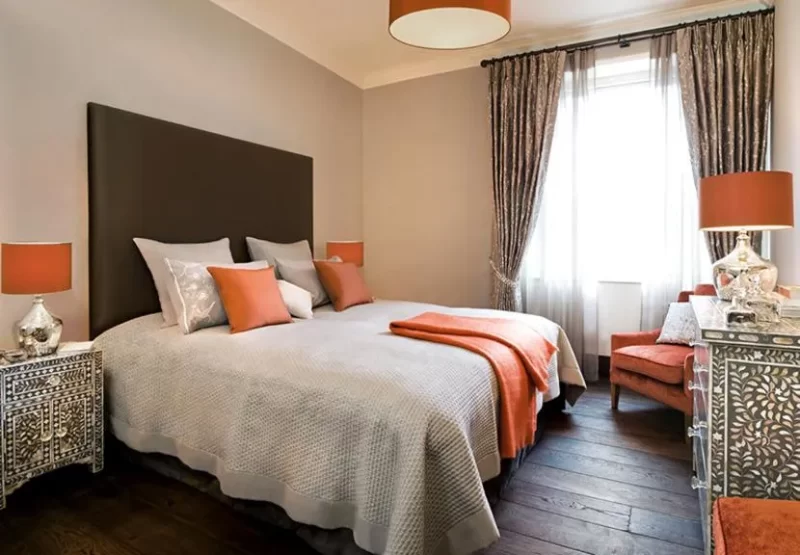 With the color blue. The combination contributes to the creation of a relaxing atmosphere in the room, making it suitable for the living room, bedroom, or nursery. The brown color of the curtains can be repeated in another detail, such as carpet or furniture upholstery.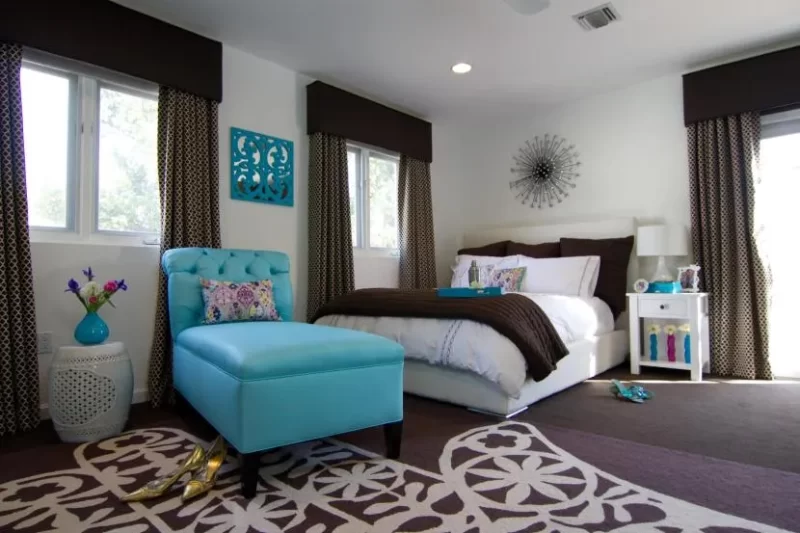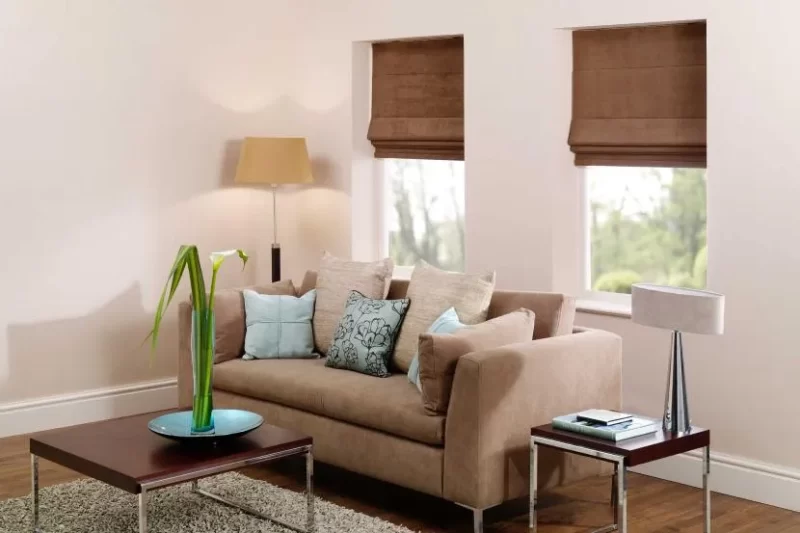 With yellow tones. Brown curtains look great when combined with yellow shades like pale yellow and mustard. The most interesting variations are those involving the color of cocoa or coffee with milk.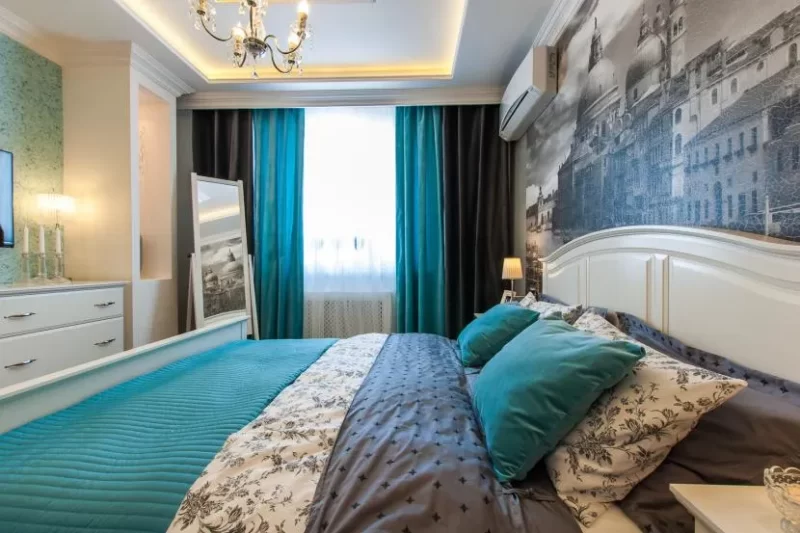 Featuring turquoise. An extremely appealing pair, typical of interiors in modern and ethnic style, modern and eclectic. When surrounded by a light palette, the combination looks especially appealing.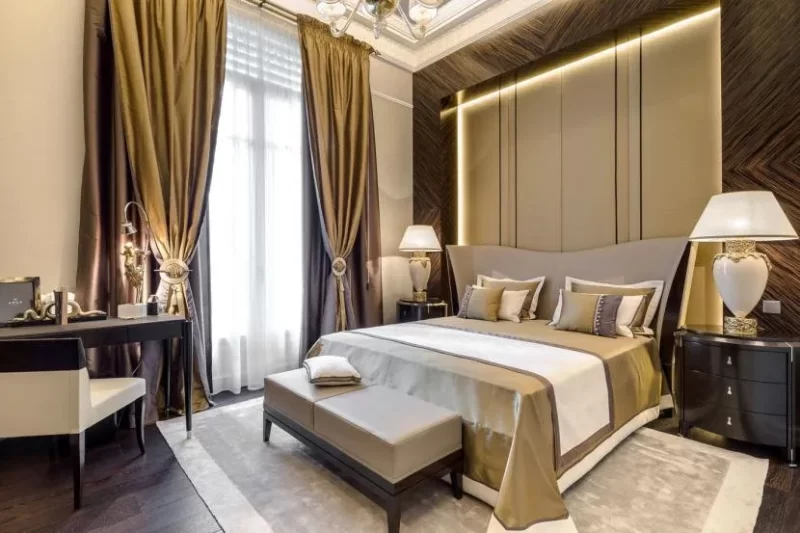 Using gold. The bright combination is appropriate for many classic-style interiors. Gold furniture facades and decor add a touch of luxury. Brown is used not only for curtains but also for wall decoration to balance the colors.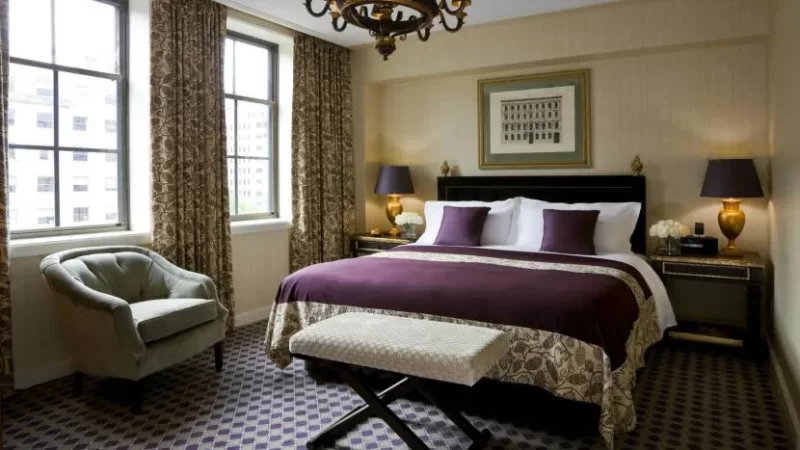 With pink and lilac tones. Pale, pastel walls are appropriate; bright colors are appropriate for small details, pillows, or sofa upholstery. In any case, the room will be stylish and comfortable.
Brown curtains and room style
Depending on whether the window decor is chosen correctly, it can either ennoble or devalue the interior. Brown curtains and window textiles are suitable for any design; they are chosen based on the style's characteristics, taking into account the following comments:
Contemporary (Modern) (modern). Standard rectangular curtains made of medium-density fabrics are appropriate. They can be plain or have a pattern that matches the rest of the design.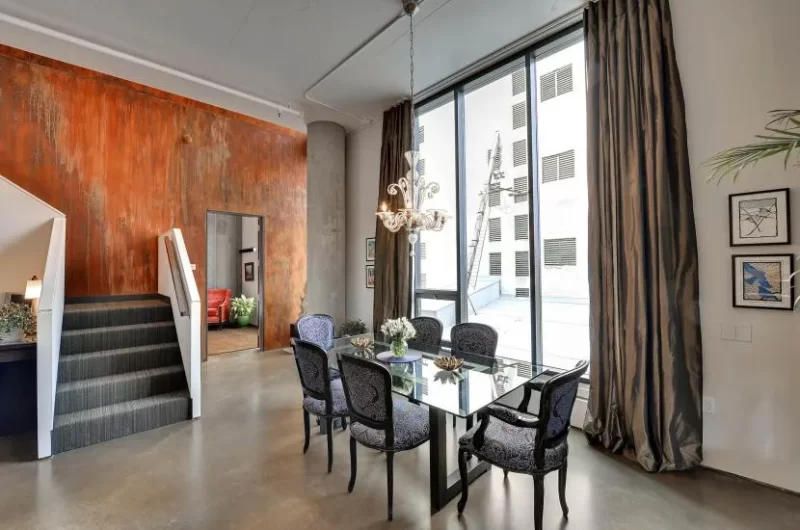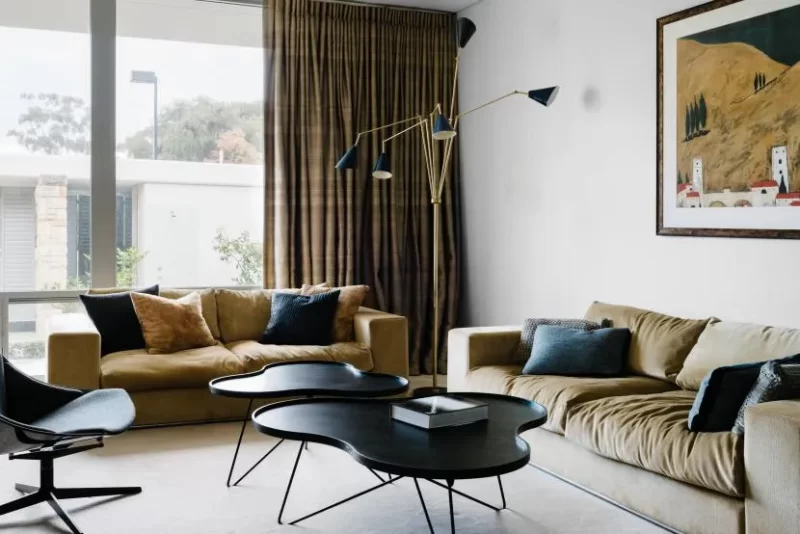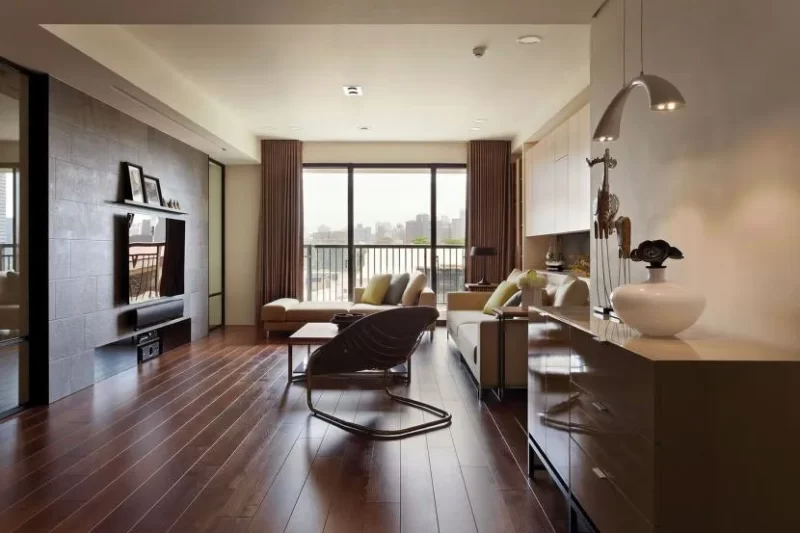 Classic. A straight canvas in a rich warm shade with strict lambrequins and a minimum of waves is a universal option.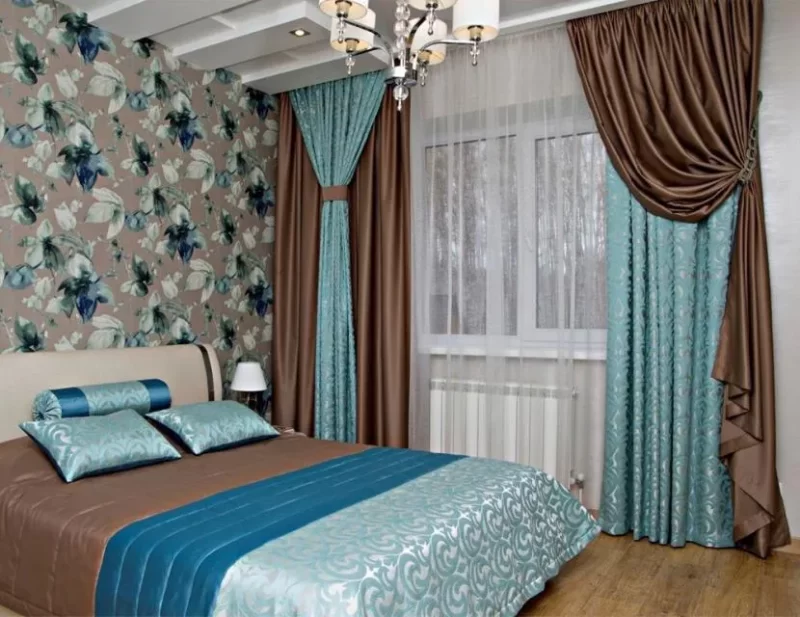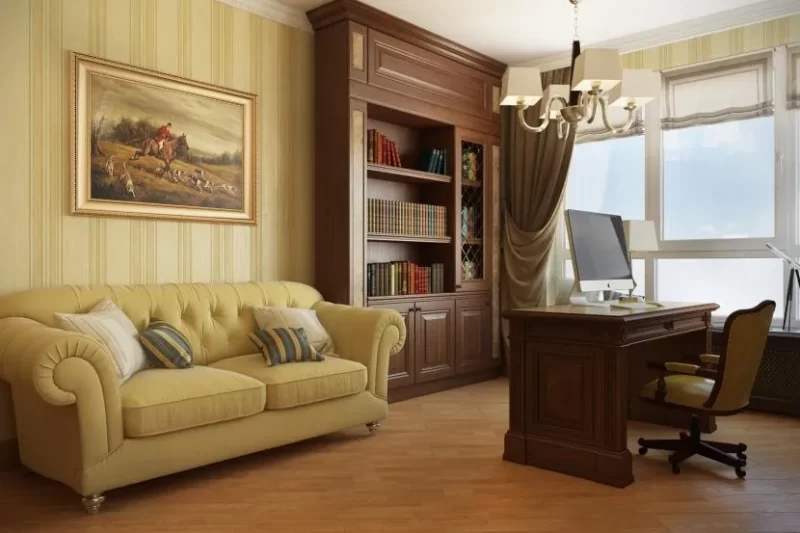 Art Nouveau. Floor curtains made of soft flowing fabric are especially suitable for decorating the living room or bedroom. Brown curtains in the hall are embellished (but not always) with lambrequins; monochrome products, as well as those with contrasting stripes or patterns, are appropriate.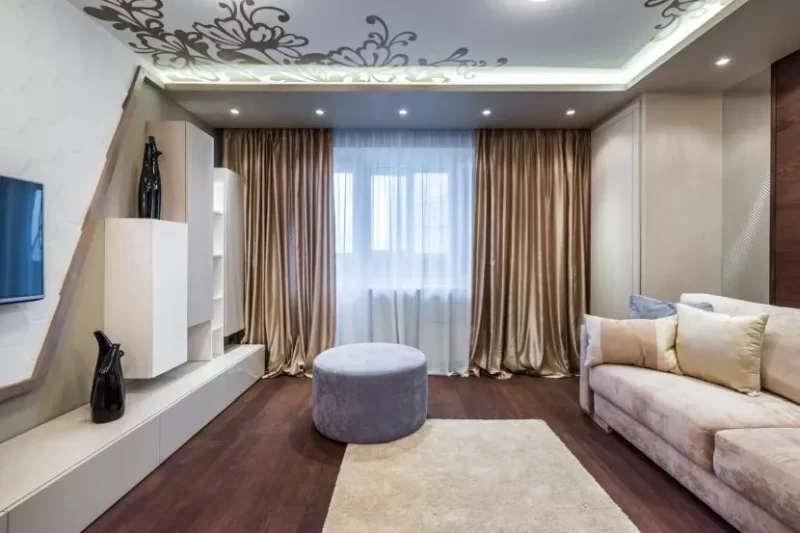 Loft. Brown curtains made of solid fabric with an expressive texture are the best option. If a drawing is used, it should be clear and graphic.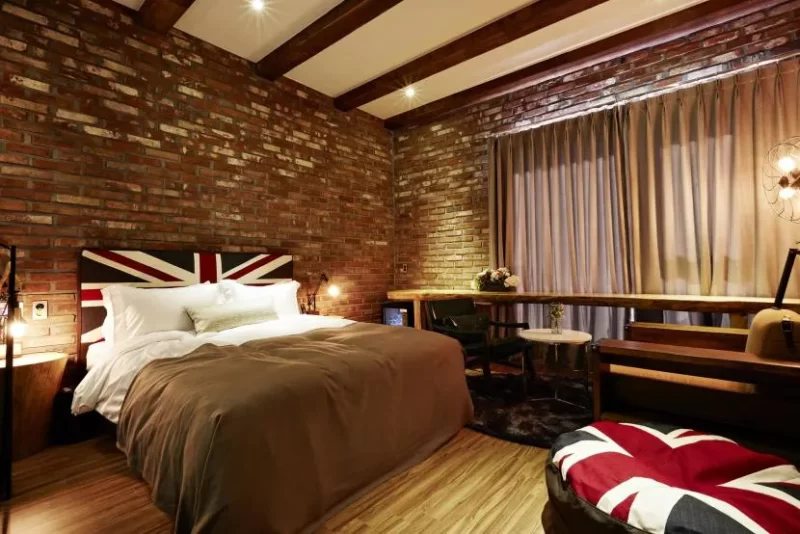 Applications in the interior
Window textiles in coffee, chocolate, and chestnut colors have a real look in a modern interior. The light finish of the room perfectly shades this decor.
When selecting textiles, consider their compatibility with the flooring, wall color, and furniture, as well as the following desires:
The living room. Curtains in any brown tone look good in a large room; they are chosen to complement or contrast the rest of the decor. If your living room is small, go with a light brown or beige with a brown pattern. The overall interior design must be considered when making a decision.
Bedroom. Brown curtains in the bedroom are a must-have item; the decor of a warm chocolate color that can improve your mood and set you up for rest is ideal. The window opening design should be combined with other types of textiles. Cream and coffee palette materials create a good combination that is suitable for any size bedroom.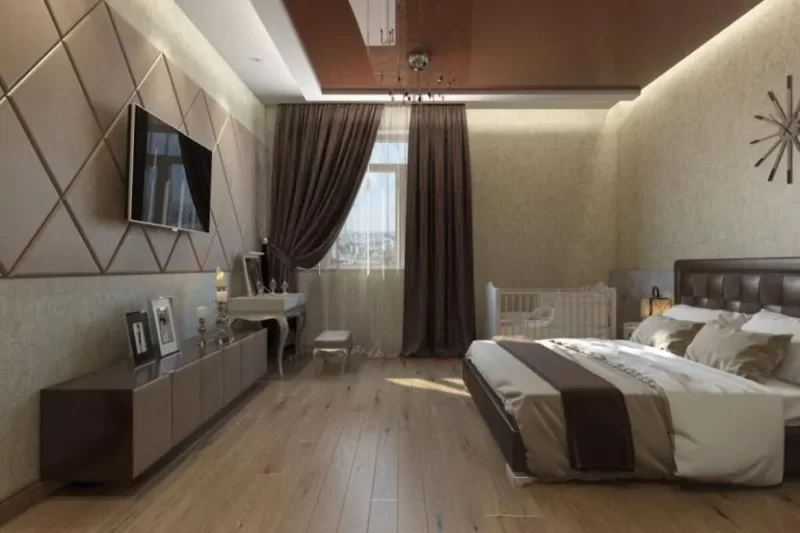 Kitchen. Models that extend up to the window sill are preferred for a kitchen window because they are easier to maintain. Dark curtains are uncommon; most are sand, coffee, or chestnut in color. Textiles can be swapped out for a role model or blinds.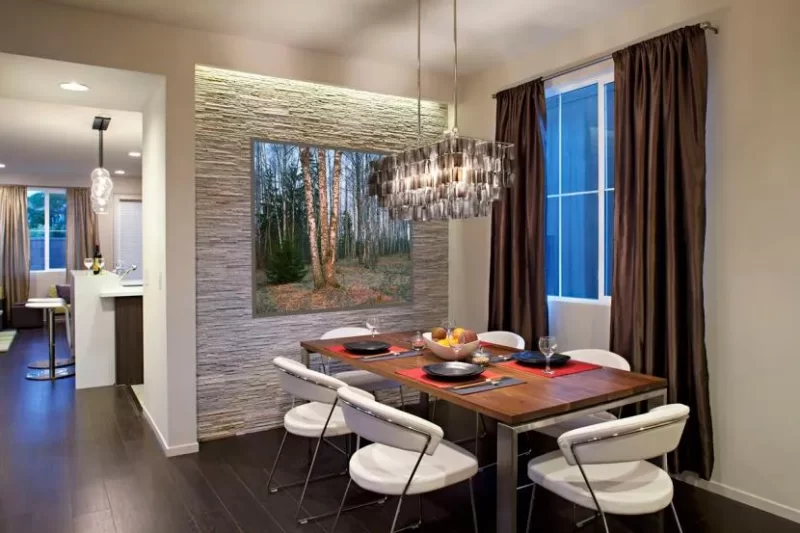 Childish. Hanging shortened curtains in light brown or sand color is the best way to decorate the baby's room. They don't have to be plain; light textiles with a chocolate pattern will look nice together.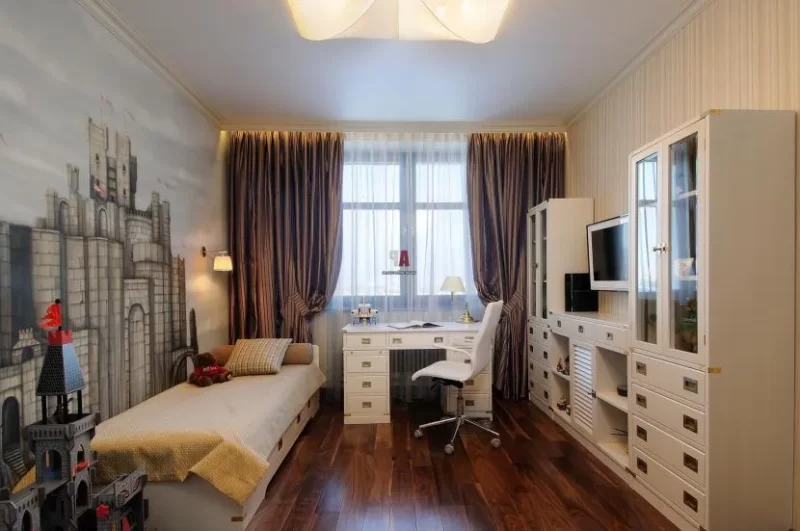 Office. Dense curtains in coffee or chocolate colors are tailored to the working environment. If the wallpaper has a print, a plain textile is chosen for the window so that the situation does not appear overly colorful and tiresome.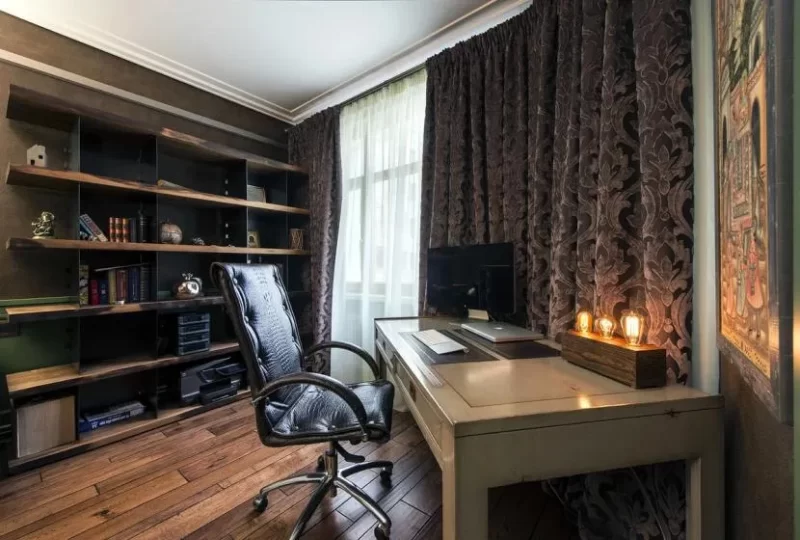 Briefly about the main thing
Textiles in chocolate, sand, and coffee tones are perennially popular for window decoration. It can be easily combined with other trim colors, creating appealing combinations with blue, white, mint, or beige. You can choose between a modern or traditional interior design, make it more expressive, and, if necessary, conceal flaws.
A saturated brown color's ability to visually reduce space must be considered when designing a small room. You should also consider matching the room's style, as well as the color of the walls or floor.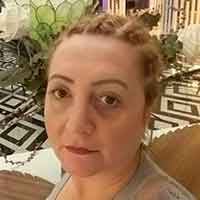 I joined Appartenville in February 2021 as a content editor. After studying English literature at university, I worked as an e-commerce website editor, content author, and purchasing intern for several independent luxury and lifestyle retail companies. My role at Appartenville combines my love, experience, and passion for the world of design and the desire to create inspiring written content. As for my personal style, I am a big fan of color and drawing, especially I like the pastel color scheme. I also enjoy discovering new trends, brands, and products, whether it's fashion, interior design, or lifestyle my wish list for buying new things is endless.