Unusual ideas of shoe cabinets in the hallway are practical things that should be in any house or apartment.
Models come in a wide range of variations, including open and closed, big and little, and plastic and natural material. These cabinets are typically used to keep festive shoes that you don't use often or shoes that you don't use this season. The dirt in the corridor is reduced, there is a sense of comfort and order, and it is sometimes much more practical to store everyday shoes on a shelf rather than just on the floor.
It is wise to weigh the pros and downsides of various shoe cabinet models before making a purchase.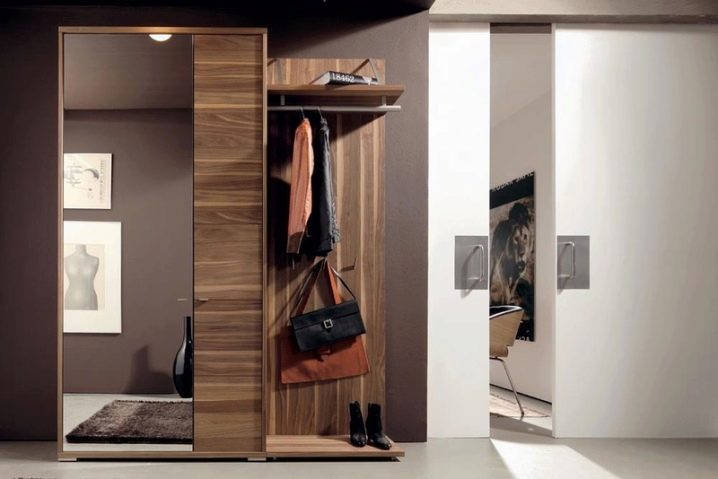 Mataro – spacious shoe cabinet
The large shoe cabinet you can see in the photo below is a piece of contemporary hallway furniture made by the Mataro furniture company. The Mataro shoe cabinets' sleek, inviting appearance will give guests the ideal first impression of your house.
The outstanding functionality and practicality of this wardrobe make it ideal for everyday use. It also offers an innovative way to store shoes in the corridor.
The cabinet has a wall mount. It has two large sloping drawers and a walnut finish. The handles are silver chrome. All of it is done in a beautiful manner and makes Mataro.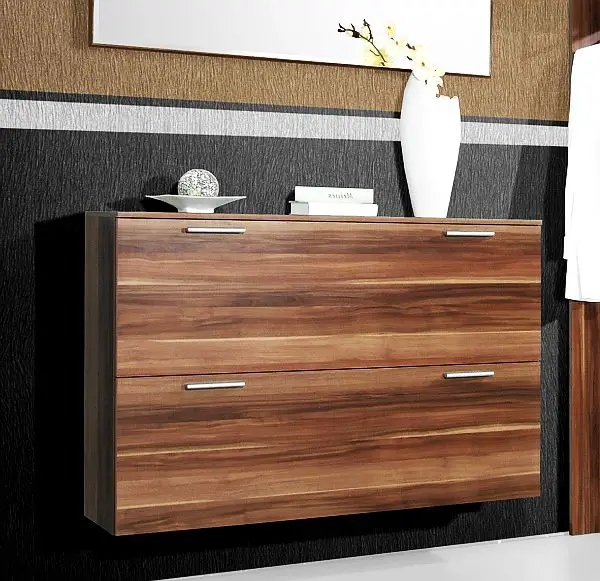 Unusual sliding shoe cabinet
Most shoe racks are not as functional as many people would like. Everything gets mixed up in them, and you can't figure out what to wear for a planned lunch or dinner.
Consider this pull-out shoe cabinet: unlike traditional cabinets, it conceals shoe shelves inside, allowing you to see your entire shoe collection with a single glance.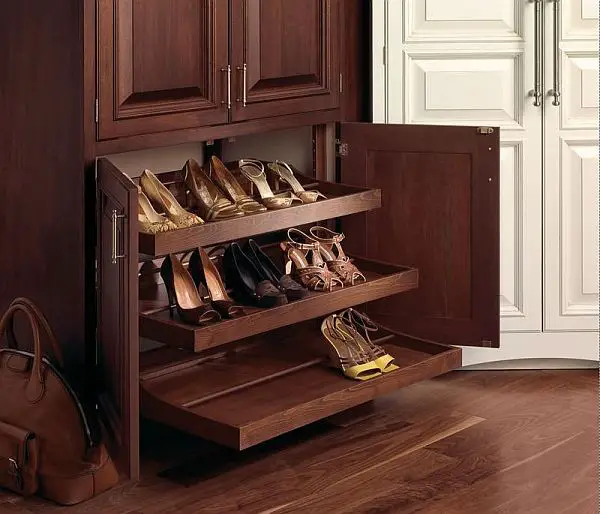 Shoe cabinets from IKEA
IKEA furniture is simple to put together. It is inexpensive, long-lasting, and has an unrivaled Scandinavian simplicity that speaks directly to the heart. Here are some IKEA shoe cabinet design ideas.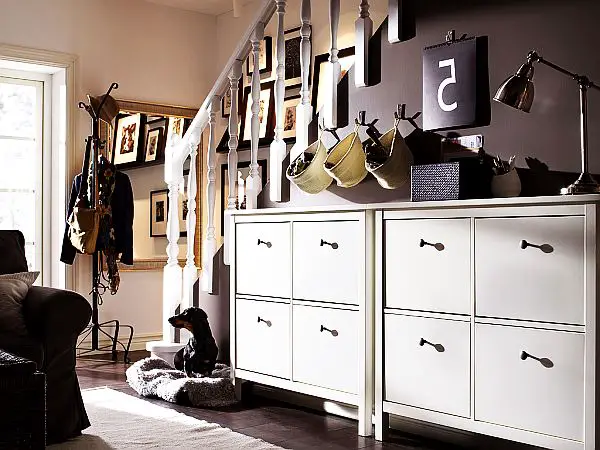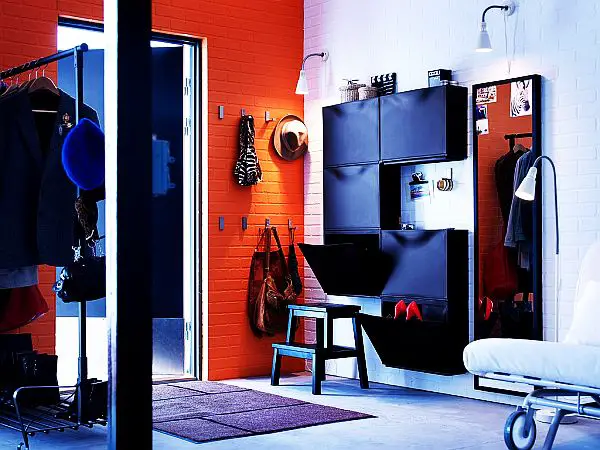 Luxury Mirrored Shoe Cabinet
What about the design of the mirror? A shoe cabinet with mirrors, a minimalist hanger for clothes and an umbrella, and a stylish wall clock are all available. The undeniable allure of luxury for those who come to your home. You can use this design to impress your guests.
Even in a small hallway, the wardrobe is ideal. And the mirror, which serves as a cabinet cover, has become an indispensable component of the Sirio collection from the Italian manufacturer Arredokit.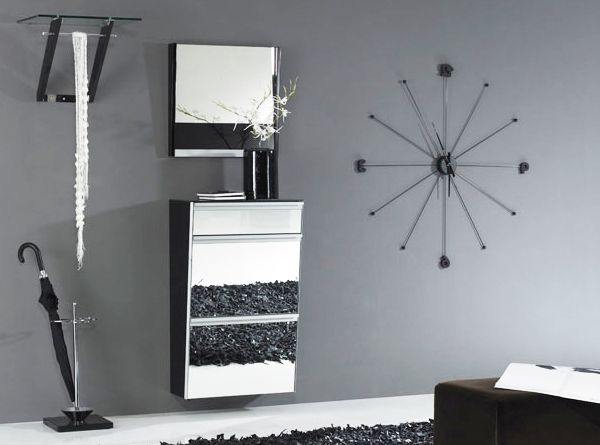 Functional shoe cabinet – stool
We believe that the name speaks for itself. When you need to put your boots in a drawer or take out a pair of sneakers or high-heeled shoes, it's great to be able to sit.
You'll adore this sleek wooden stool that can be used to store your shoes when you get home from work.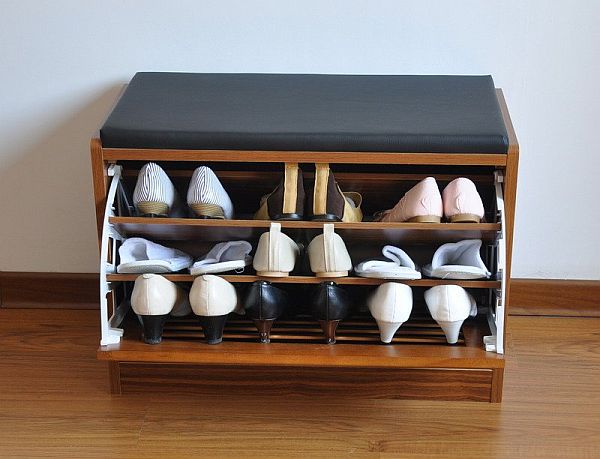 Glossy Shoe Cabinets
Arredokit shoe cabinets deserve special consideration. Their brilliant ideas and shoe cabinet collections dazzle the eye with their sophisticated glossy appearance.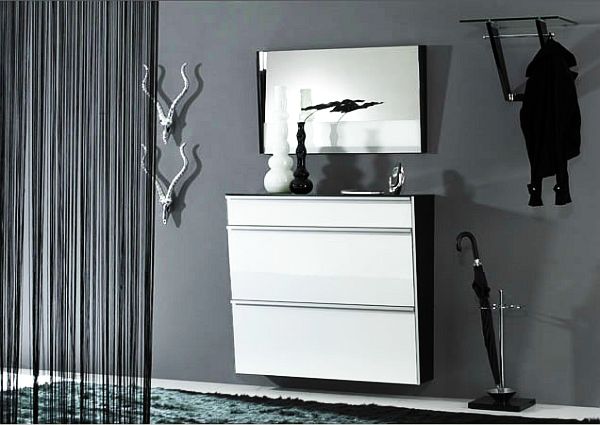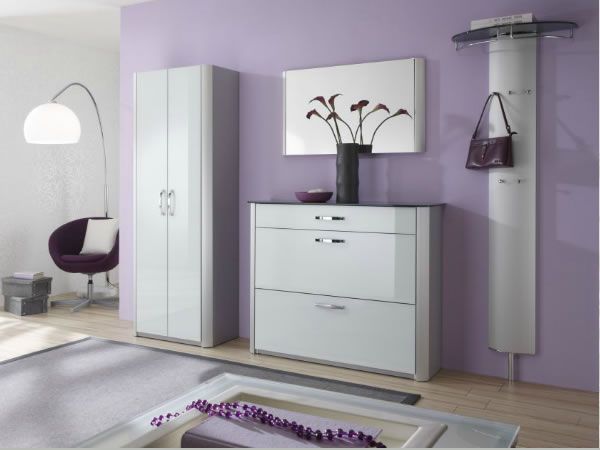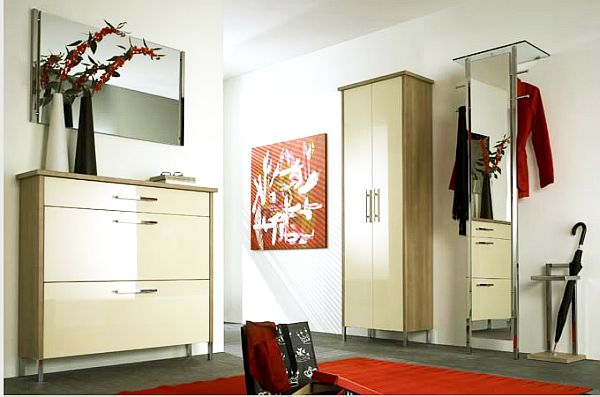 Cabinet shoe cabinet with transparent boxes
Don't these gleaming white shelves resemble the work of a children's designer?
But it's not just shoe shelves that keep your hallway tidy; it's a whole customizable cabinet of brightly colored square boxes.
Although this design was not intended specifically for shoes, but rather as a piece of furniture with the goal of effectively storing things in your own unique style, we believe that such a cabinet is ideal for storing your stylish high-heeled shoes or leather boots.
Brightly colored boxes with clear walls are ideal for storing seasonal shoes because you can always see what's inside, making it easier to find what you're looking for.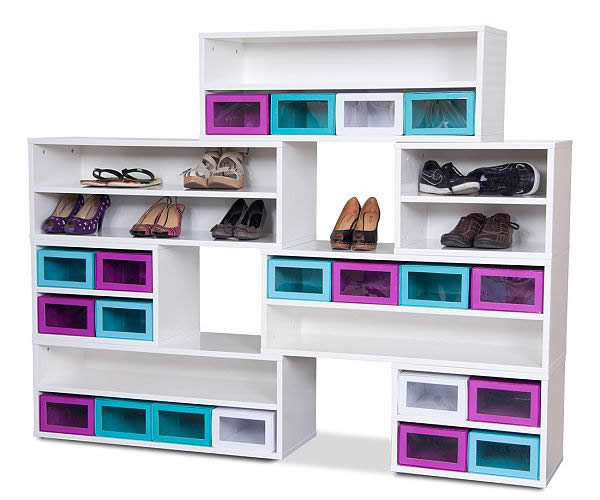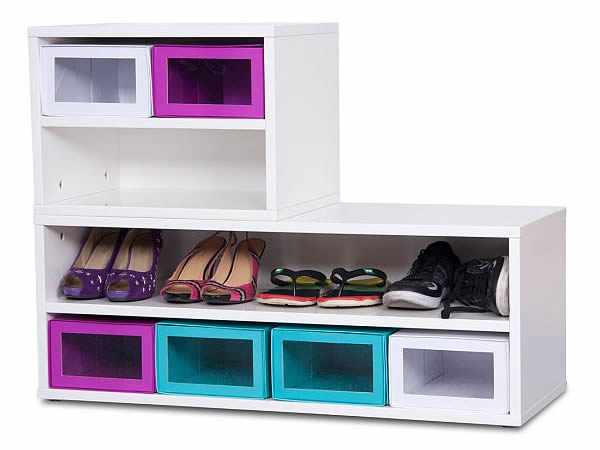 Red Laminated Shoe Cabinet
With a shoe cabinet, your belongings will always be in order. This appears to be what the bright red ARREDOKIT shoe cabinet from Italian designers does, while also adding color to your entire interior.
Shoe cabinets made of treated wood
To make a good impression, such furniture should not be glossy or excessively shiny. Simple lines and excellent natural wood shades are also desirable.
Here's an excellent example. Arredokit (the same company as the one mentioned above) furniture collection with wooden processed cabinets that will hide your fashionable stylish pairs of shoes.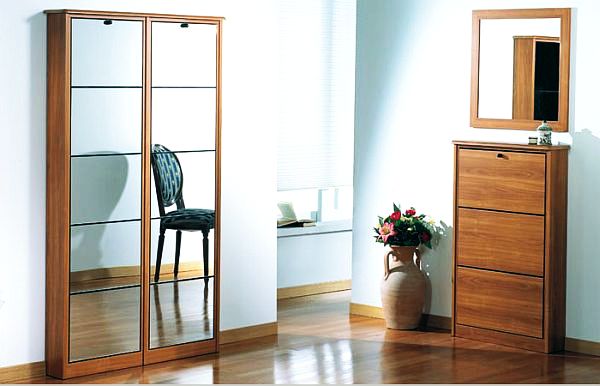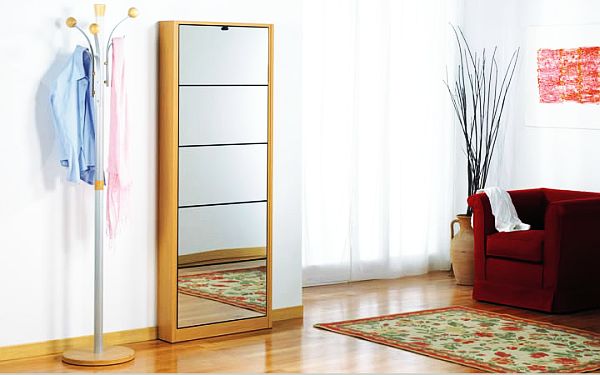 A spacious bench cabinet
A spacious bench cabinet with a shoe rack is a practical option for shoes or boots that you don't wear frequently. A wardrobe with a seat is popular as both a primary and secondary shoe storage solution.
It is difficult to organize shelves inside the bench in order to get shoes out of there every day, but for long-term storage, this is a very convenient option that does not take up extra space. You can also get an ottoman cabinet, which is even smaller. It is worthwhile to proceed based on the location of the hallway and the number of your shoes.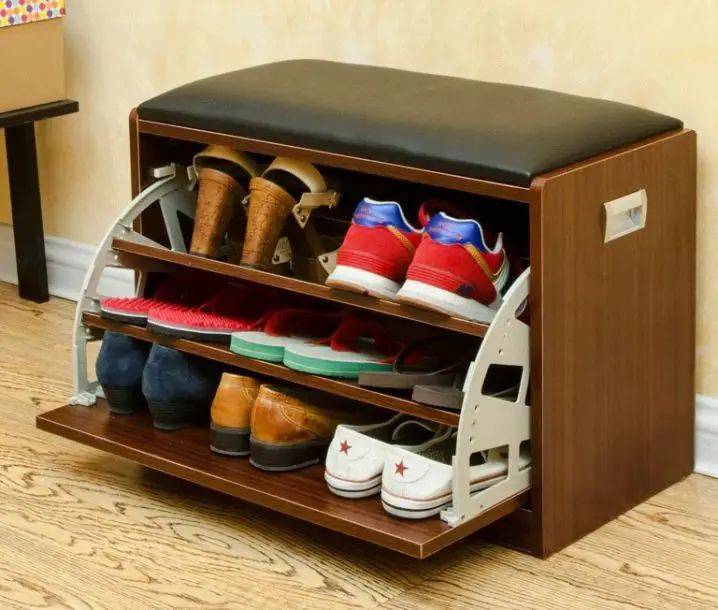 Design
Interesting design solutions will allow you to not only buy a closet for storing boots and shoes but also to change the look of the hallway's interior. The design of the shoe box should be determined by the current state of your apartment. Consider the following design alternatives: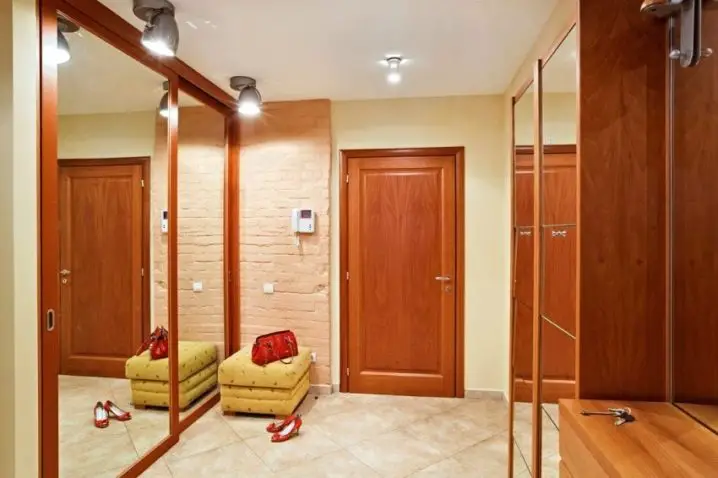 Carved wooden shoe cabinets can look great in a continental, country, or modern setting. Often, you can find a variety of wooden shoe boxes decorated with relief ornaments in stores. Simultaneously, you can now find more interesting models on which entire paintings, realistic images of animals, or plants will be cut out. This style is usually ideal for a hallway.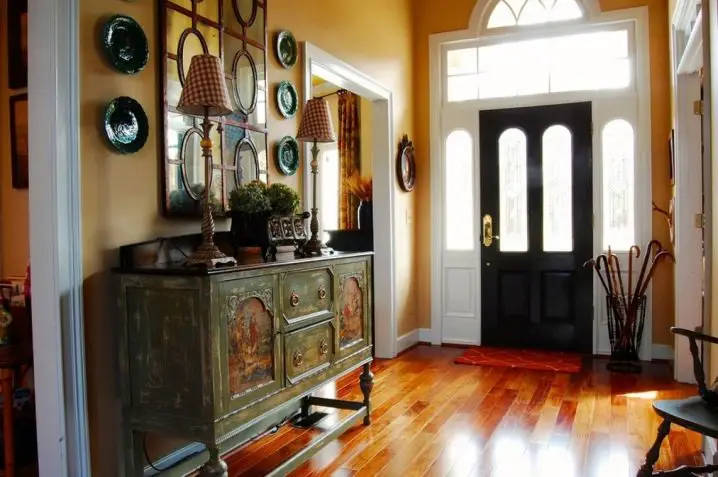 In many modern interiors, aged retro-style shoes can look very original. There are various technologies and coatings available to give new models a vintage appearance. This is typically done on wooden products, but leather and textile models with similar designs are also available.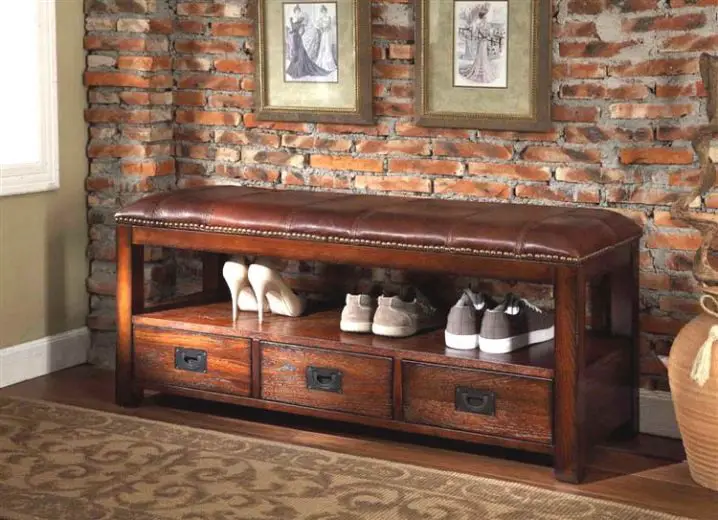 To choose a shoe cabinet, use the following tips:
If you choose a wooden cabinet, make sure that it is completely smooth both inside and out – it can be sanded or varnished. Splinters can damage your shoes if they remain inside the closet.
When selecting painted products, make sure the paint is evenly applied both inside and outside.
When selecting plastic models, take special care to ensure that the cabinet's walls are strong enough and that the plastic does not smell.
Models that are fastened with nails rather than glue will always last longer.
When selecting a textile product, ensure that the seams are smooth and strong.
How to place it?
Lockers are typically purchased for more compact shoe storage – you can store boots, slippers, and shoes in them, which previously took up a lot of space in the house. It is critical to place the cabinet correctly in the hallway or any other room so that it is truly functional and does not take up extra space.
Large cabinets are typically installed along a side wall. This allows you to free up as much space as possible while also organically fitting the cabinet into the environment. It is preferable if the cabinet can be attached to a corner on one side. On the other hand, to maximize the use of all available space, you can attach a pair of hanging shelves to it or place an ottoman next to it.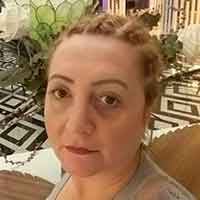 I joined Appartenville in February 2021 as a content editor. After studying English literature at university, I worked as an e-commerce website editor, content author, and purchasing intern for several independent luxury and lifestyle retail companies. My role at Appartenville combines my love, experience, and passion for the world of design and the desire to create inspiring written content. As for my personal style, I am a big fan of color and drawing, especially I like the pastel color scheme. I also enjoy discovering new trends, brands, and products, whether it's fashion, interior design, or lifestyle my wish list for buying new things is endless.