A niche in the wall can be not only an aesthetic but also a useful design. It performs the function of a convenient and effective element of the apartment interior. These architectural additions are divided into narrow decorative and large recesses for cabinets and appliances.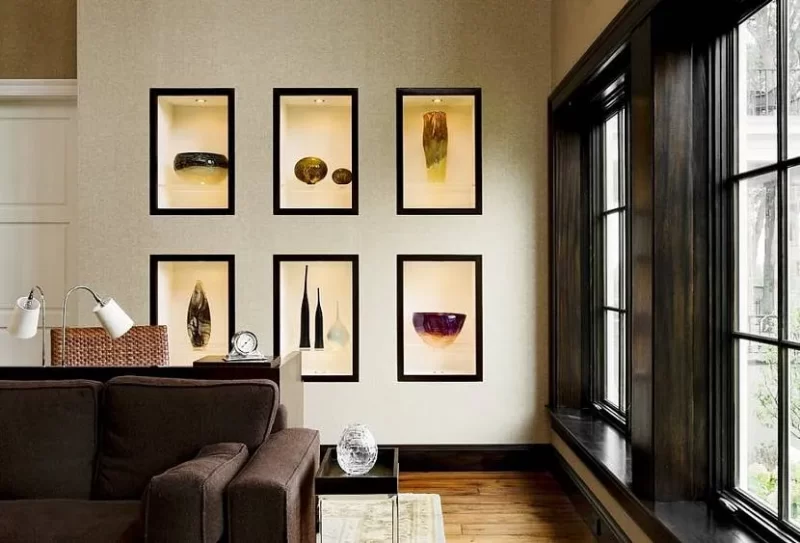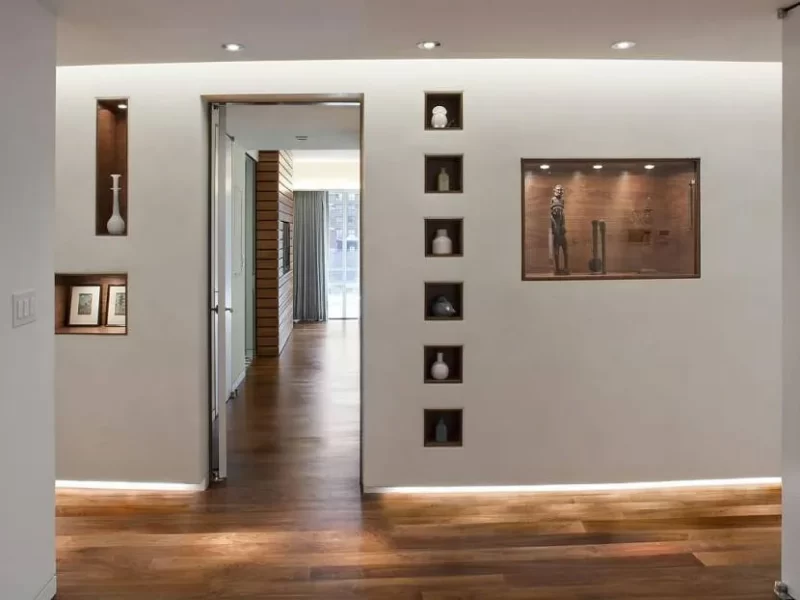 A large niche is used to house a hanger, a wardrobe, and appliance shelves. Shallow is used for decorative purposes, with stylized elements such as reproductions, inlay, and illumination.
Planning stage
There are numerous techniques that allow even the most restricted elements to be used with taste and imagination. For cabinets, large functional structures are used, gaining useful space.
A few pointers on how to create a niche:
When arranging, you should begin with the purpose of the living space.
The size of the wall niche is determined by the size of the room.
The color scheme and style complement the overall design.
Dark tones should not be used to create a deep alcove.
You cannot overburden the design with decorative elements so that it does not appear tasteless.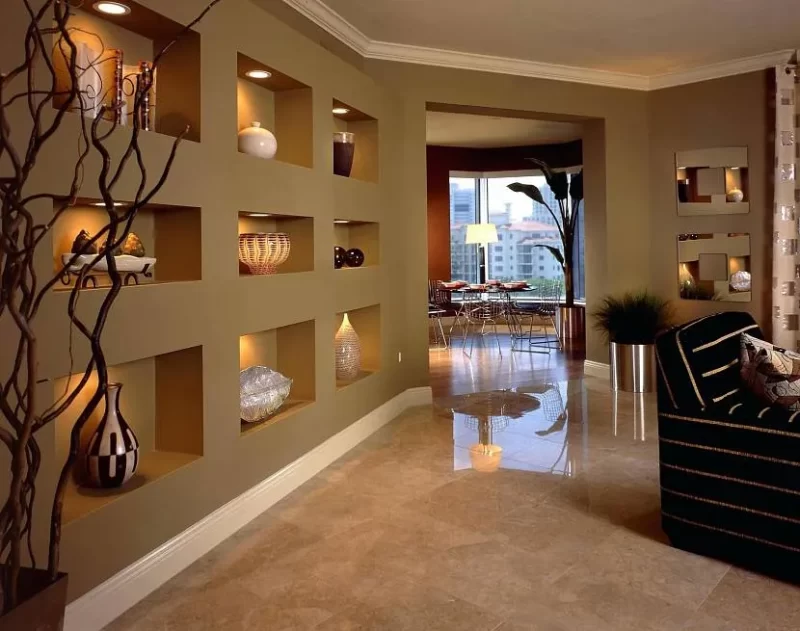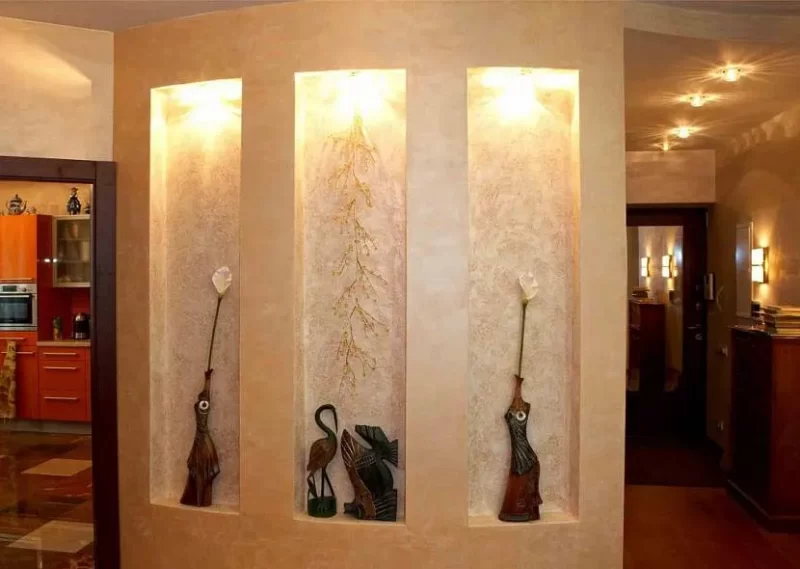 Finishes that are appropriate for the purpose of the room are used. They are combined and enhanced with LED lighting, mirrors, and fashionable elements.
Design ideas
It is necessary to successfully place and equip the design in order for it to fit correctly. The decoration is done in the same style as the room's overall design.
Collectibles, family photos, vases, figurines, and candles would look great on narrow structures. Clothes, bags, and shoes are better stored in closed recesses.
It can be used to store television and other equipment. Wires and cables can be easily hidden, and the space can be effectively zoned.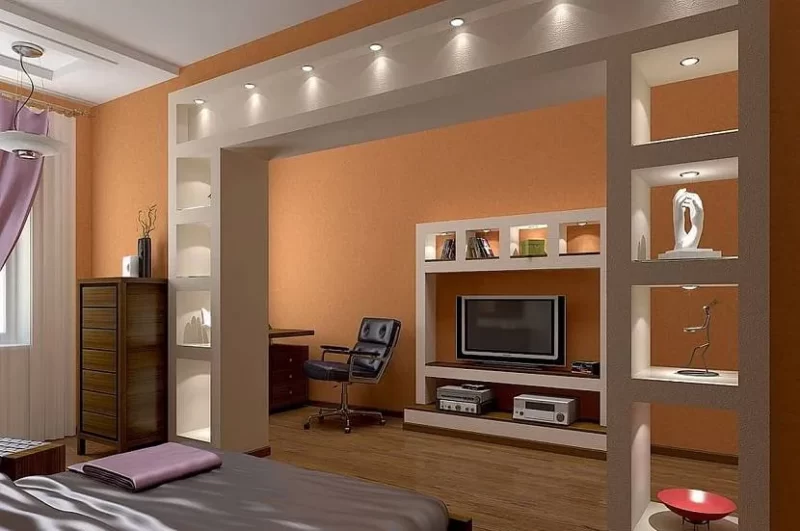 As a decorative element, a shallow structure is used. It contains paintings, murals, and frescoes. You can make an unusual and spectacular art object out of the recess if you properly equip the backlight and place a vase or a statuette on the ledge.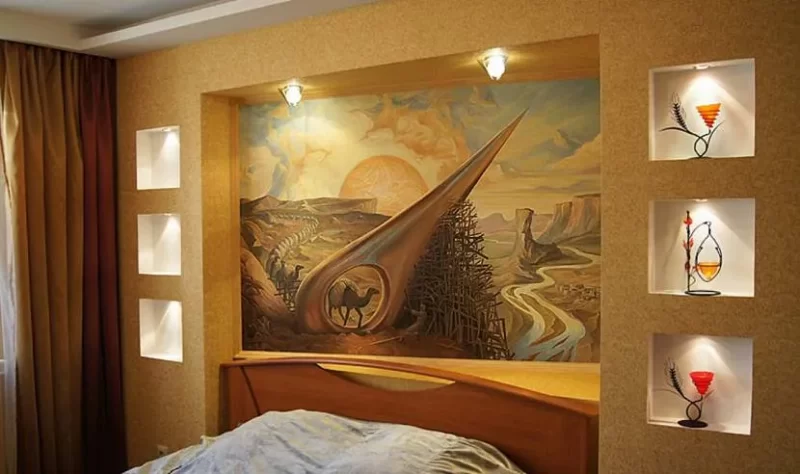 A niche aquarium always appears elegant and natural. They create an expressive and light eco-design with the help of such detail, giving the room an atmosphere of relaxation and comfort.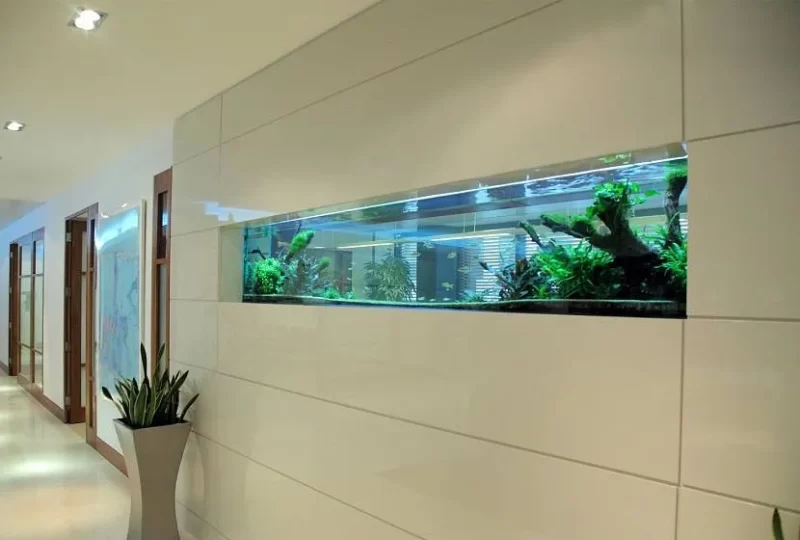 A recess for an electric fireplace or bio fireplace inlaid with tiles or other stunning materials allows you to create a warm and inviting atmosphere in the room.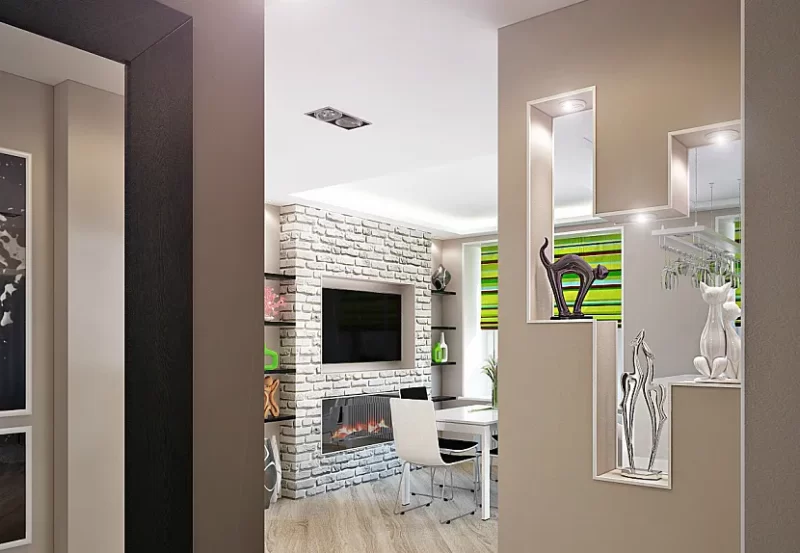 The design is suitable for a bar corner. Collectible bottles should be used to decorate the shelves. This unique solution will pique the interest of connoisseurs and add luster.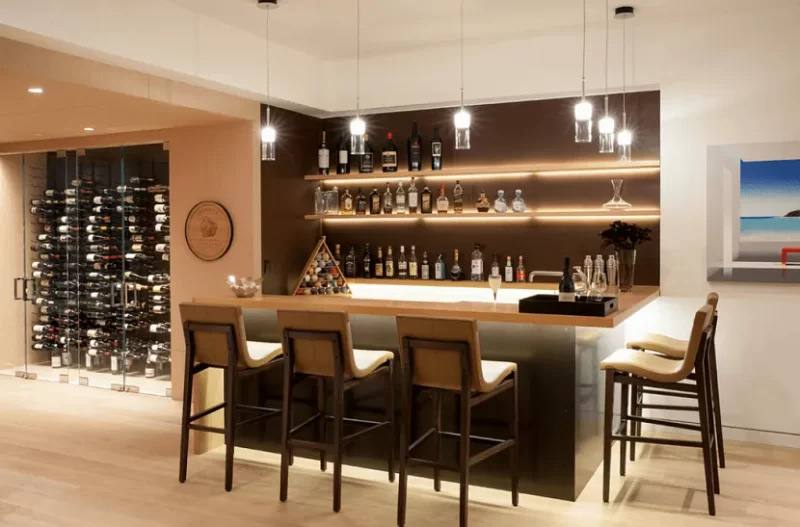 Bookshelves decorated with flowers and trinkets will create a light and comfortable atmosphere. You can decorate them with mementos, photos, and stylized decor.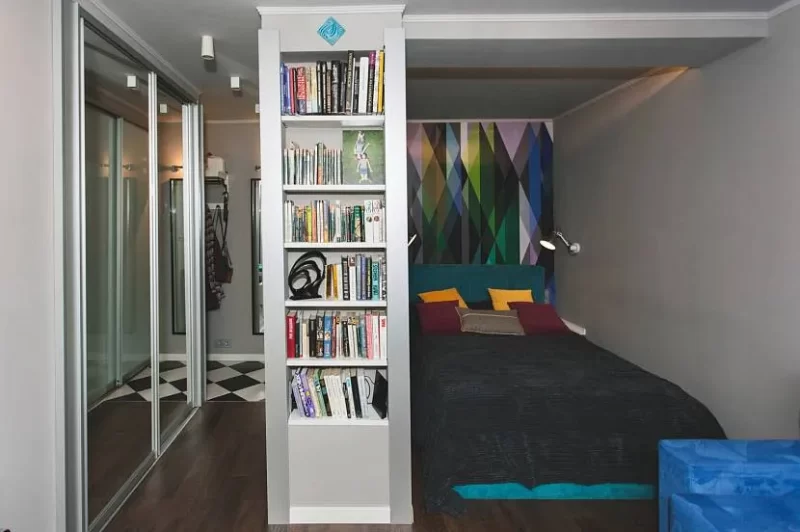 Pros and cons of options
It is best to use one or more narrow structures that are arranged asymmetrically. You can use not only decorative but also quite functional recesses involved in storing things to create an interesting interior. The room will look more atmospheric if the shelves are beautifully arranged with cute little things, stacks of neatly folded clothes, several books, and trinkets. However, the abundance of cabinets and solid shelves crammed to the brim with items appears tasteless and sloppy.
Advantages of placing cabinets and shelves:
The ability to obtain storage space.
Effective use of available space.
A distinct flavor in the room's interior.
Minuses:
The size of the recess limits the size of embedded modules.
The requirement for frequent cleaning is a result of dust settling on open planes.
A shallow design can be used to decorate an empty wall in the bedroom. It will not only be convenient, but also unique. This is a trendy, but not tired, approach to interior design. Recesses are typically made at the head of the bed.
There are also convenient shelves and built-in lamps. If everything is done correctly in terms of design, the sleeping area will have a truly magical appearance.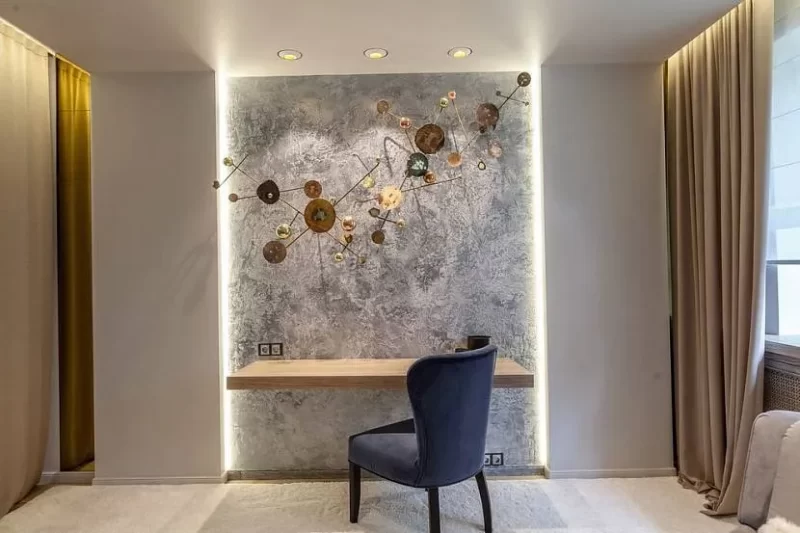 Advantages of a bed in an alcove:
Visual zoning of the space.
Getting a cozy secluded corner.
Additional dimming.
Disadvantages:
The space necessitates the installation of artificial lighting.
In the recess, air exchange is reduced.
Cleaning is difficult.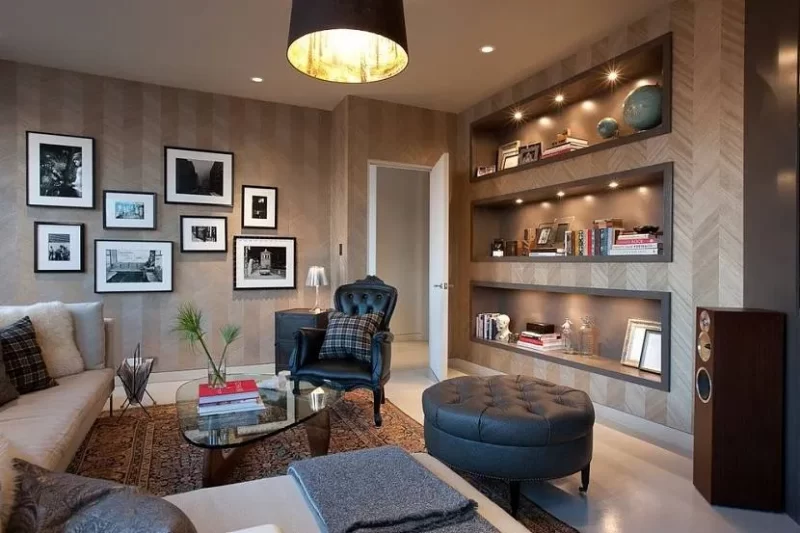 The niche planes serve as equipment stands. Because the designs reduce the usable area, they are only appropriate for large rooms.
The recesses are ideal for the kitchen. They function as stands for dishes, spices, and bulk product cans. Narrow niches in the hallway wall or along the stairs are a good idea. It is best to create several asymmetrical decorative elements and illuminate them.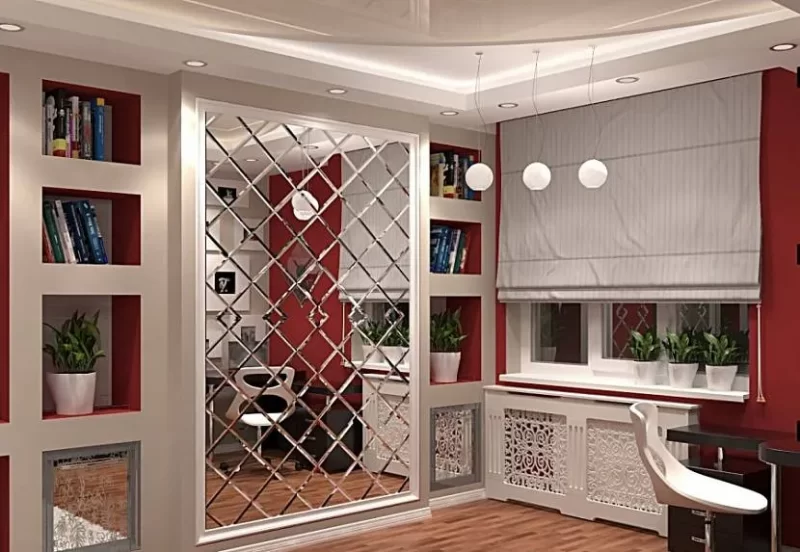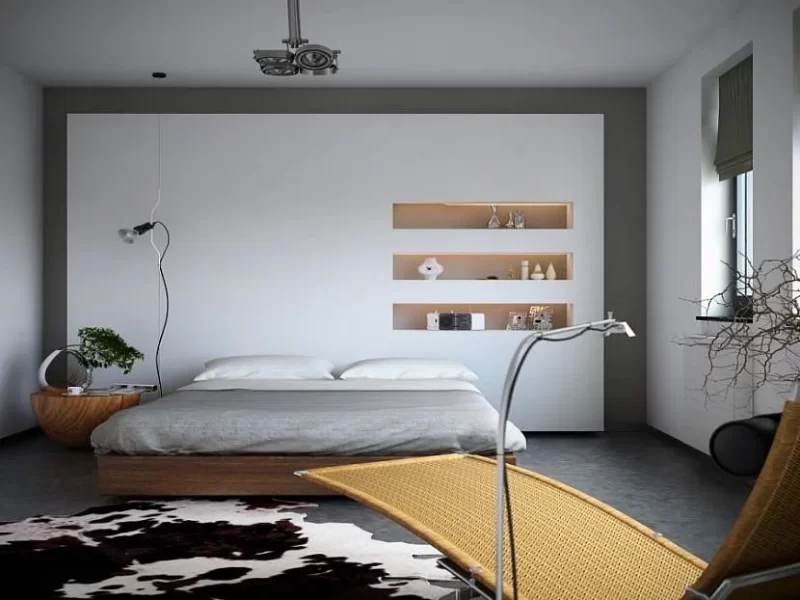 Niche of cabinets
This option is appropriate for a small room. It saves a lot of space and allows you to make the most of it. This structure is typically built around a sofa or sleeping area. The space savings will be significant if you use a folding bed and functional cabinets.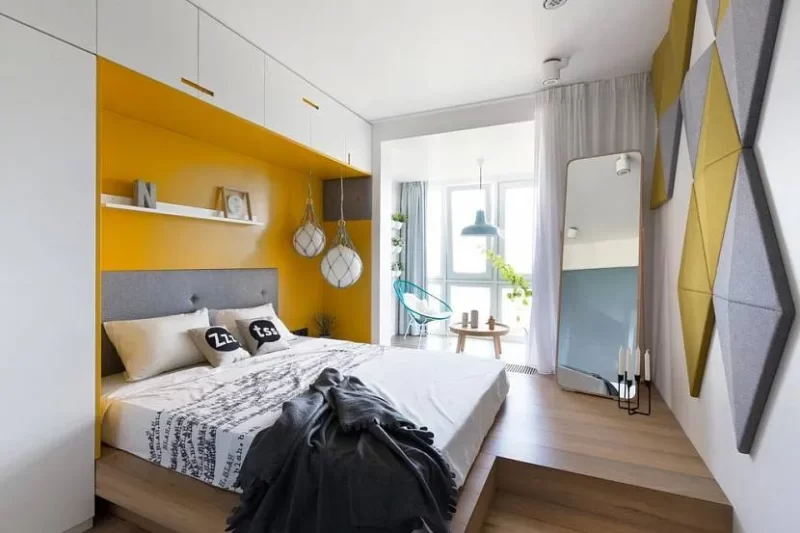 The closed cabinet design does not overburden the interior; rather, it appears laconic and restrained. It defines the bedroom space, creates a cozy alcove, and organizes a useful storage system.
In the attic niche
The attic space is typically small, and the shape of the ceiling limits design options. To avoid losing useful area in a room with a complex configuration, the structure must be properly positioned and not oversaturated with decorative elements. Everything should be straightforward and functional.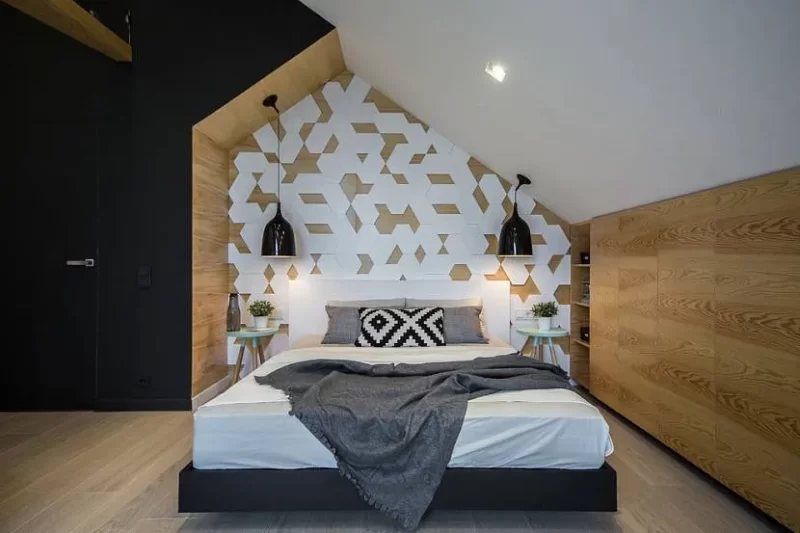 A room of this type should be meticulously designed. Then it will be possible to dispose of the available space effectively, giving it maximum functionality and integrity.
Niche in the wall in the kitchen
A deep niche for a wine rack is appropriate if the room is large enough. If the deepening is caused by the inadvertent placement of the supporting structures, you can correct the situation by embedding furniture or appliances (such as a refrigerator) there.
A niche in the kitchen interior serves both aesthetic and functional purposes. It usually houses dish sets, vases, spice jars, reproductions, and indoor plants. In a large recess, a wine cabinet will look great.
Design of a small niche
How do you design a shallow niche? If it is so narrow that inserting sticks is impossible, it is best to decorate the surface with wallpaper or paint. Photographs, books, souvenirs, and other stylized decor are displayed on narrow structures above the sofa or sleeping area.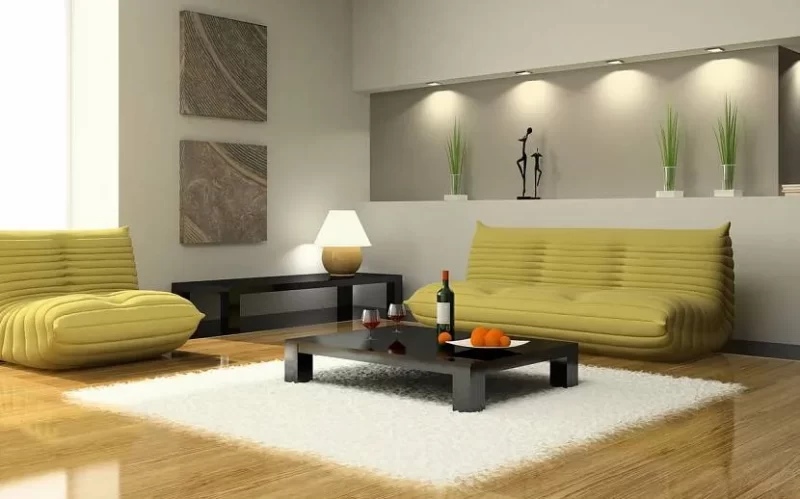 Location options:
If you need to divert attention away from the radiator, make a recess under the window. You can also create a storage area beneath the windowsill.
When there is a lack of free space and the room has a complex configuration, angular design is used.
A niche in a false wall will add to the interior's uniqueness and individuality.
The recesses above the bed or sofa make the room look more organized and elegant.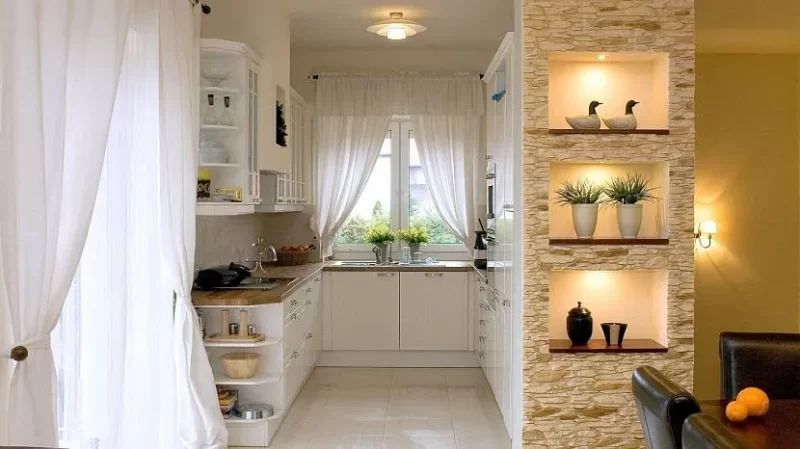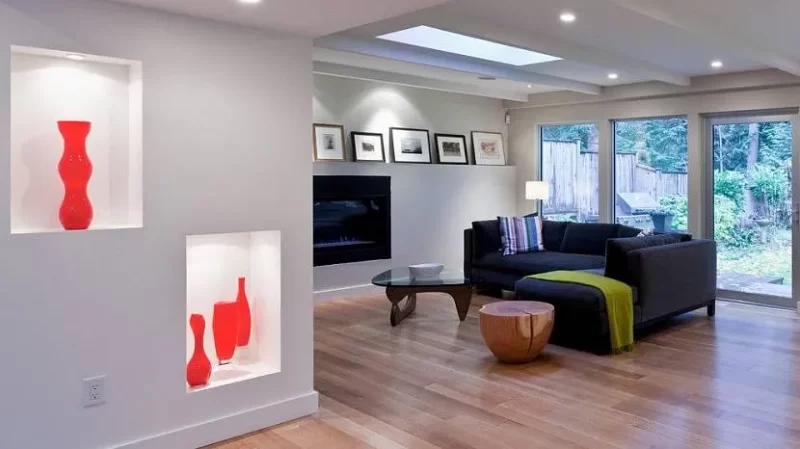 Shallow niches in the wall will decorate the interior of the living room if they are shaped uniquely and equipped with a backlight. Place flowerpots and decorative candles in them. On the built-in shelves, display family photos, souvenirs, and books.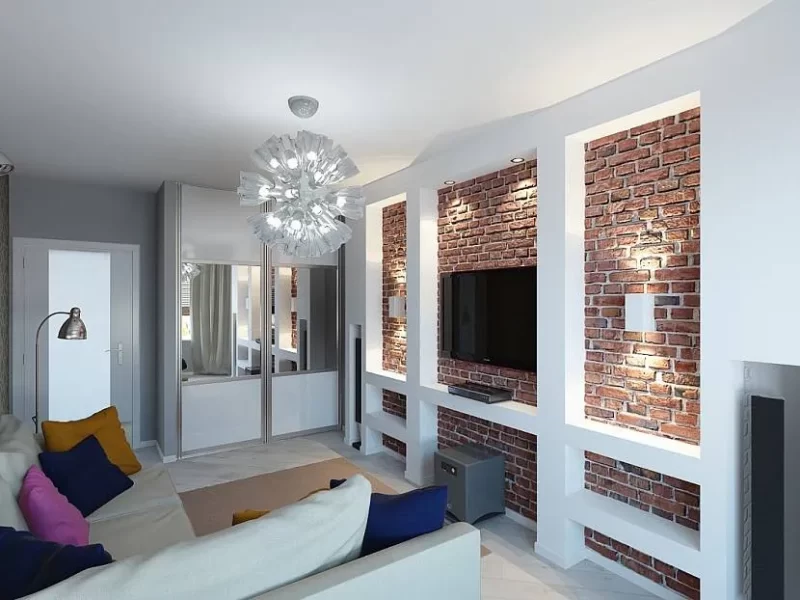 Niche in the hallway interior
Narrow designs can successfully decorate even a small hallway. Decorate with clothes hooks, key baskets, and shelves. Recesses of various sizes with soft lighting arranged asymmetrically will contribute to the creation of a dynamic interior. The design of a wall niche:
The recess in the hallway is most commonly used for practical purposes. A simple crossbar or wardrobe, some shelves, and a minimum of decor. This will help to keep the room free of congestion and clutter.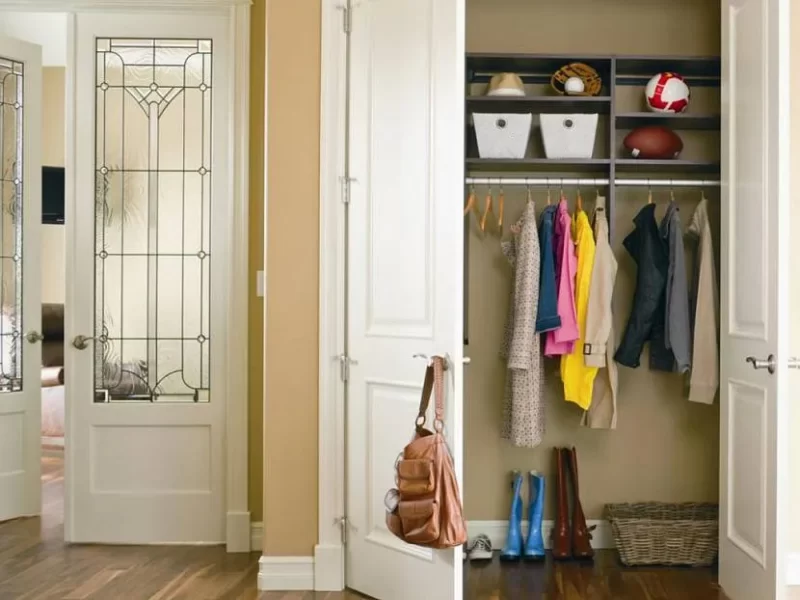 Hanger for a large family
Light finishes are less practical than dark panels and simple hooks. Small scratches and stains will be perfectly hidden by emerald green or brown. Steel hooks will be an interesting design solution.
Illumination in the niche
Side lighting appears to be more beneficial in the hallway; it is more comfortable and soft. You could, for example, draw an LED strip along the edge of the niche.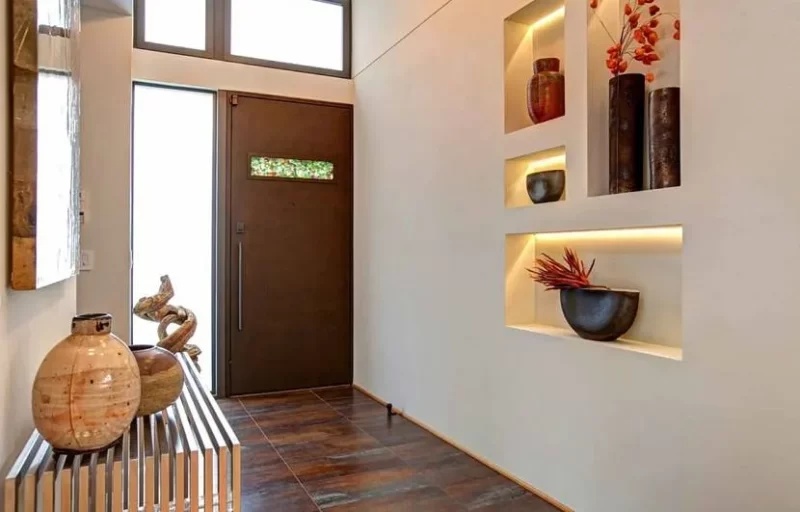 It is necessary to make a reserve of space between the shelves when creating a place to store things in drawers and baskets. As a result, it will be more convenient to remove and replace the baskets.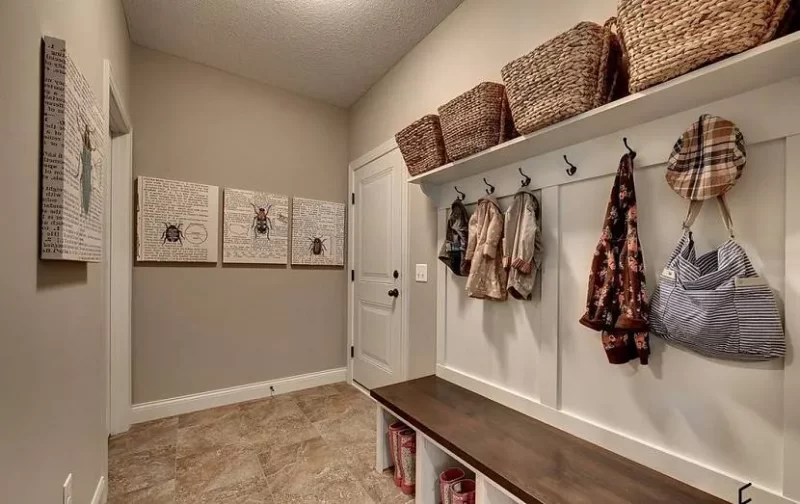 A soft seat can be placed in a niche in the hallway wall. Make it comfortable to read by adding pillows and lighting.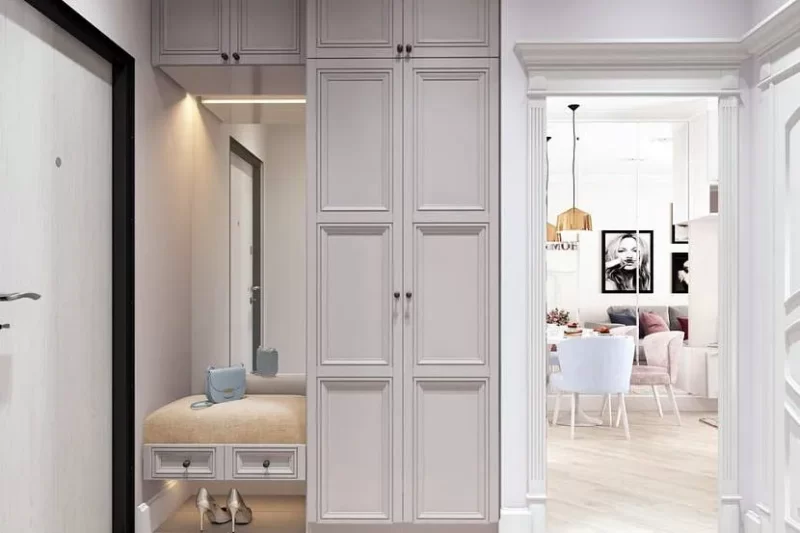 If the recess was not planned and arose as a result of an unsuccessfully located wall, it is preferable to fill the space with open shelves. A narrow closed cabinet will not decorate the interior, so make shelves and add color accents instead.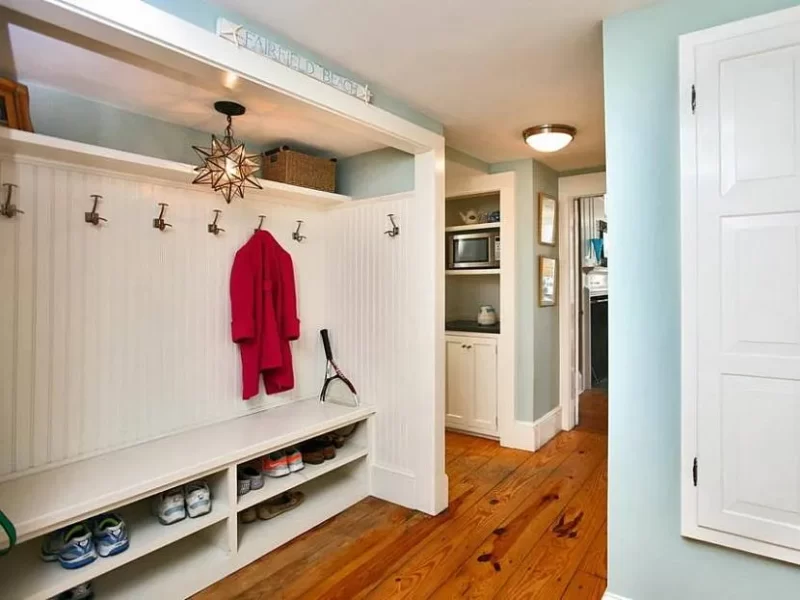 Conclusion
Consequently, the niche in the wall is a beautiful and practical architectural element that gives the interior individuality and a special flavor. Using different materials, you can create any composition: from the dynamic design of the living room to the cozy atmosphere of the sleeping area.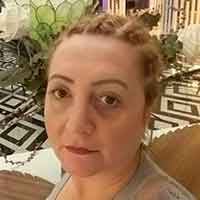 I joined Appartenville in February 2021 as a content editor. After studying English literature at university, I worked as an e-commerce website editor, content author, and purchasing intern for several independent luxury and lifestyle retail companies. My role at Appartenville combines my love, experience, and passion for the world of design and the desire to create inspiring written content. As for my personal style, I am a big fan of color and drawing, especially I like the pastel color scheme. I also enjoy discovering new trends, brands, and products, whether it's fashion, interior design, or lifestyle my wish list for buying new things is endless.