The use of oak bedroom furniture in any interior has always been a good choice, thanks to its durability and classic appearance.
Bedroom furniture made of oak has evolved over time from classic designs to a more modern visual approach – ideal for anyone looking for something new.
However, one common issue with using oak furniture is that it can make an interior space appear heavy or old if used excessively.
So, how does one go about decorating a bedroom with oak furniture?
To create a relaxing ambiance, use white, off-white, or light gray for the primary wall colors, paired with an earthy accent wall and oak headboard to create a focal point – with a mixture of oak tones throughout for visual appeal.
The rest of this article will show you 9 designs you can copy or adapt to properly use oak furniture in your bedroom.
We will go over several design ideas that will alleviate the common heavy visual problem in the bedroom by using different paint colors, different oak wood tones, and other accessories to make your bedroom truly worthy of a good night's sleep.
I've used my extensive experience as a professional interior designer to provide you with some cutting-edge ideas that will make your bedroom stand out.
9 Oak Furniture Bedroom Design Ideas
Below are 9 oak furniture bedroom designs that you can replicate; in the subsections, I've explained how to achieve each look:
1: Use Light and Neutral Colors for a Relaxing Ambiance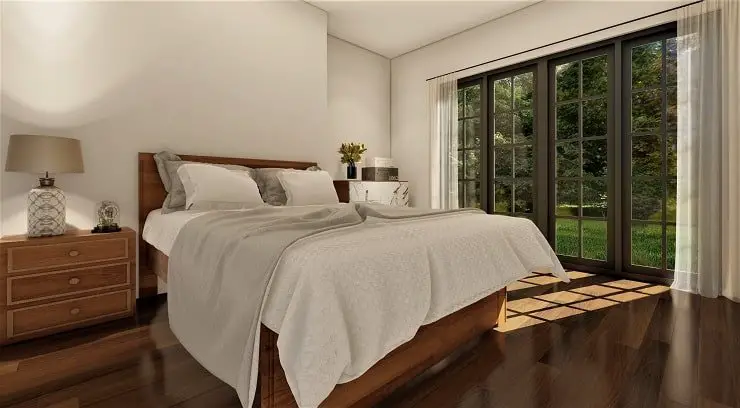 The best primary and secondary bedroom wall colors to pair with oak furniture are white, off-white, and light gray.
More specifically, as shown in the photo above, the majority of the bedroom walls should be painted in light neutral colors, such as off-white or light gray.
Colors that clash and stand out in a bedroom can create a chaotic atmosphere that hinders the onset of sleep.
Choosing lighter tones avoids this issue and contributes to creating a relaxing atmosphere.
How to Copy This Look:
Because oak is typically a warm color, using light, cool colors as much as possible (except for accent walls) will create a natural, refreshing bedroom interior.
To achieve this look, select several paint colors from the light-neutral color spectrum and compare the sample paint swatches with the oak furniture to determine which is the most compatible.
Go one or two shades lighter than the color you chose, especially if your oak furniture is on the warm side, as this can make the painted walls appear darker.
2: Use Earthy Accent Colors to Complement the Oak Tones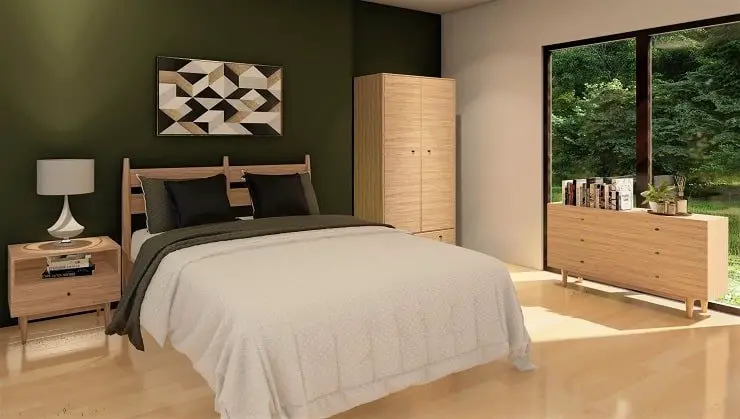 Oak Bedroom furniture complements any natural, earthy color, as seen in the above photo of a bedroom with a juniper gray accent wall.
This is similar to how green leaves are paired with the brown wooden trunk of an oak tree.
Earthy tones, such as juniper or seaweed, are ideal as accent colors for the design accessories that will be incorporated with your bedroom's oak furniture.
The benefit of using earthy colors is that they complement any shade of oak, light or dark.
How to Copy This Look:
To achieve this look, choose an earthy color to be the accent color.
You can then apply this color to a single wall in your bedroom – usually the wall behind the bed.
You can then use this accent color in specific areas of the room, such as artwork, lamp fixtures, and even plants (live or faux will work).
3: Use a Variety of Oak Tones to Create Visual Appeal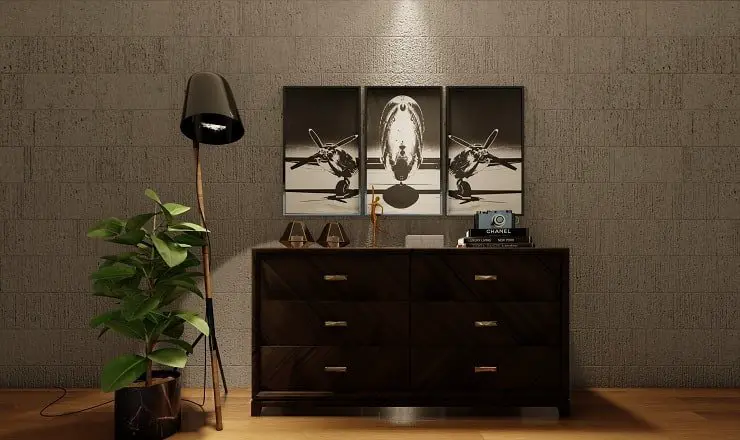 Using different shades of oak is one of the best ways to create visual appeal in an all-oak bedroom furniture interior.
As shown in the design above, one way to create contrast is to place a dark oak dresser on a light wooden floor.
This adds visual interest and breaks up the monotony that can occur when using a lot of oak furniture in your bedroom.
As a designer, I believe it is best to match the accent wall to the primary oak tone.
For example, if your accent wall color is dark grey, you can use a similar dark gray shade in your oak dresser to create cohesion.
How to Copy This Look:
The best way to achieve this look is to make wise purchasing decisions for your bedroom interior design project.
Rather than purchasing an entire set of bedroom furniture in the same wood tone, choose at least two shades of oak veneer to break up the monotony.
If you already have oak furniture, use a wood stain to darken the color of your choice.
I would recommend hiring a professional for this because using wood stain requires experience to achieve an authentic look without destroying the quality of the oak's wood grain.
When using wood stain, you can only go darker than the color of the original oak shade you currently have.
However, if you do have experience in staining wood yourself, go ahead and make your bedroom furniture color pop!
4: Incorporate Bluish Pastel to Achieve an Airy, Nautical Design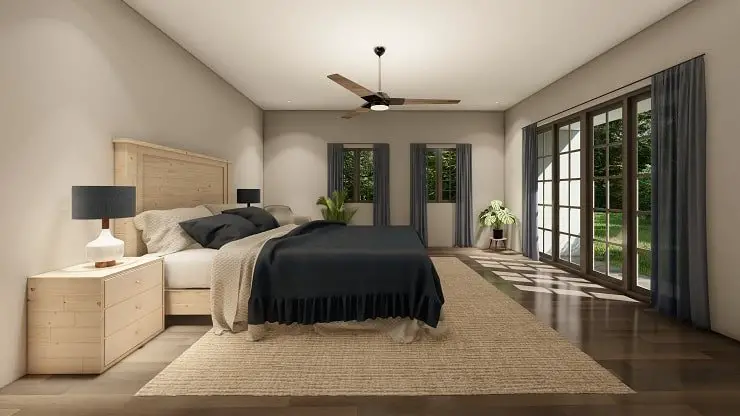 Bluish pastel accents combined with oak furniture – usually made of light or white oak – give the interior of any bedroom a relaxing beach atmosphere.
The photo above shows shades of blue throughout the Oak Bedroom furniture bedroom interior, which complement the bedroom furniture made of white oak.
This design concept is a great way to go the other way when using oak bedroom furniture, as it corresponds to the marine theme, rather than the earthy, heavy designer interiors that are usually associated with oak furniture.
In my experience, bluish pastel accents work best with white oak bedroom furniture and a few light brown wood textures.
How to Copy This Look:
When using pastel blue as an accent color, make sure your oak furniture is either white or painted white with brown wood tones.
Pastel blue accents can be used on small trinket accessories such as picture frames and lamps.
This color can also be used as an accent color on your bed, throw pillows, or secondary pillows.
To complement your white oak furniture, use pastel blue as an accent color for your curtains.
Remember that when placing an accent color in an interior space, it should only accent the primary colors of the space and not visually overpower it.
5: Remove Visual Weight With a Painted Accent Wall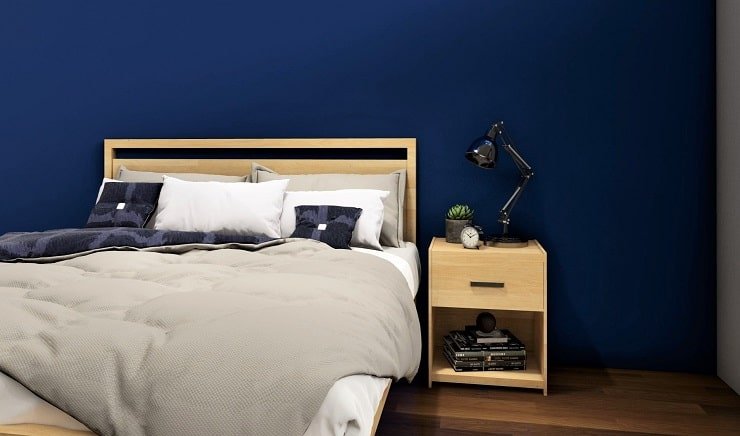 A colored accent wall, as seen in the photo example above, creates a focal point that overpowers the oak bedroom furniture set.
This gives the viewer a second part of the bedroom to focus on, removing the oak bed set as the room's sole focal point.
Select an accent paint color that complements the color of some accent pieces, such as throw pillows or lounge chairs.
How to Copy This Look:
A painted accent wall is one of the simplest ways to incorporate color into an oak-furnished bedroom.
Oak Bedroom Furniture chooses a color that contrasts with the wood tones of the oak furniture in your bedroom.
So, if the shade of the frame of your oak bed is in the range of golden to honey, you should not use earthy tones as an accent wall, because they are too similar in hue.
Instead, a cool color like gray or navy blue would go well with your oak bed frame.
Remember that colors are visually appealing when attempting this look.
So, using a color wheel, identify the color that is closest to your oak bed set and look for the opposite color as your accent color.
6: Combine Oak and Metal for a Modern Look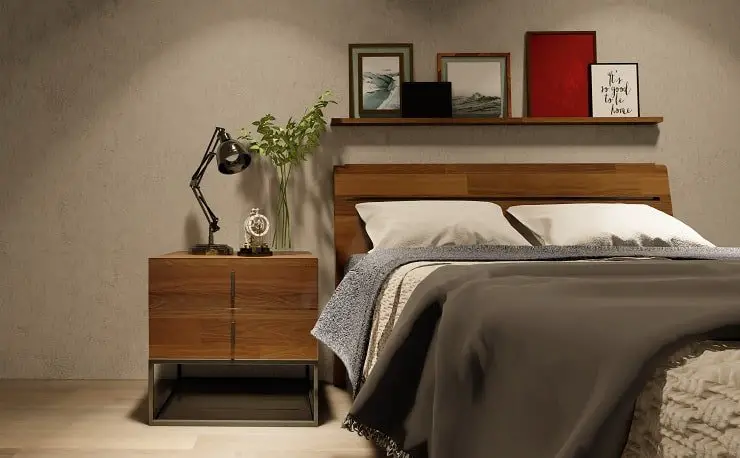 To avoid the common problem of a heavy-looking bedroom interior, use furniture with different textures, such as wood and metal.
For example, the image above depicts a bedside table with an oak drawer and gray metal legs.
This type of furniture is ideal for a modern bedroom interior design.
When we think of oak furniture, we often think of our grandparents' homes, which had heavy and thick oak furniture.
You can achieve a lighter and more modern look by using furniture that isn't entirely made of wood.
To achieve a similar visual effect, choose oak furniture from various bedroom sets.
Purchasing an entire bedroom set is the quickest way to make a bedroom appear heavy and stuffy!
Typically, an entire oak bedroom set will have the same wood grain and shade, which prevents you from creating the unique style that you undoubtedly desire in your bedroom space.
Don't be afraid to mix and match furniture pieces from various display sets.
How to Copy This Look:
To create a modern bedroom interior using oak furniture, pay attention to items that include various materials, such as metal and glass.
A smooth metal base on an oak dressing table or metal legs on an oak bed frame will always prevent your bedroom from looking old and stuffy.
Oak Bedroom furniture Choosing a different shade of wood as an accent in the interior of your bedroom is the best way to mix pieces of furniture from different sets so that they do not look mismatched and sloppy.
For example, if you want a modern look in your furniture, a bed frame and a bedside table from different sets will work better than a bed frame and a bedside table from the same furniture set.
You can also choose a different shade of oak from a different set as long as it matches another color shade in your bedroom's accent or accessory.
A darker, cool shade of oak for a bedside table to match a dark grey accent wall is an example of this.
7: Use an Oak Headboard to Create an Aesthetic Appeal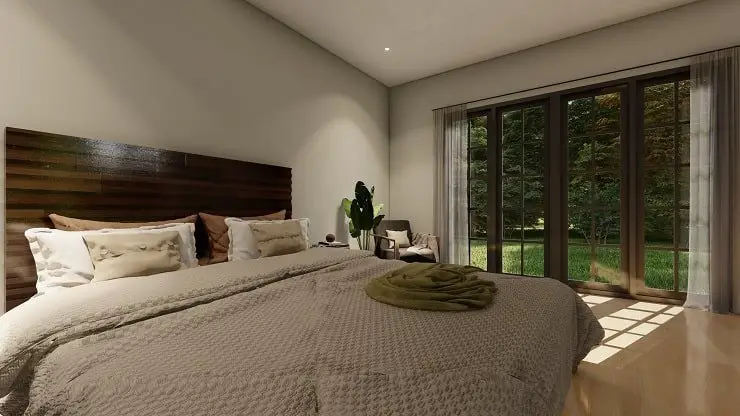 Ideas for Oak Bedroom Furniture The headboard is the crowning glory of any bedroom.
As seen in the image above, a large, natural oak headboard can be used to create a strong focal point.
There are numerous headboard designs available on the market today.
If you want a modern oak headboard or a more natural design, make sure it highlights the wood grain and texture of the oak while being a perfect contrast to the color of your accent wall.
This will improve the aesthetic appeal of your accent wall.
How to Copy This Look:
Most oak bed frames now come with a headboard.
However, if your bed set lacks one, installing one for your bedroom interior is simple.
When selecting your oak headboard, keep in mind that this is one of those occasions when you can really show off this display piece.
To maximize visual appeal, always contrast your oak color and texture with your accent wall.
Oak headboards and planks are commonly found in most large hardware stores.
If you want a more natural, one-of-a-kind headboard, you can order one online or from a local woodshop.
8: Use Floating Oak Shelves for Stylish Storage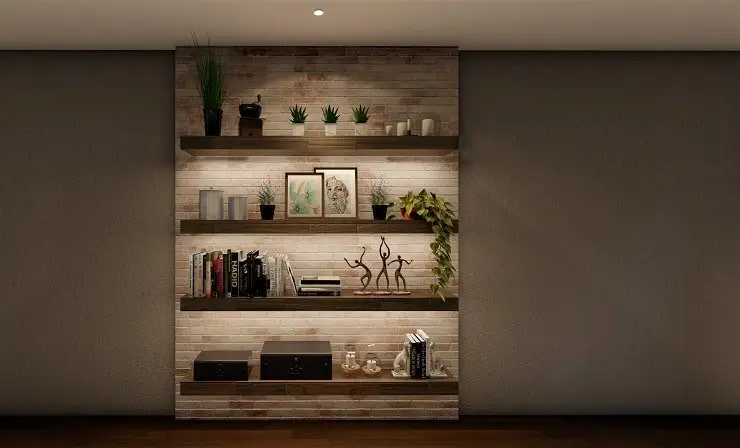 An oak shelf is not only functional for use on a blank wall, but it is also visually appealing, as shown in the image above.
Even if installed solely for aesthetic purposes, it provides additional storage, reducing the likelihood of a cluttered room.
How to Copy This Look:
Installing oak shelving in a room is a "do it yourself" project that almost anyone can complete.
Wooden shelving can be purchased at almost any hardware store and usually comes with installation instructions and materials.
A multi-tiered shelf is more aesthetically pleasing than a single shelf, depending on the wall space available.
The spacing for each shelf tier is determined by the objects that will be placed on it, so plan ahead of time.
Most narrow shelves have a wooden spike that must be drilled into the wall, whereas deeper shelves have a small L bracket underneath to support the weight of the shelf and objects.
When styling your shelves, I would recommend mixing items that are for storage, such as books, with aesthetic items such as small plants, picture frames, or accessories that showcase your style.
The last thing you want is to use every level as storage, or else it would look too heavy.
9: Use an Oak Dresser for Clothing Storage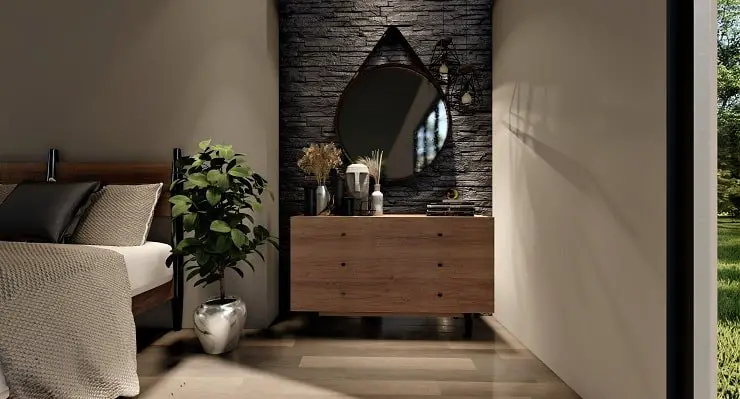 This design concept is ideal for small bedroom spaces where both design and functionality are important.
Because of the dresser's dual capability for clothing storage and the ability to display accessories – as seen in the photo example above – it is preferable to an oak wardrobe.
A dresser is also more visually appealing and less visually heavy than a wardrobe closet, which is especially important in a small bedroom.
When selecting an oak dresser for aesthetics and functionality, go for a wide, low body – this will give you more space on the top of the dresser for any display or vanity items you may want to place there.
How to Copy This Look:
When shopping for an oak dresser, look for one with a different wood tone on the top paneling than the rest of the dresser's body.
This improves the visual design of any accessories or trinkets displayed on the top.
When selecting an oak wood tone for a dresser, choose a darker shade than your other bedroom furniture, as this gives this piece more character rather than blending in with the other furniture.
Whether you use the top of the dresser as a vanity display or a bookshelf, one or two indoor plants on top will always complete the look.
Conclusion: Mix Tones and Sets With Earthy Colors
Oak bedroom furniture is very adaptable when it comes to bedroom interiors due to its numerous wood tones that work well in almost any design scheme, whether rustic or contemporary.
When selecting oak furniture, keep in mind that you should choose several items from different furniture sets to give a bedroom more character.
When choosing oak bedroom furniture, colors, and accents are important for making sure the resulting visual design does not look too heavy, as is the common problem with most oak furniture bedroom designs.
Oak furniture with metal or glass in its structure, such as the base or top, will give a modern twist to the traditional classic furniture design.
If in doubt, earthy color tones are always a great match as a secondary or accent color to any oak furniture, and they will naturally tie your bedroom together visually.
Related questions
What colors go best with oak bedroom furniture?
Enhance your oak furniture with complementary color choices and decor.
For an invigorating atmosphere, consider shades like cherry red, ochre yellow, lime green, or rusty orange. These options accentuate oak's warm undertones and infuse energy into the room. Alternatively, with cooler and vibrant tones like vivid blue, deep teal, or raspberry red, oak furniture can provide a comforting touch. This approach harmonizes the cooler color scheme and establishes a well-balanced and grounded ambiance.
How do you make oak furniture look modern?
A fresh coat of paint can breathe new life into an aging furniture item that might have seen more vibrant times. While oak boasts a splendid natural grain that shines with a touch of polish, there are instances when a shift in color can truly rejuvenate the piece.
What neutral colors go with oak?
Greige is an ideal understated hue to complement your oak wood, owing to its soft blend of beige and gray tones that serve as an excellent neutralizer. Depending on the balance between gray and beige, greige can evoke both warm and cool sensations, allowing you to select the perfect shade for your oak wood.
What colors are complementary to oak?
Natural shades within the red and green spectrums can harmonize beautifully with both light and dark oak furniture. Hues like sage or olive green contribute to a serene ambiance, making them well-suited for spaces like living rooms or studies.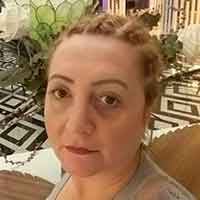 I joined Appartenville in February 2021 as a content editor. After studying English literature at university, I worked as an e-commerce website editor, content author, and purchasing intern for several independent luxury and lifestyle retail companies. My role at Appartenville combines my love, experience, and passion for the world of design and the desire to create inspiring written content. As for my personal style, I am a big fan of color and drawing, especially I like the pastel color scheme. I also enjoy discovering new trends, brands, and products, whether it's fashion, interior design, or lifestyle my wish list for buying new things is endless.